After a late evening flight from Santorini to Athens, and a strategically brilliant night sleep in the airport Sofitel, we emerged bright eyed and bushy tailed (ie. shagged and fragged) for our flight to Lyon. The flight was uneventful (even though people had said Aegean Air was sub-par we found it a very smooth ride and oddly plenty of legroom).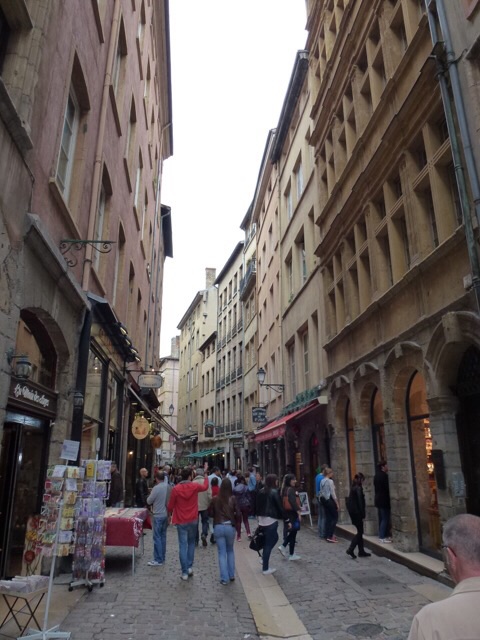 On arriving in Lyon airport, we took a train/tram thing that took us into the heart of the new city. After leaving our luggage in a lockup, we set off in search of lunch and provisions for the evening. Jo had researched a foodie spot associated with Paul Bocuse, so headed for Les Halle de Lyon – a large ground floor food court selling high end food both fresh, cooked and served depending on what you wanted to do. We sat and had 'plat de jour' which turned out to be the most delicious chicken breast cooked in butter and then served with fresh egg pasta and a glorious mushroom sauce – totally delicious with a glass of house wine. We then searched for ingredients for dinner- a couple of confit duck legs and a baguette …… ahhh, baguettes, I will wax lyrical about food in another post.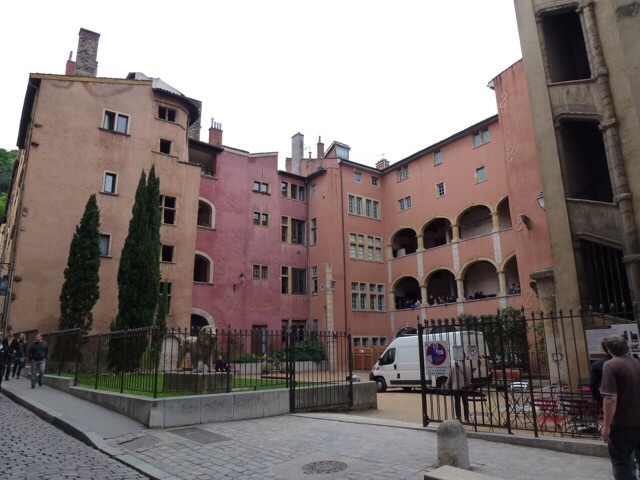 We walked back, much fortified and collected our luggage, then caught a metro, changed lines and ended up at Vieux Lyon station, adjacent to Cathedral St Jean, near our new digs for the stay in Lyon.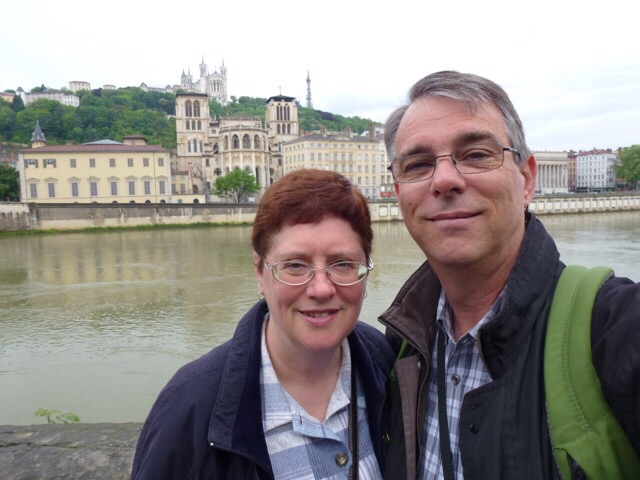 Cobbled streets, squares, narrow streets, there is a feel that is difficult to put into words but we knew and could feel that we were in France and that, for us, felt comfortable. Neither of us have much French language, but we have a lot more than we do greek, the signs make more sense and we began to feel comfortable almost straight away.
After a bit of a kerfuffle (we had planned to get a SIM for my phone but had such good service with Skype credit that we did not, so were without a phone to ring our landlord to let him know we were here and needed letting in).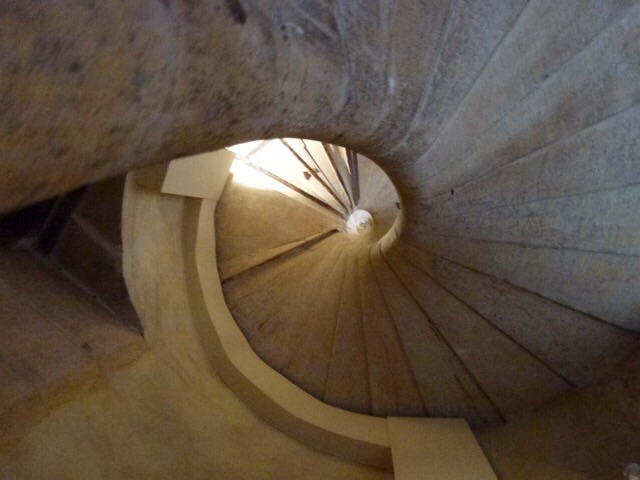 Our apartment is a section on the 2nd floor of a medieval building that is heritage listed. It is batshit crazy, funkily designed and decorated and we love it. Really high ceilings, large rooms, big artworks, bold colours and lots of home comfort and we were set. Right in the heart of old Lyon, between the tourist street, rue St Jean and the less visited rue de Boeuf make this ancient quarter of the city lively and interesting. It bustles with people during the day, tourists and locals soaking up the food, customs and sunshine and is quiet at night.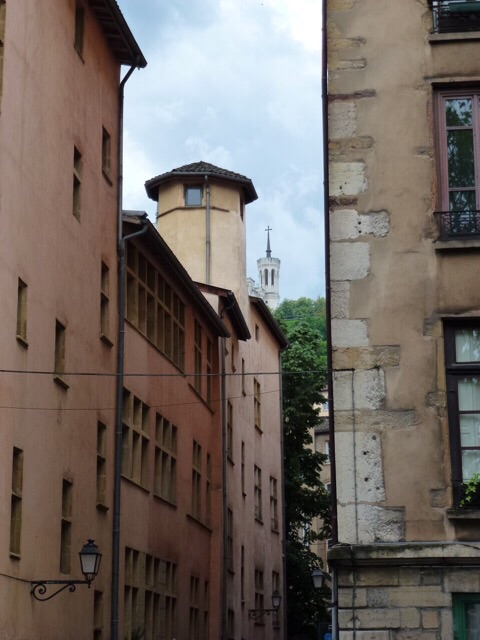 The pace of life here is wonderfully relaxed, we find things do not open much before 10, an afternoons work could be sitting in a cafe sipping coffee or wine watching people go past, or wondering how the cars (this quarter of the city is mostly pedestrianised making for scary driving) are going to sort themselves out in the tiny blocked streets.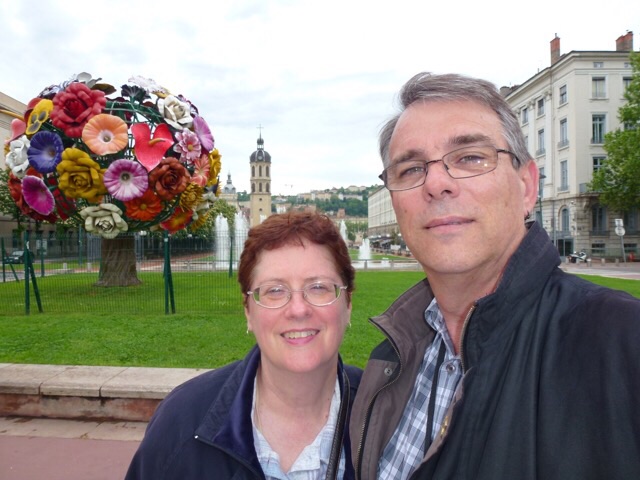 Our landlord gave us some inside information about the local eateries and sights which turned out to be really useful. Lyon and surrounding districts in days gone by was important in the fabric industry – silk and brocade weaving particularly. We were told that much of the interesting features of the city were inside the buildings. This takes time to understand.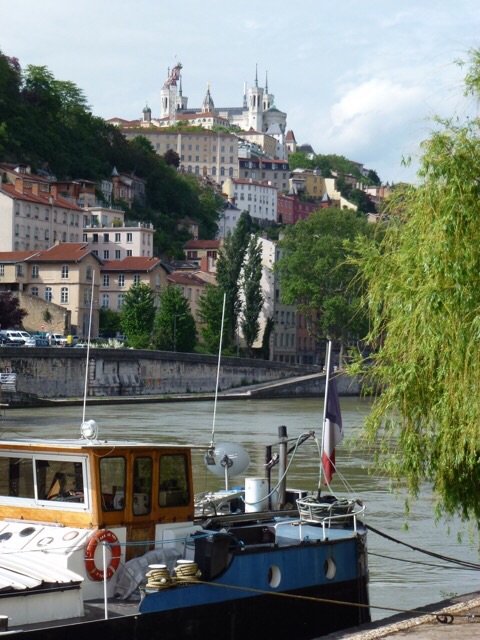 A network of Traboules exist – these are official passages that provide shortcuts between and through city blocks. The streets are plain, doorways open to passageways, hidden courtyards in the middle of blocks and reveal towers, tall galleries and shops. So many of them you would not know even existed if you did not have a map (or an entry code in some cases).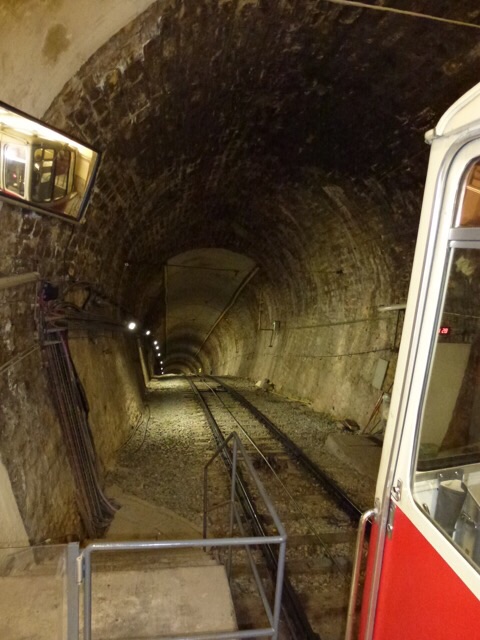 The city has a civic agreement that ensures the traboules remain public access even though in most cases they traverse private land and we explored the ones local to us one evening, just so interesting. They originally provided covered shortcuts for silk workers carrying expensive and weather sensitive goods from place to place.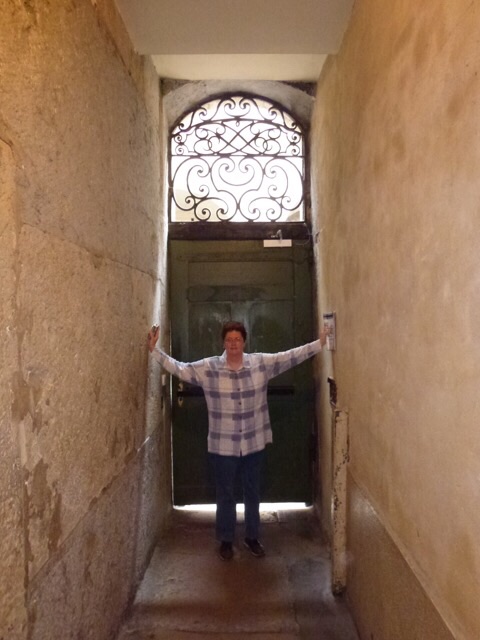 The city straddles a pair of rivers – the Rhone and the Saone which at the moment are in flood. Apparently higher than usual rainfall further up the valley coupled with above average snowmelt (we flew over snow capped mountains on the way in to Lyon) have the level of the water so high that many of the riverside walkways are submerged and the cruise boats that normally travel between here and Germany are stuck between the many bridges that weave around the city.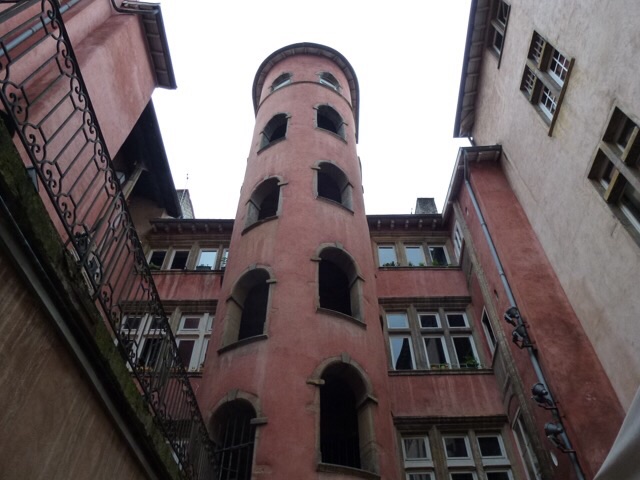 "Now listen carefully, I will say zis only once!" (apologies to Allo Allo fans), we discovered after a visit to the Museum of the French Resistance that Lyon was in many ways the home of this movement. We also learned why Lyon bridges for the most part date from the 1940s – retreating Nazi troops blew up the originals.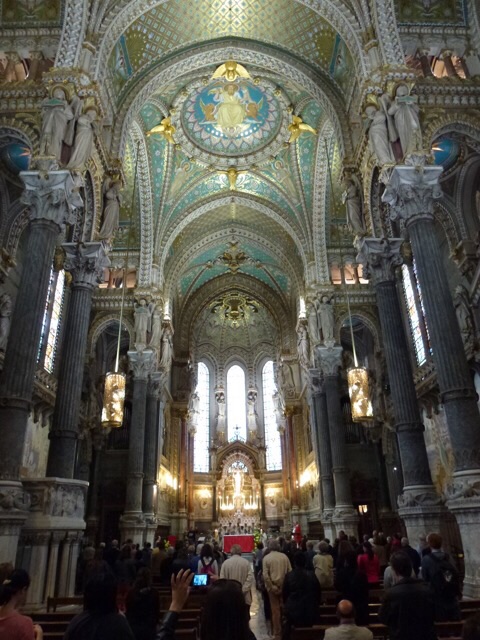 We thought to museum was a missed opportunity – all in French we had difficulty navigating and making sense of many of the displays, the English guides were incomplete and did not seem to provide the same accessible detail and that is a shame, it is interesting stuff but presented in a frustrating way. The video recounts by survivors was particularly powerful.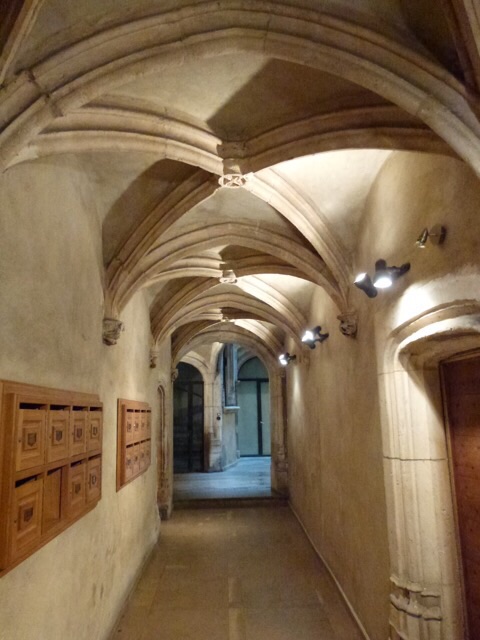 Many famous Lyonaise people have revolutionised the modern world – the Lumier brothers brought the age of cinema to life and Joseph Jaquard revolutionised the textile industry with automated looms driven by stacks of punched cards (general purpose programmable machines that led to computers – geeky fun fact).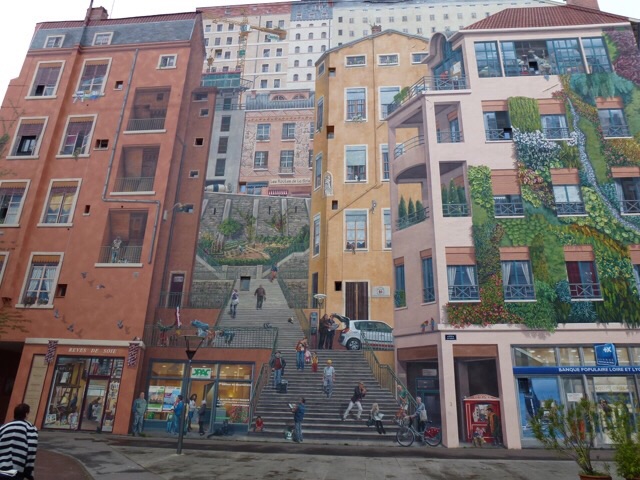 Art is everywhere, large scale murals and trompe l'oeils (painted 3d perspective pictures) litter the city, some amazing, most require a double take as you realise it is painted. Art and culture go back a long way, we visited a pair of Roman Ampitheatres atop a hill and another section of a Coloseum-like arena that was found near a planned botanical garden.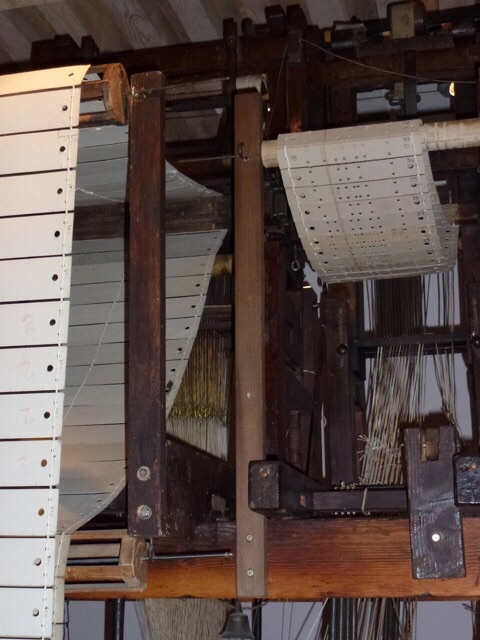 I have said it before but as white Australians, we do not really have much history. Australian history stretches back millennia but there are few historical artefacts or buildings to speak of. Not so here. We visited (quite by accident as it turns out) a roman museum atop a hill that also contains the Basillica we were originally aiming for.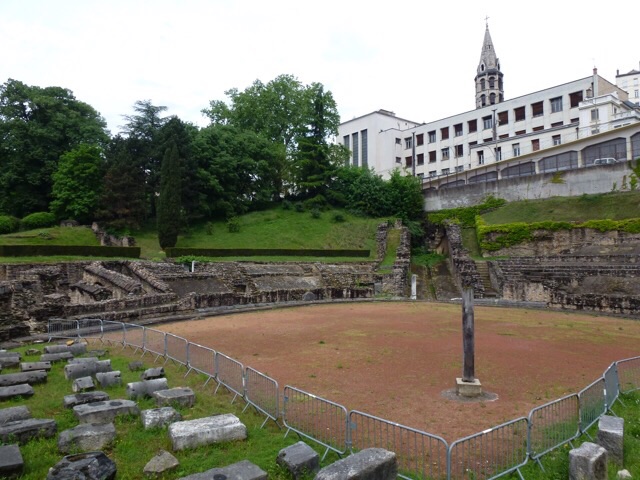 In an astonishing subterranean concrete building, remains of roman occupation and much much earlier were on display including stones and statuary from temples to Augustus built by Claudius, temples dedicated to Marcellus and other well known roman names – they got around certainly leaving their mark.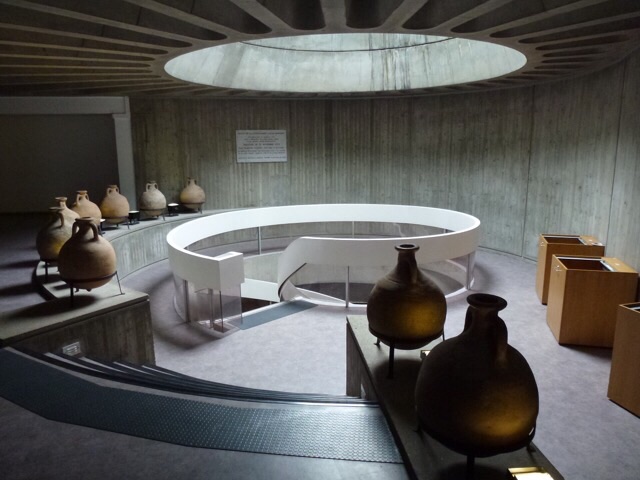 Our stay has been interesting, peppered by interesting sights and sounds but the food – that is a whole different story…..