It is a difficult thing to talk about French places without talking about bread, cheese and wine. These above all else seem integral to the way French people live their lives. We came to Lyon because it is said to be the gastronomic centre of France but we really did not know what to expect.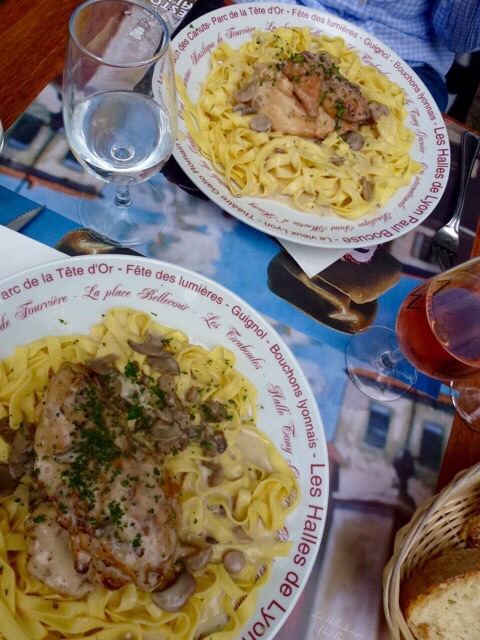 Much of our research suggested that offal (those squidgey secondary cuts of meat that both Jo and I are a little squirly about) was the main plat du jour but, thankfully, that has not been our experience.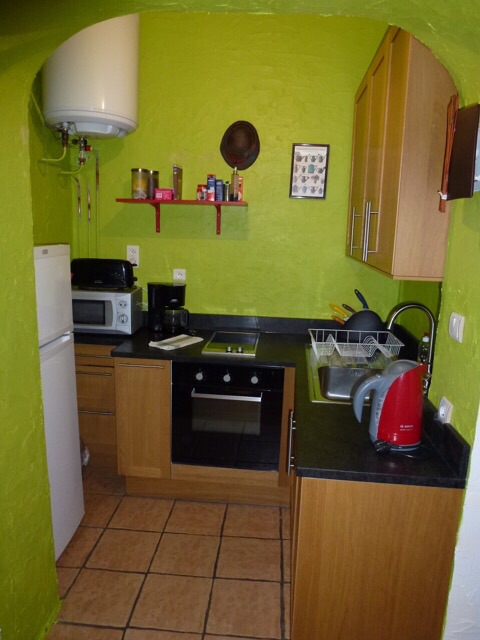 It is a rare treat to stroll through a morning produce market on the banks of the Rhone, noticing the staggering number of types of cheeses, breads, sausison (a sort of French salami) and cuts of meat. Confronting to walk past a tripier, a butcher that specialises in offal, and comforting to sort through mounds of fresh asparagus (white asparagus is prized here, not sure why as I think the green tastes nicer but my palette is not French, so go figure) in the peak of season, surrounded by an abundance of spring veg all locally grown.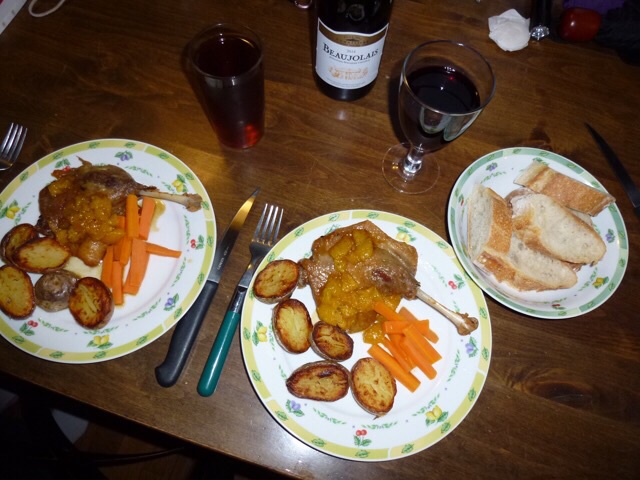 Our overseas trips usually have us staying for longer periods in one place, our accommodation needs a kitchen and fridge as we like to see what is fresh and cook it – the menu is a little like our weekend menu back home – what ever looks good, use that. It seems this is a very French thing to do, go us.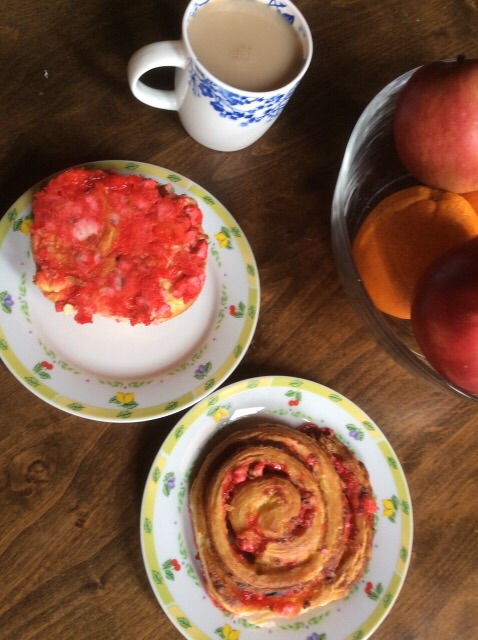 We do eat out, occasionally, usually after a lot of research on where is good and what is good there – we have had some spectacular meals out in Lyon – a dinner at a traditional Bouchon (known for meat cookery, not so much vegies/salads) was standout – Jo had a pike quenelle, I had wild mushroom ravioli. Quenelles are a regional speciality – the shape is not the thing (in oz we use the term to describe a technique using 2 spoons to shape something soft) but the dish was a little like a pike soufflé floating in a sea of crayfish sauce, baked to perfection and so very tasty – nothing overdone however, you can taste the flavours of the ingredients – mark of great cookery in our opinion.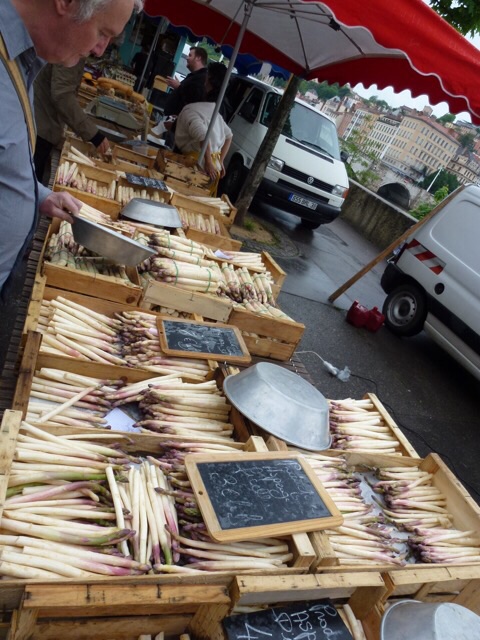 Sauces elevate a remarkable meal to new heights and I think I am safe to say that French have nailed the sauce concept, they also, during the meal provide bottomless baskets of baguette to rip up and mop the plates clean – it would be impolite to send the plates back still covered in a sauce that may have taken ages to make and, besides, they are usually too yummy to waste.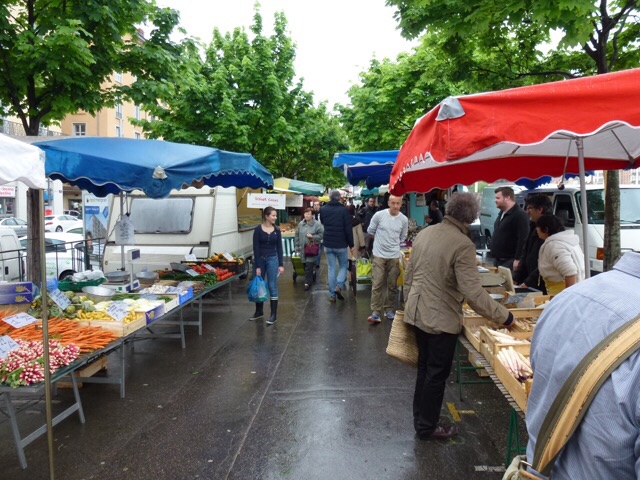 Spectacularly good food can come from humble looking places. In oz we have become to associate posh with taste and quality but Europe seems to treat this as a nonsense. The second best pizza I have ever eaten (just for reference I have now tried LOTS) was bought in a railway station cafe on the outskirts of Venice – the most unassuming place with so much pride in the food they make.
So obsessed are the French with wine and cheese that the government now has strict naming and making guidelines for both – the schemes are complex and, to us, unnecessarily so but we decided this trip to try and understand a little more about French wine. For the average joe visiting France, a visit to the bottle shop (or supermarket, fantastic wine can be bought in lots of places) the first thing we, as Australians notice is that there is little to no indication of what grape is in the bottle.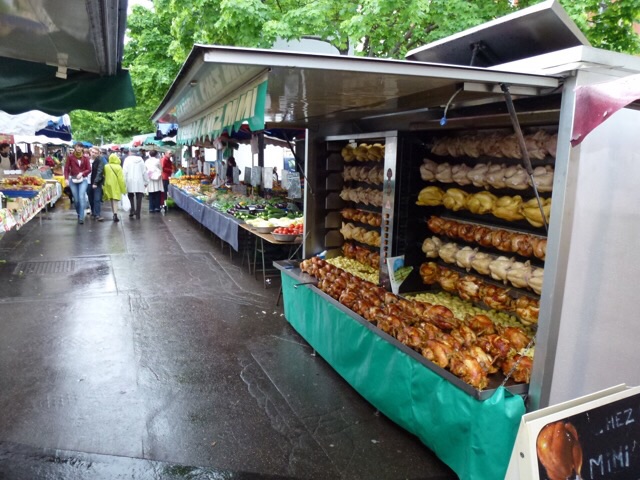 We, at home, go to a bottlo and pick up a Shiraz, for instance, and we are pretty sure what the contents will be like. With a little more info, we know that certain regions make a Shiraz with more pepper, others with more berry and it seems fairly easy to find something we will like. I used to go for the Shiraz but these days am tending towards a Merlot blend because that suits my palette now.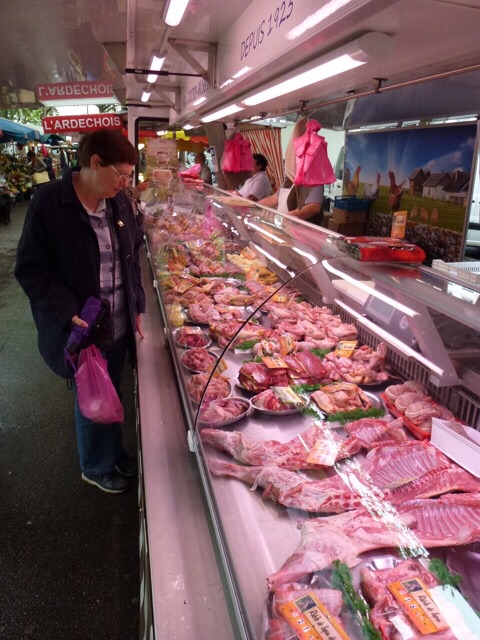 Our first visit to the French wine section was a complete gamble. I was looking for something resembling a wine favourite I had back in the day – Rosemount Estate used to make something they called a Beaujolais and it was the ducks guts – served chilled I loved it to bits. France stopped them making it because the term 'Beaujolais' like champagne was a region. Rosemount never made anything similar again 🙁 ….so I found a bottle of Beaujolais – it's label was confusing, but under the name was something like "Appellation Beaujolais Controlle" – the AOC scheme (the "O" is the origin/region the wine comes from).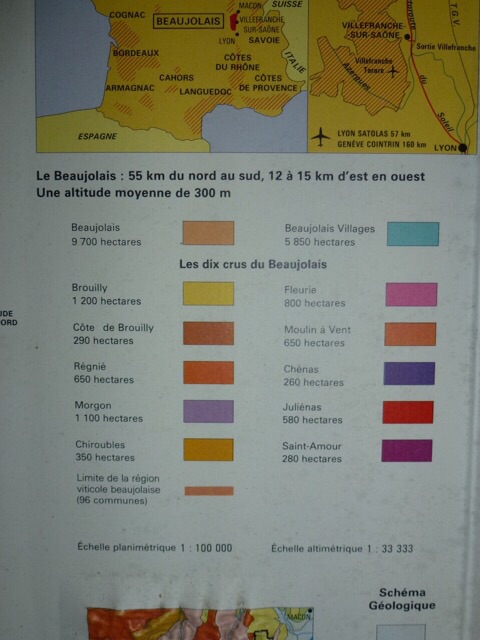 Beaujolais is produced in that region, is made almost exclusively of Gamay grapes (the government allows for some classifications up to 10% of another grape, usually for colour only as the Gamay grape is thin skinned and prolonged maceration of juice with seeds and stems is not allowed by law). There are laws governing technique, quantity, quality, harvest, cultivation and things like allowable irrigation. This is not so dissimilar to the laws that control Italy's beloved Chianti Classico, with the government issuing a set number of bottle labels dictating the maximum number of bottles a producer can produce based on yield and quality from their vines.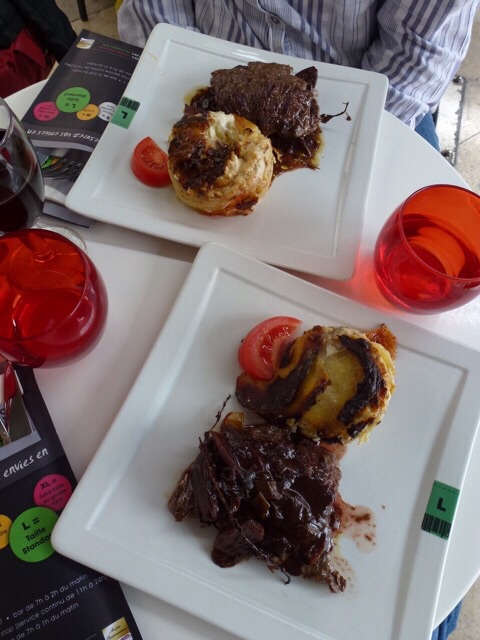 I did a wine tasting evening, trying to get my head around the region/taste centric scheme for wine naming and realised that, say, for Burgundy, there is a region taste profile and then within that region there will be variation depending on whether the wine was aged in oak, how old or burned the oak was, how old the vines were when harvest happened (yes, you CAN taste the difference between young and old vines, it amazed me). Most important is the terroir. Terroir is WHERE the grapes are grown – the soil, slope, aspect etc that determine the flavour profile of the grape before it then goes through the winemaking process.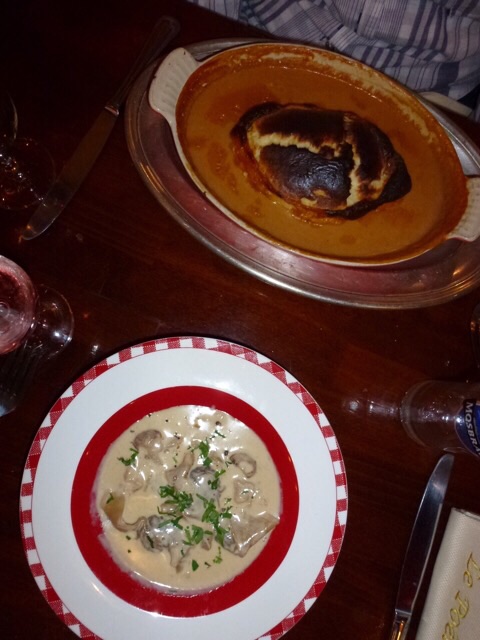 It is fascinating and batshit complicated and I only have the vaguest understanding of it and it is further complicated by the fact that the region of Beaujolais for instance has many AOCs with in it, so a bottle may not even have the word 'Beaujolais' on it but will still be one (we tasted Brouilly and   Fleurie, both gamay grapes, different terroir, different palette but both recognisably Beaujolais).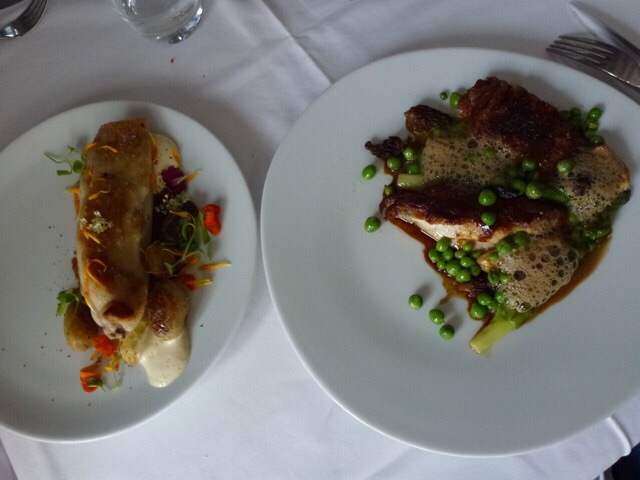 It is really interesting and I need a LOT more time tasting and exploring and that is a good thing – annoyingly French wines are so hideously expensive in oz because of the 120% import tax and other issues, still, everyone needs a hobby.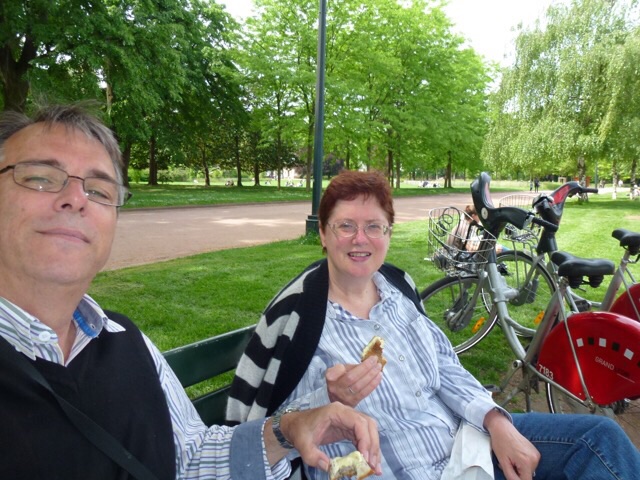 We (rather I, Jo tolerantly tagged along) toured the Beaujolais region the day after our wine tasting course and it was fascinating to see such a small region with such a high yield of completely distinctive wine. I also got to taste some rather special wines, including a Fleurie from 120 year old vines – a single bottle requires a mortgage (and I suspect a special act of parliament) but wow, just wow.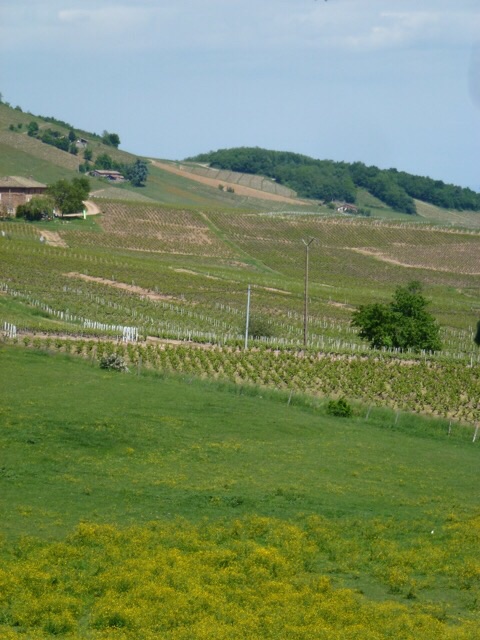 I know of no other culture that has developed so many distinctly different cheeses. Each county, region, village has its speciality. Lyon has many, but one we bought was a little plastic pot containing a ripe pat of St Marcelin. Imagine the yummiest, gooeyest brie or Camembert you have ever tried – this beats that easily, sorry. Smeared on a ripped up multigrain baguette and it is the yummiest lunch. We had this as a picnic lunch on a perfect sunny day in a park.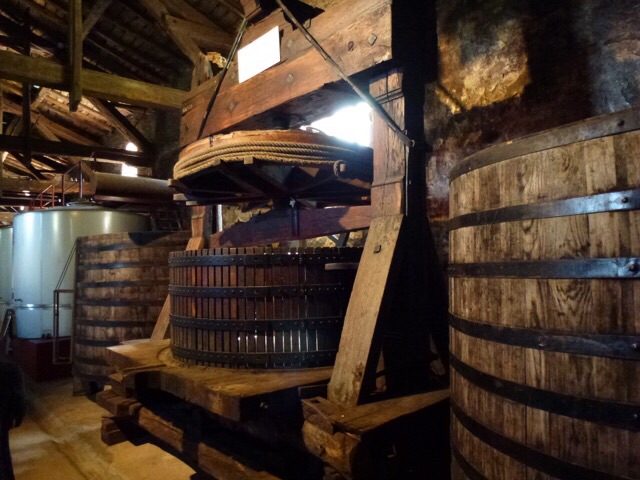 There are again complex government restrictions on size, portion treatment (this one must be rolled in black grape vine ash, this one must be aged in that cave for exactly 5 months etc) but the variety of cow, sheep and goats milk cheeses, hard, soft and flowey is staggering. The pairing of wine and cheese is a life's work, each effects the other. We had a lovely blue cheese, for instance, that completely changed an acid Chardonnay into a sweet wine – messing with tastebuds is so much fun.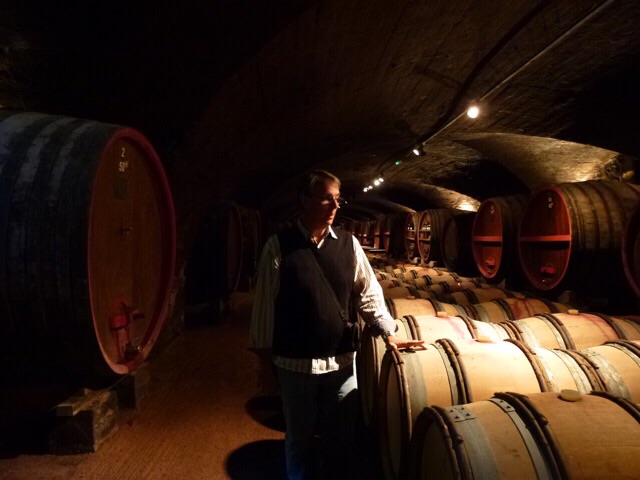 Bread. Now I will admit before our first visit to Paris over 3 years ago I was pretty sure I had bread worked out. I now know I know nothing. It is difficult to describe the feeling when your taste world is turned upside down completely but it has happened to us a number of times, usually when we first chomp into a fresh baguette from a Boulanger in France. It is crust, soft interior, taste, sound … difficult to quantify but it is a revelation.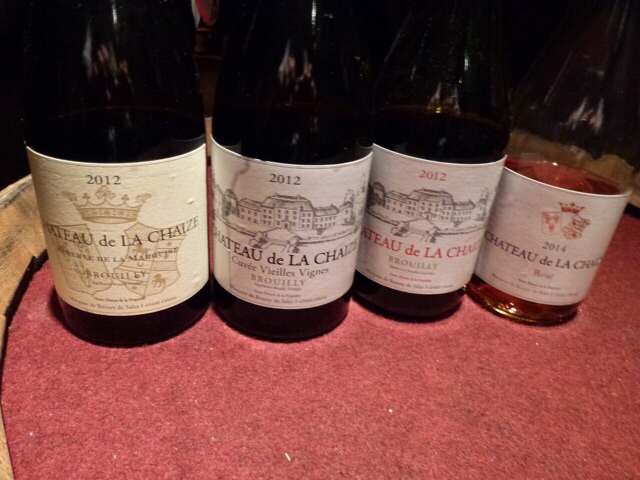 You see French people, such a stereotype, carrying bags with baguettes protruding, munching them as a meal, and now I understand why. I too could do that and be happy. Couple it with French butter (not enough time to explore that topic here) and a fresh filling and it is nothing like you have had before. Use scraps of it to mop up dinner juices and it is sublime. Toast it and spread it with butter and Vegemite and that is the most comforting breakfast I know.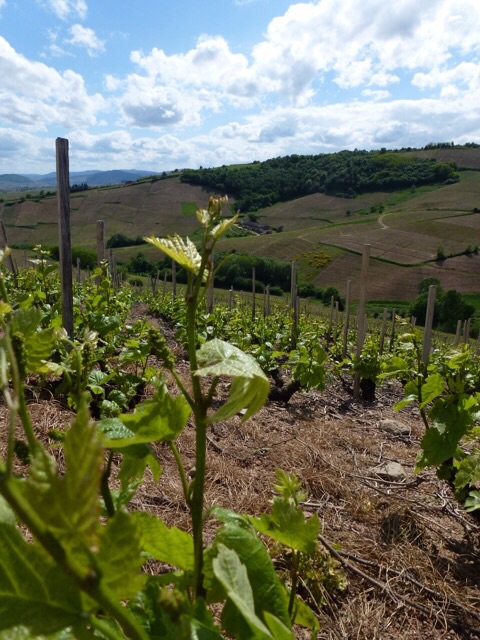 Jo and I have a sweet tooth, much to our doctors horror as we both watch our blood sugar do unhealthy things, and pain de sucre is a weakness that is easy to understand. Croissants, pastries, cakes, jellies, mousses and other delicious things are assembled with such craft, it is impossible to walk past a patisserie without pausing and drooling. Delicate, creamy, fresh and delicious. We have yet to experience a dud and we have eaten … a lot. We are very selective, and often pay a lot for them but figure when on holiday a treat is justified, right?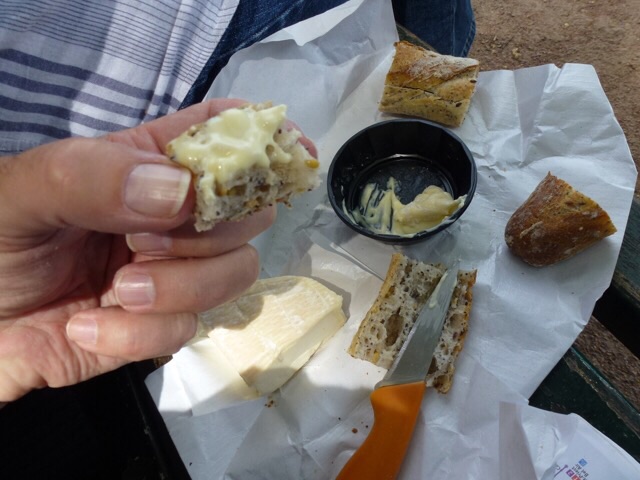 We have also developed an expensive taste in chocolate – French hot chocolate we think is superior to Italian and Spanish and yes, we have sampled all many times. There is something so intensely satisfying about a semi-sweet chocolate served as an emulsion with milk and cream, it is a meal in itself and worth trying but do not make the mistake of trying to finish a dessert with it as that is too much even for us.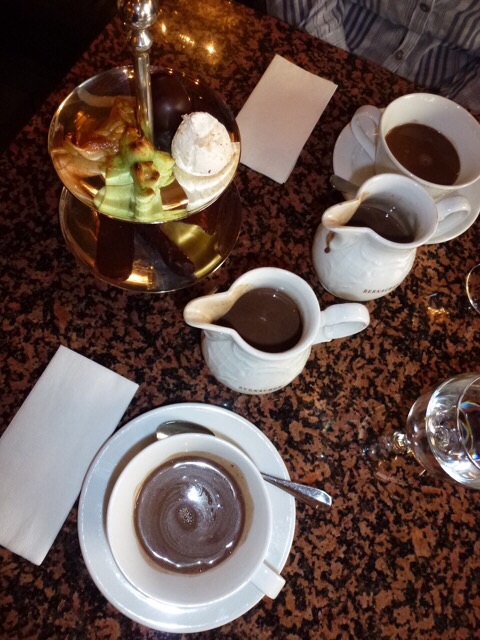 Reading back over the last gush of food related blogging I hope you do not think we are food snobs. Realise please that we are fairly ordinary folk that like to eat and appreciate things that taste nice. Our time in France, particularly, has changed our perception of what that actually means, and opened our eyes to a world of food that a kid from Maleny and a kid from Southport would never have dreamt of in their wildest dreams.