After playing an expert game of luggage Tetris, we checked out of our apartment in Barcelona and caught an Uber to Barcelona Sants Estació. We stowed our luggage and then caught metro L3 to Liceu. The aim was to buy lunch and buy something for the train journey for dinner.
We walked to Mercado de La Boqueria, the markets we had visited earlier and, after much browsing, decided on some charcuterie and cheese for dinner, purchased and stowed that, then went looking for lunch.
We decided to stop at a bar full of locals, sat and ordered drinks (beer for me, Sangria for Jo) and then selected some Tapas. We had some delicious croquettes, tomato bread and grilled baby octopus for lunch, which was delicious and satisfying. Suitably fed, we headed back to Sants Estació via L3. 
After we retrieved our luggage, we found our gate and waited to be granted access. Once access was open, we lined up at security and had everything scanned, then joined a queue for our platform, watching a neighbouring platform call for late passengers, then close, then explain to the late Americans that they has missed their train, which was on time. Lunch and a show.
Our high speed train was very comfortable and offered limited Wifi – my plan for the trip was to use the 5 hours to catch up on blogging, but the wifi could not support google docs access, or upload, so in frustration I turned to my novel. We also purchased something they called tea and coffee from the bar carriage, only to experience a new low in undrinkable beverages. Our stop was Nimes Centre, from there we had to de-train with our luggage (quite an effort from the upper level of a double-decker train), and board a regional train that took us, slowly, to Avignon Centre.
From here we had a reasonably short drag to get to, for us, a rare evening in a hotel. Because it was late (too late to pick up our hire car or reasonably make it to our Provence home base in Eyragues), we decided to spend a night in Avignon before starting the car leg of our journey.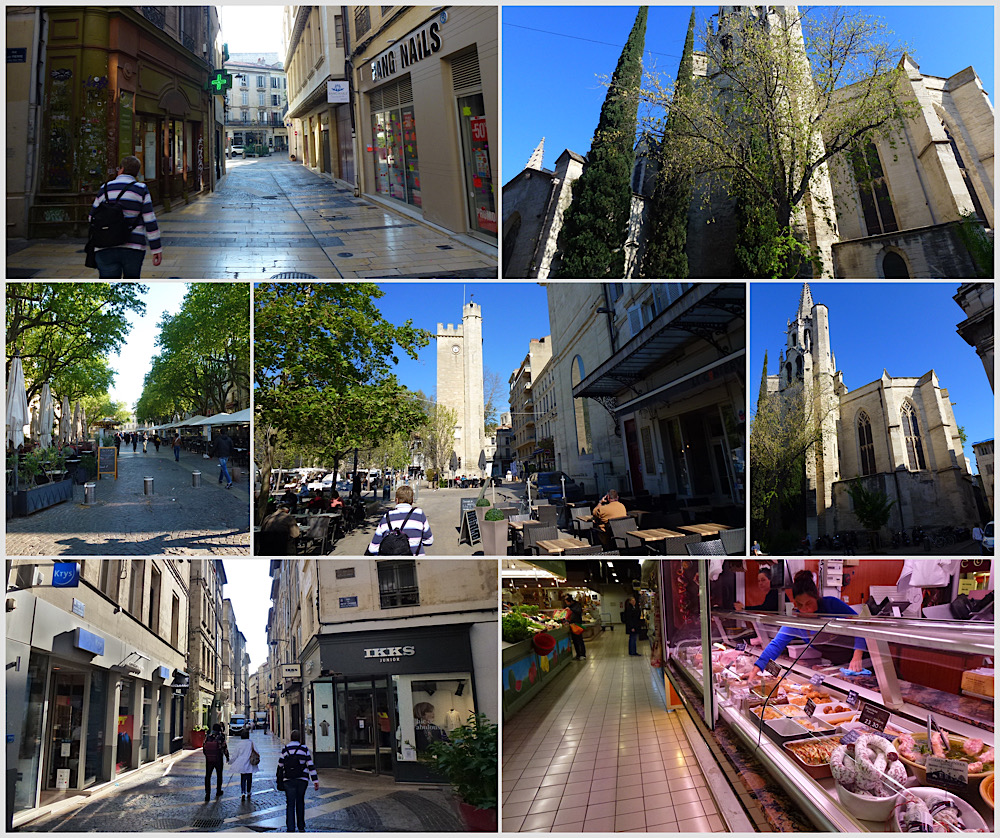 Régina Boutique Hotel at 6 Rue de la République, Avignon was where we were booked, and were relieved to see there was an elevator. Our room, just bigger than the bed meant we had to be strategic with suitcases, and had to coordinate to use the closet-sized bathroom. After we settled in we were determined to go out and get a cup of tea, or an ice cream to freshen up. At just after 8pm we gave up trying to find somewhere open (night life in Avignon could use some spicing up), found a small supermarket, bought a bottle of milk and went back to our room and made tea and consumed some of our biscuit horde (we collect interesting biscuits for snacks as we travel).
After a steamy night sleep (climate control in the room was stuck on "heat" and I only found out I could actually open the window a crack in the early morning), we showered, dressed and re-packed then, leaving our suitcases at reception went out to explore Avignon on foot, our first Provence town.
We wandered (google maps struggled to get oriented for some reason) but eventually found Les Halles d'Avignon, and sourced a breakfast pastry, then went looking for picnic food ideas. If you have read any of our previous blog entries you might have noticed a predilection for St Marcellin cheese – we found some deliciously ripe from a Fromager, so bought that, a nice tear apart baguette and a slice of chicken terrine en croute. Lunch sorted.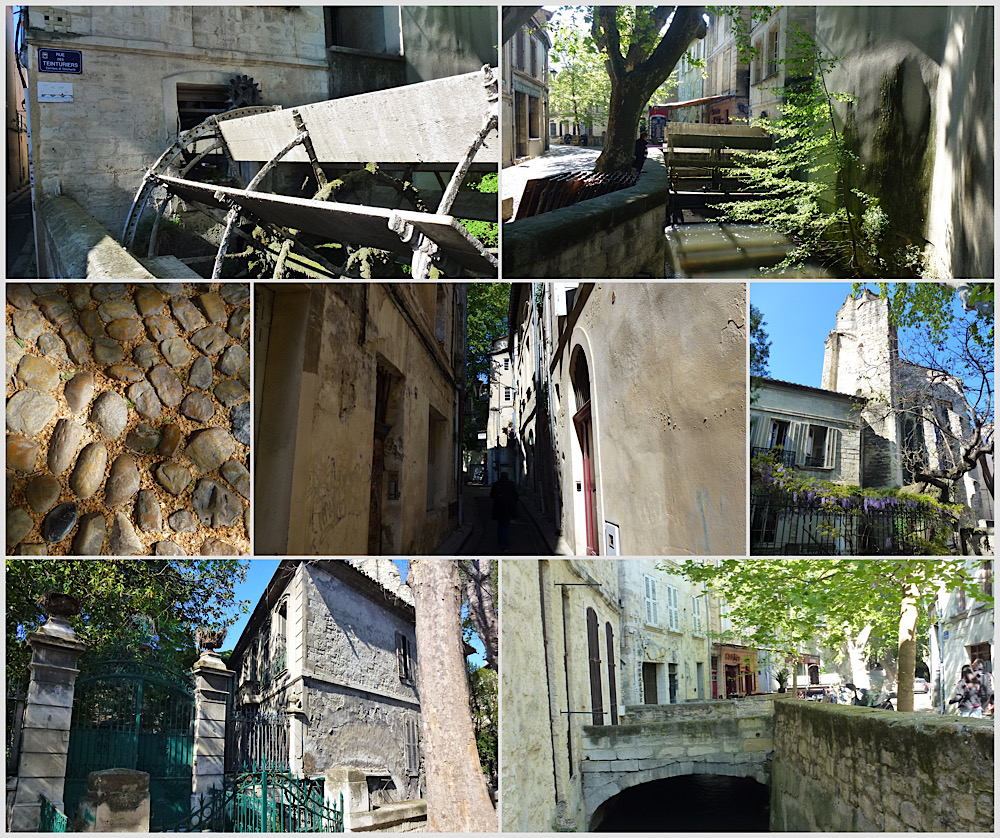 High school French taught me little useful French – lots of phrases, not actual phrases real people would use in any context (thankfully that has changed a bit), but one thing that stuck was a song "Sur la Pont, D'Avignon", and this was the Avignon, and it has the bridge the song refers to, albeit no longer fully crossing the river (therefore bringing into question it's status as an actual bridge, but whatever), so we headed up to Palais des Papes, the castle on the hill, and Rocher des Doms, a park and lookout where we captured a view of the bridge.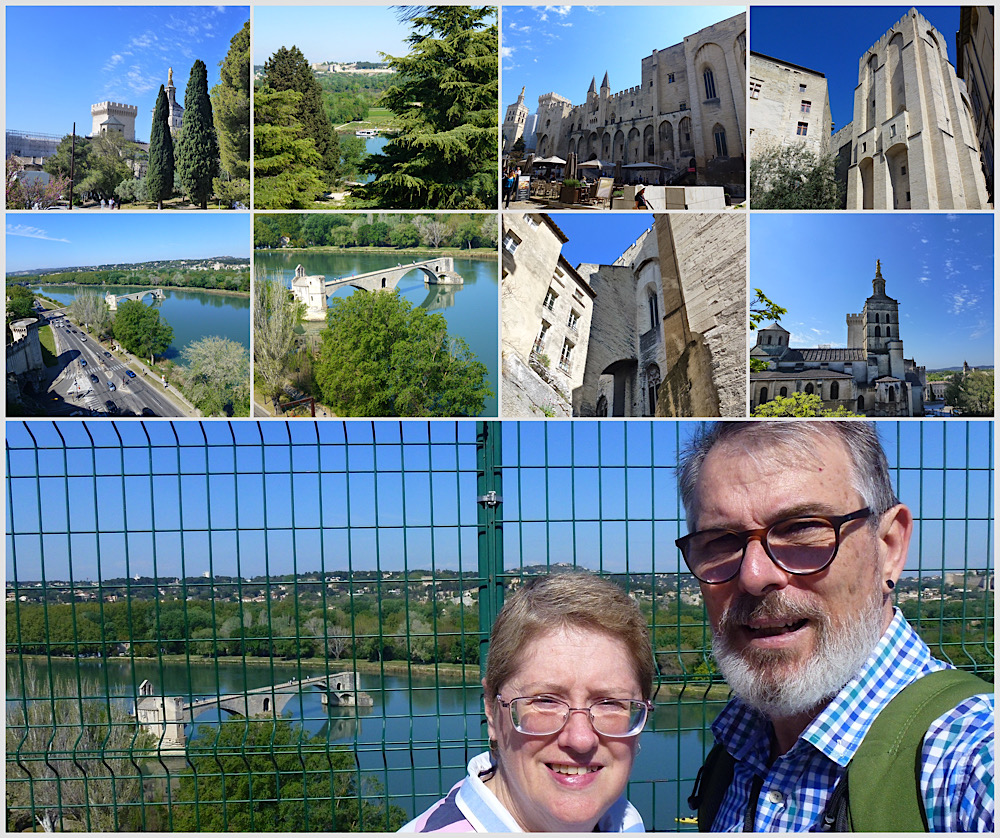 We walked back down, past the cathedral to collect our luggage, then called for an Uber to take us to Avignon TGV railway station to get to the Europcar hire car office, to pick up our chariot. After some questions and ID exchange, they offered us a brand new (9km on the clock) Volkswagen. It was automatic (one less thing to have to worry about) so we said ok, all good. So begins the odyssey of PDub in the VDub, and getting comfortable driving on the wrong side of the road.
Jo, sensibly, had us go on a little diversion off the beaten track (and presumably less busy roads) so I could get my orientation under control and we headed out to Pont du Gard – an amazing Roman viaduct that spans a deep river gully. Initial disorientation gave way to muscle memory and the driving was pretty event-free as we negotiated roundabouts and traffic islands backwards, arriving safely and parking.
We walked to the far side of the viaduct, had a picnic lunch, took in the extraordinary engineering and the historical graffiti scratched into the blocks (going back centuries of dickheads). We used the loos, treated ourselves to the most expensive plain ice blocks we have ever purchased, then girded our loins and headed back to the car.
From Pont du Gard, we headed to Eyragues, and first stop was the supermarket for known staple supplies, then we parked in the public car park adjacent to our apartment. Our hosts own the apartment and the optician shop below, so (without making a spectacle of ourselves) it was an easy intro, show around and we were good to settle in. Part of the public car park is used for markets on Thursdays, but where we parked we did not need to move the car, which was good.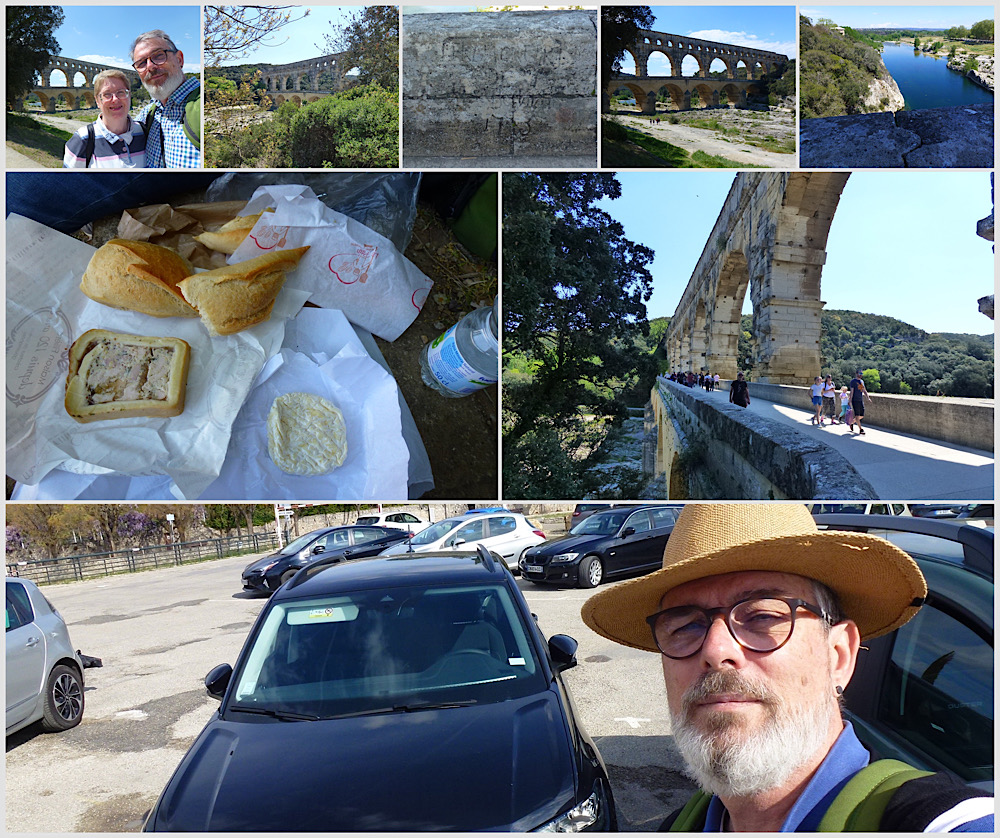 After settling in to our lovely modern and spacious apartment, we wandered around central Eyragues to orient ourselves (found the restaurant we are booked in tomorrow night, the patisserie literally next door etc) then back and cooked dinner – chicken and bacon sizzled, tossed through fresh pasta then fresh pesto to finish – all of which we sourced at the Avignon markets earlier in the day – delicious and hearty.
With the heating under control, large rain shower, washing machine and dryer, all good, large firm bed – heaven. Time for sleep as there is exploring to do tomorrow.