When I first saw this pattern, I thought "oh no, more cobra pleating" and relegated it to the "not before counselling" pile: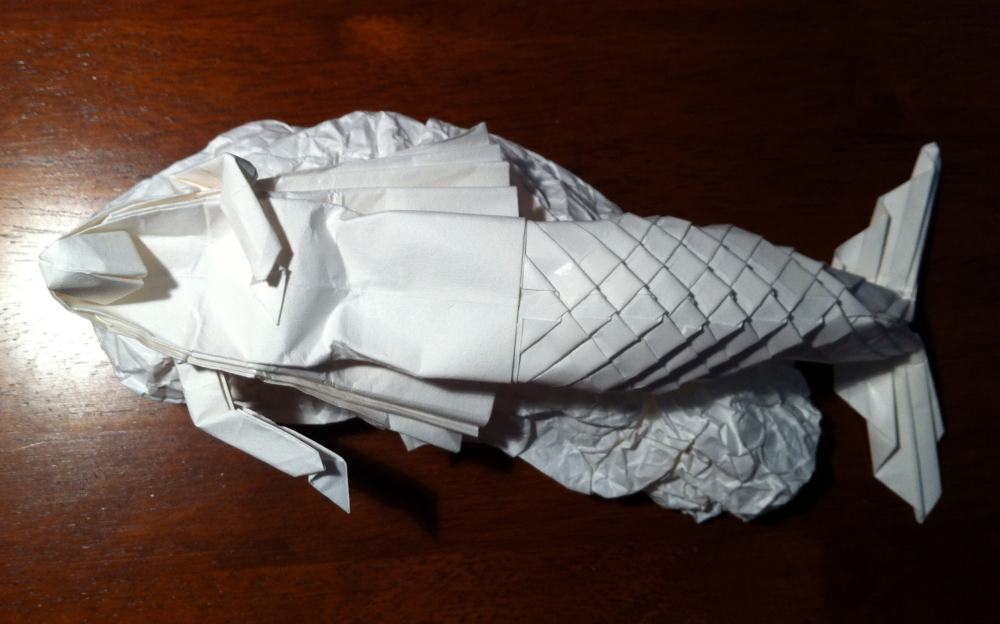 At the moment the weather is wet, hot and the humidty is such that you could cut it with a knife and I got to thinking who would be at home in this sort of weather – the answer was obvious, a mermaid.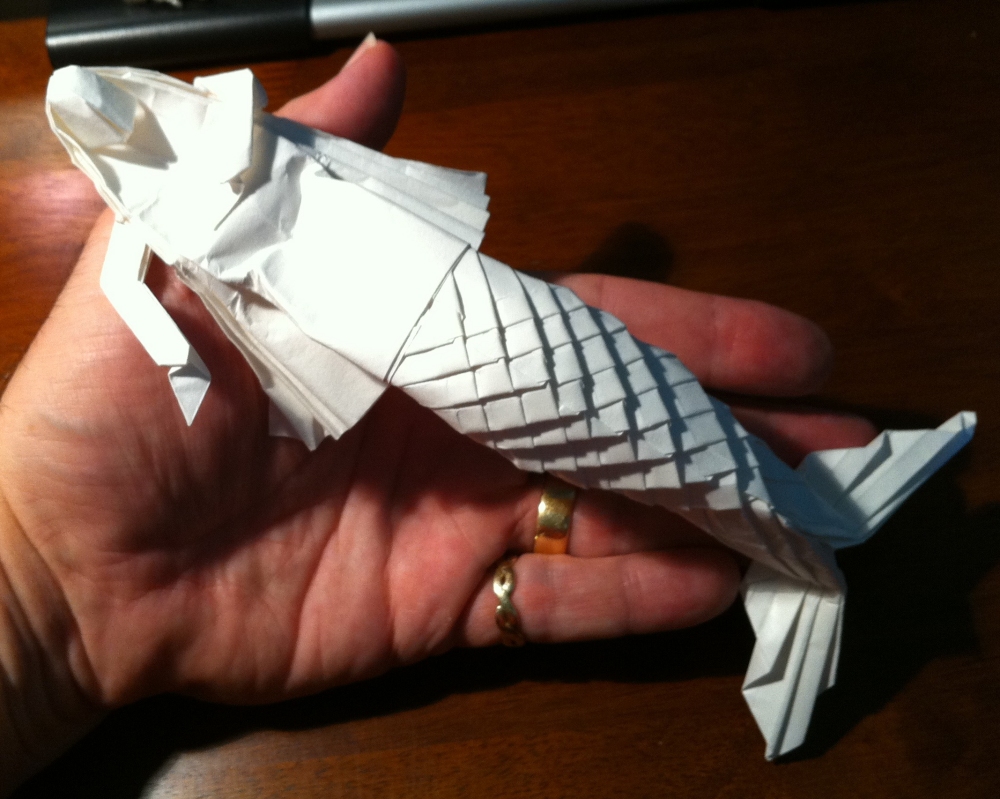 I have some offcuts of lithography paper, they just so happen to be as near as anything to 2×1, so this model works well on them – mind you, at this scale, the tail pleating is close to as fine as I can actually do with that paper – folding 24ths down to 4mm is not fun and the paper did not like it, humidity not helping at all.
In the end, we have a lovely figurative mermaid – slightly fishy, lovely flowing hair, hand modestly covering ample bosom and calm face. Her posture suggested reclining – I believe they "moon-bake", not sure where I got that from but anyway I made a rock for her to luxuriate on and it sort of works.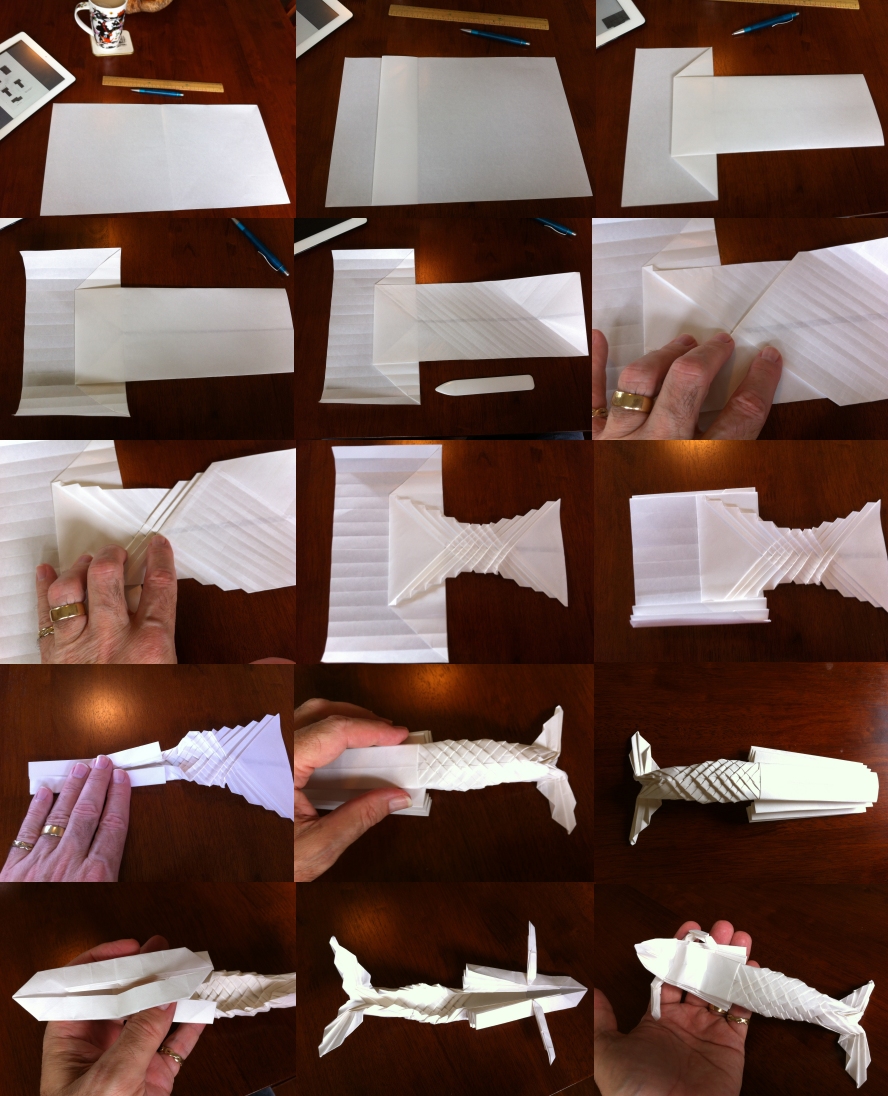 I learned a lot folding this for the first time, and will probably fold it again, I think I can improve the upper body a little – we shall see. Happy with the result none the less. You would get a decent fillet off her I would guess – the other other other white meat?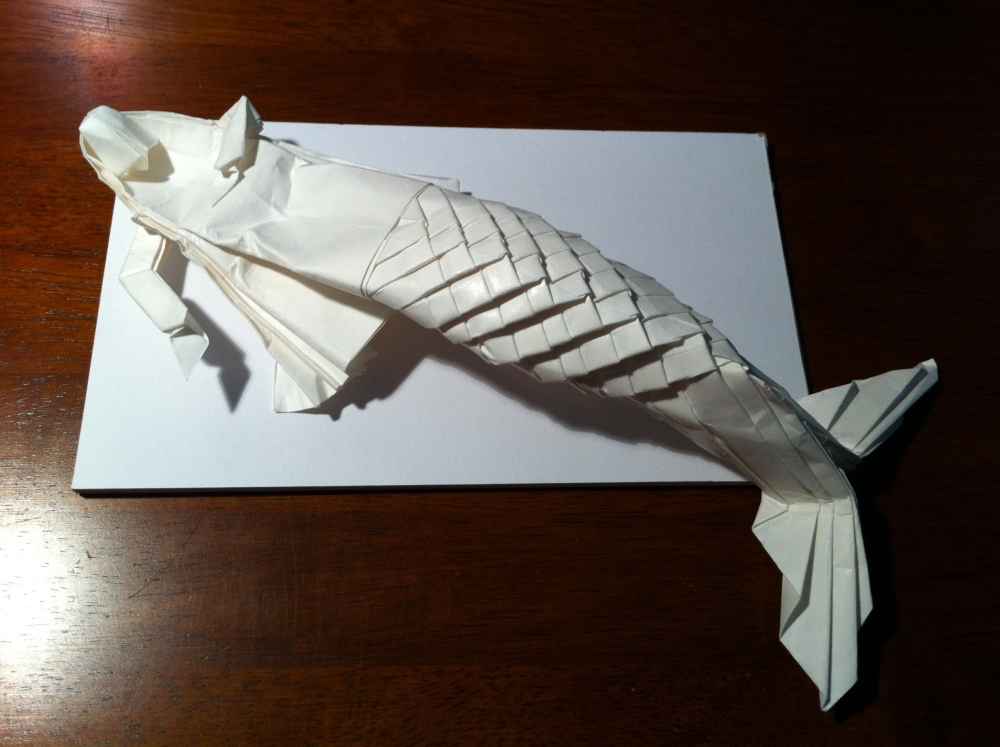 The instructions (well, actually a fairly rough folding guide actually) were in French, with odd proprietary annotations but it was fairly obvious what was going where from the outset – ingenious and not dissimilar to something I was working on myself but abandoned because it got busy last year.
post-script: In talking to Eric Vigier on Facebook, he had this to say:
Yes it's mine , and you're right in your comment : "odd proprietary annotations" but for my defence it's my first diag , made at hands in 2002, i'm always happy to see that I drew it for something , so thank you ! For the story, I met Eric Joisel in 2002, we became friends and met regulary at his home at this time and when he saw my mermaid he said me that he would like to do one since a certain time , so I gave him my diag and the result is the magnificent mermaid you try actually , that is the sharing way i like to see in the Origami world !"
How wonderful is this Internet-encircled world I ask you?