Returning to Paris after 3 years away has been a really interesting experience. I mentioned in the Lyon posts previously how comfortable we feel in France generally, but returning to the familiar Canal area of Paris has been wonderful.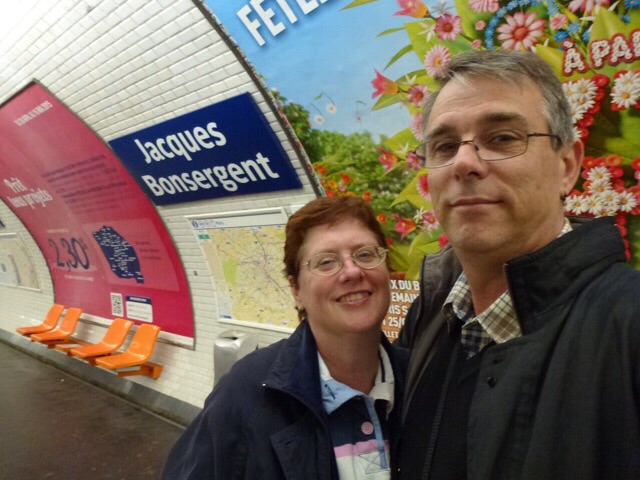 We were determined to try and get our previous apartment – such a funky mix of styles, comfortable and most importantly close to the best Boulangerie in Paris "du Pain Et Des Idees" and really close to metro stations and a bunch of great restaurants.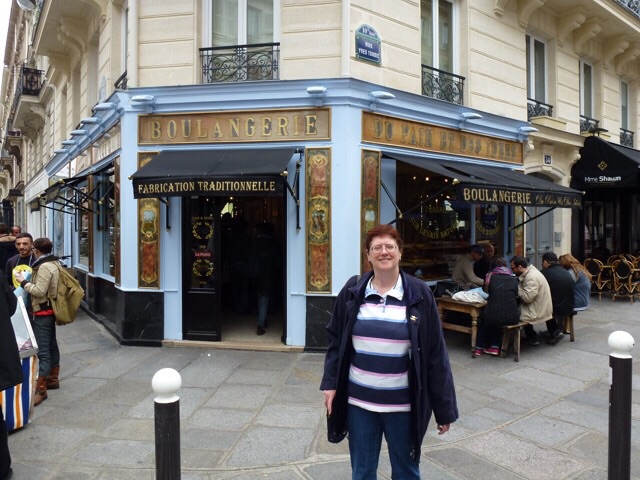 Sadly this will probably be our last stay here, as our hosts are thinking of selling up and moving to Spain (…so how much would a pair of apartments in Paris cost us Jo????) which is a real shame but I guess memories will have to do (…no, seriously Jo, I am ready to drop everything and move???). Speaking of memories, our first trip to Paris, first evening in the city was the perfect meal in a little restaurant around the corner called "Les Enfants Purdus" and we decided not to go back, our memory of that meal is perfect, and we do not want to sully it with another visit.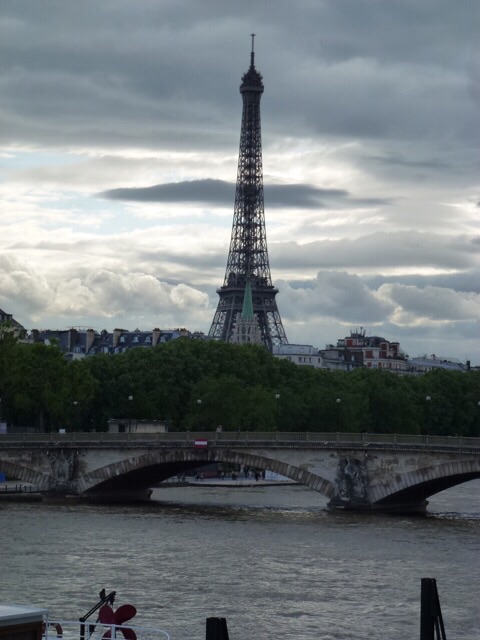 We arrived on VE (Victory in Europe) day,  national public holiday and we headed out almost straight away to catch the metro (a couple of line changes, easy for seasoned pros like us) to surface beside Arc De Triumph – a huge tricolour French flag flying in the arch. Amongst thousands of people, it seemed like all of Paris was on the streets, we walked the length of The Champs Élysées among more flags, such life and vitality buoyed us up (we were going to stop when we got tired, but before we knew it we were at Place de Le Concorde and still full of energy).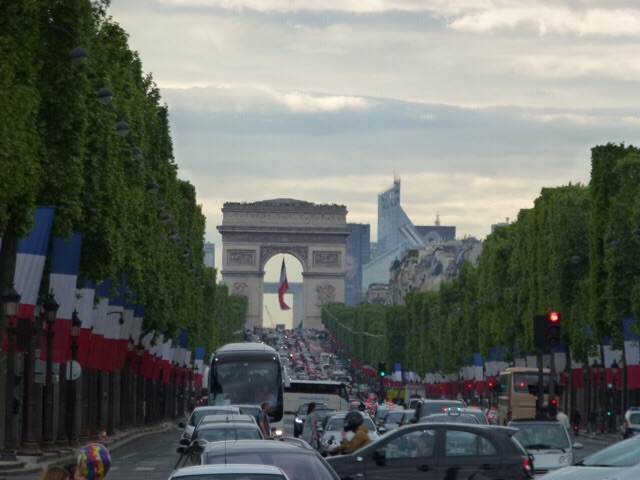 Europe generally has twilight – this brain bending light until after 9pm in the evening. I have found it takes some getting used to. I am generally dazed and confused both in terms of time and direction (something Jo finally learned about me is that I have the most appalling sense of direction, I have been telling her this for years but she finally now accepts that navigation should never be left to me). We find we are eating really late, taking photos without flash late into the night, it is nuts but in a wonderful way.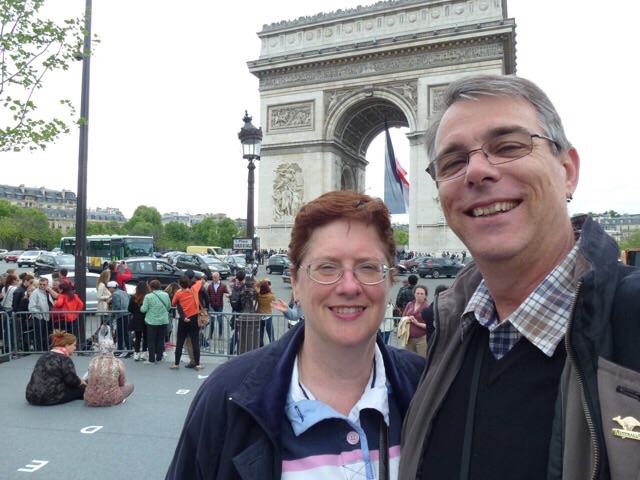 We consciously decided not to revisit the Louvre this time – it is too huge. We did however decide to check out Musee de Orangerie – we really went to see the Monet but checked out some odd sculpture in the lower levels first. Monet, like many of the impressionists of his era painted hints of scenes, you look at the work and immediately your imagination fills in the detail – I like that.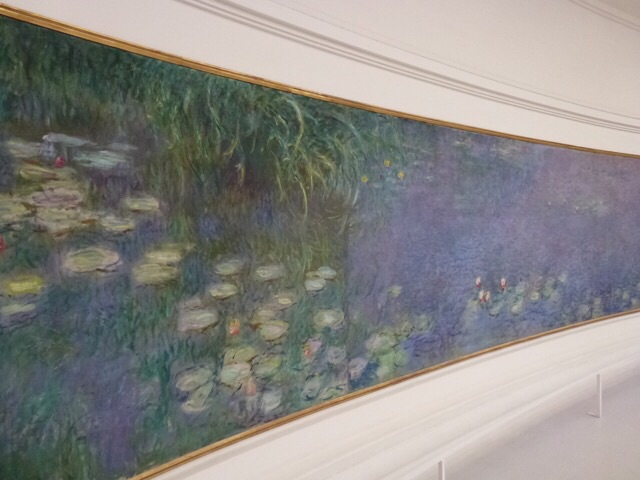 Orangerie on the top floor has a pair of oval rooms that are unique – water lilies surround you, like 360 degrees all around you.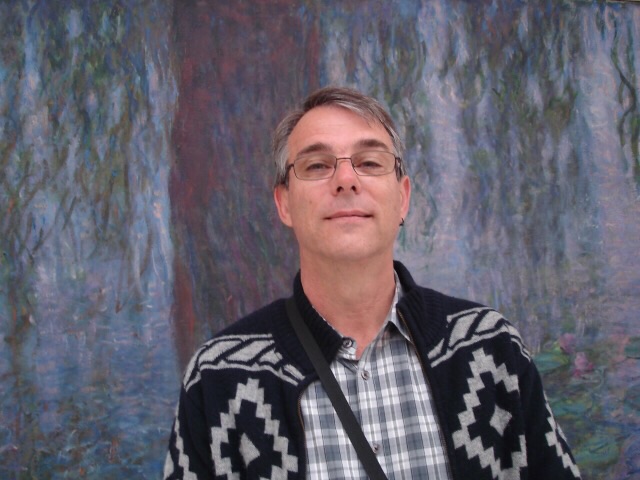 Monet painted these glorious panels that were meant to be seen from the centre and this museum built a space where this wonderful experience is possible. Such glorious use of colour, wonderful stuff.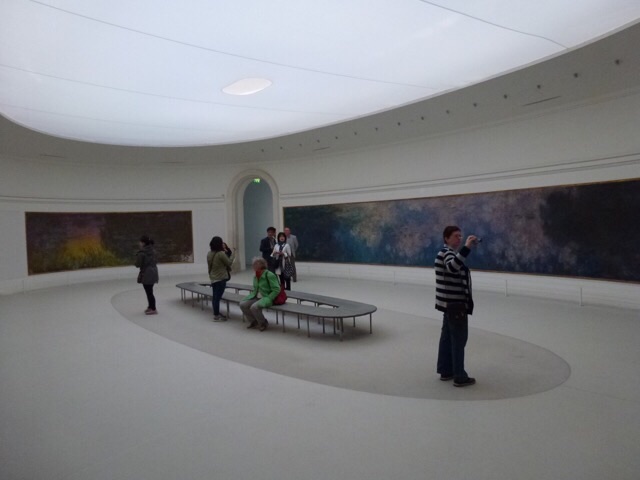 We then went to Le Musee D'Orsay, a glorious re-purposed train station and wallowed in the artwork there. I think I liked this museum much more than the Louvre for example because you could get up close and personal with the art, actually see the brushstrokes, admire the colours and technique.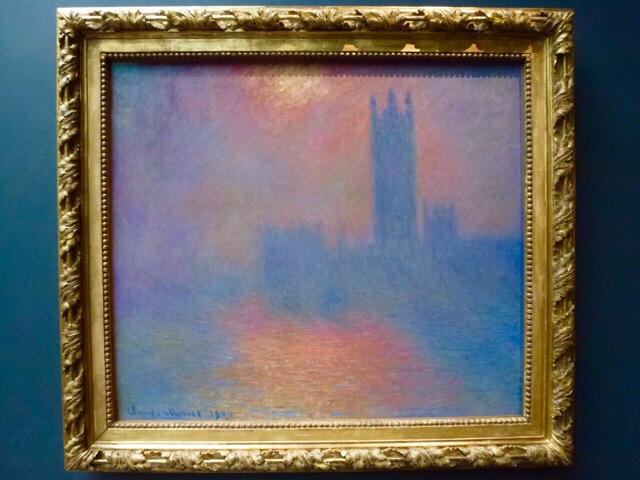 I wanted to do this with Mona at Louvre but were stopped by crowds, a barrier and 2 inches of bullet proof glass. There is lots to see at D'Orsay and the building itself is also a star. We stopped for tea/coffee in the funky cafe on the top level, admiring views out of the huge clock faces that front the building – just wonderful.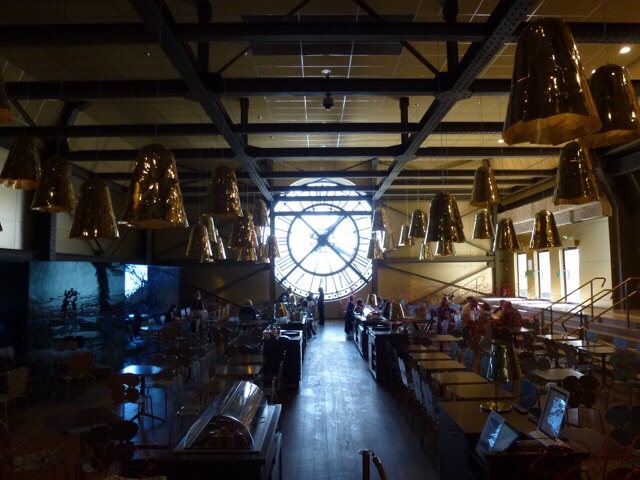 We saw many works I recognised, came to appreciate Gauguin, Renior, Van Gogh and countless others, examining many famous works – such a privilege. In old paintings I am struck with the wonder of light – the artist manages to add light to the works so they almost glow and I find that magical.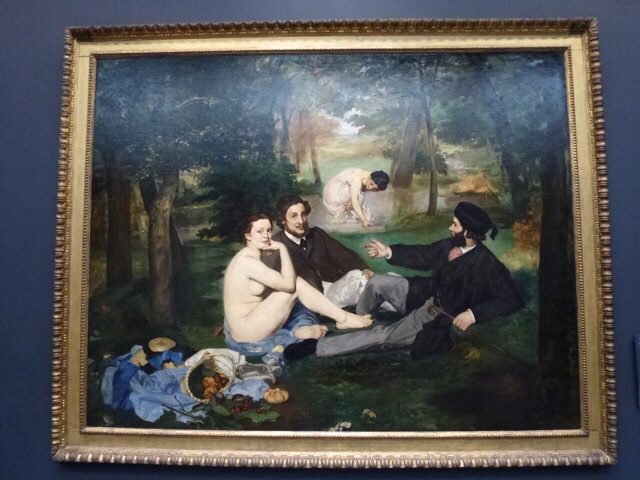 Those keeping up the last time we were here, our whole trip was arranged around cross city pilgrimages to patisseries (a noble cause we thought, there were some things we had researched that we simply had to try).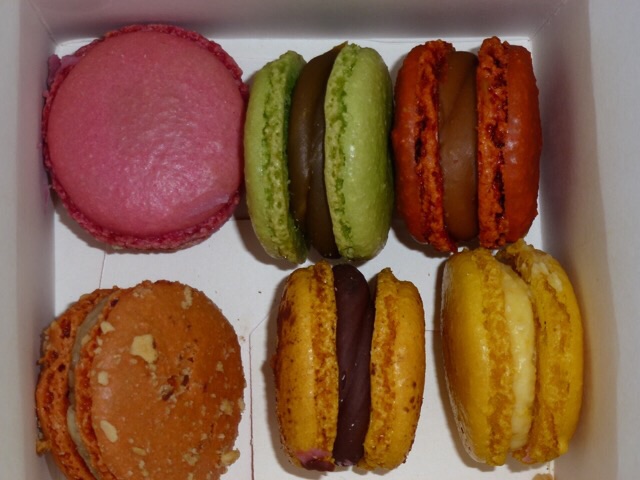 We were a little less pastry centric this visit but have deliberately detoured to pick up a discrete clutch of Macarons from "Pain de Sucre" because, well, because they are the best in the world.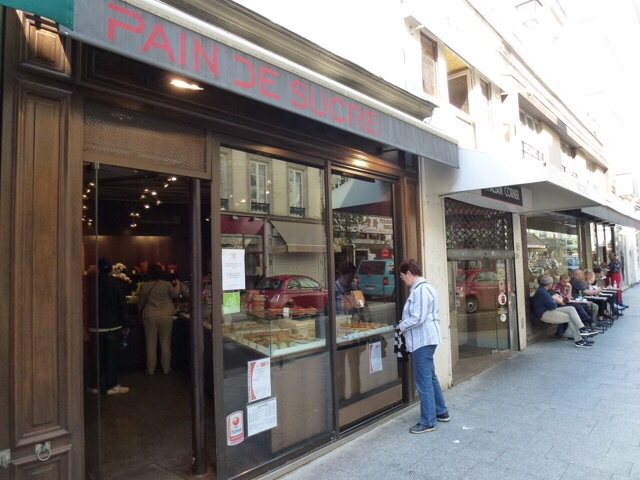 We could not go past the opportunity of walking a kilometre or so out of our way to pick up a pair of fruity pastries (this time rhubarb dome and mango slice) from Hugo & Victor – masters of fruit flavour concentration, and we forced them down for dessert one night – such a celebration of fruit, fondant, subtle sweetness and rich accompaniment with a presentation that just makes you drool.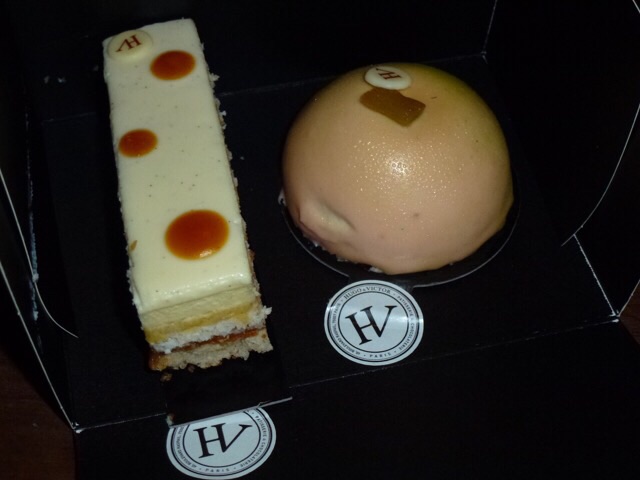 We also followed the pilgrims trail to Jaques Genim's salon – sadly he no longer sells pastries that you can take out, rather requiring you to sit and enjoy them in his tea room – not really an imposition as the thing we actually went there for was his hot chocolate – a magically thick, rich, slightly bitter and semi-sweet celebration of chocolate that is a meal in itself. We would go back again, it was glorious second time (even the burps later were a chocolatey celebration).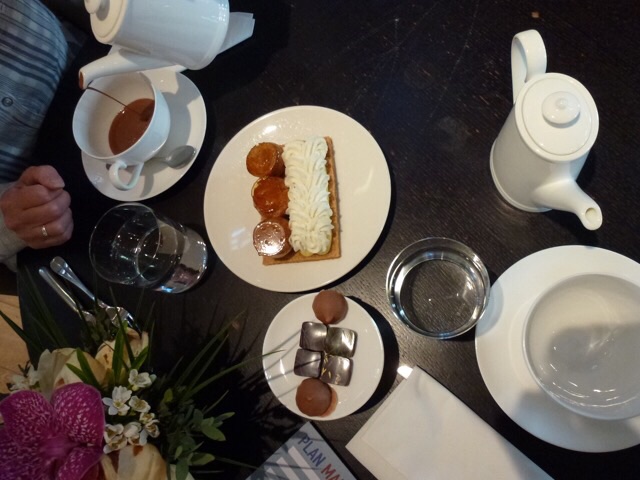 Getting around the city is actually pretty easy we find. It is rare to be anywhere too far from a metro station. Descending into the metro system, you work out where you are, what line services your area, where you want to go and what line that is on, then work out where to change lines. It is like a subterranean world down there, whole boulevards and streets underground connecting the levels, platforms and exits. A ticket gets you in, you do your travelling and exit a station, does not really matter how many changes or lines you have used, one price – brilliant.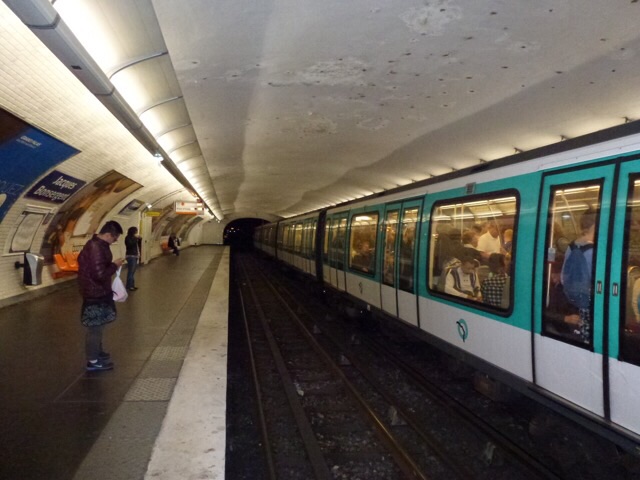 The longest wait is about 9 minutes, depending on the line it can get squashy but you experience Paris in all its complexities travelling native. Buskers get on, some are so awful that it is almost worth paying them to stop playing.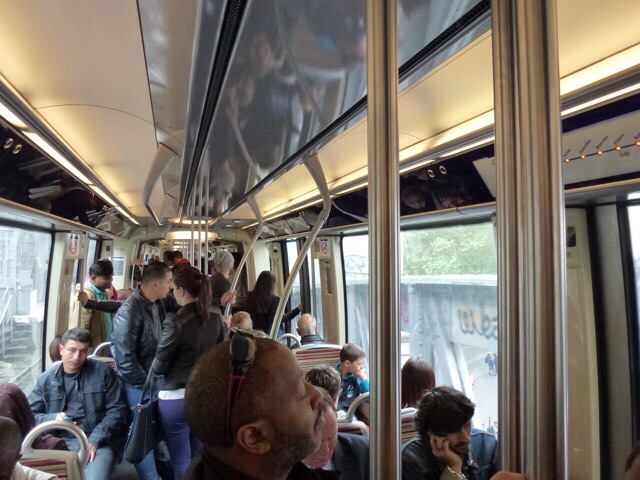 Beggars, whole families sleeping rough in the tube stations, massive artworks, avoiding pickpockets – it is a rich and wonderful place we are thoroughly enjoying revisiting.