They say a change is as good as a holiday. They lied.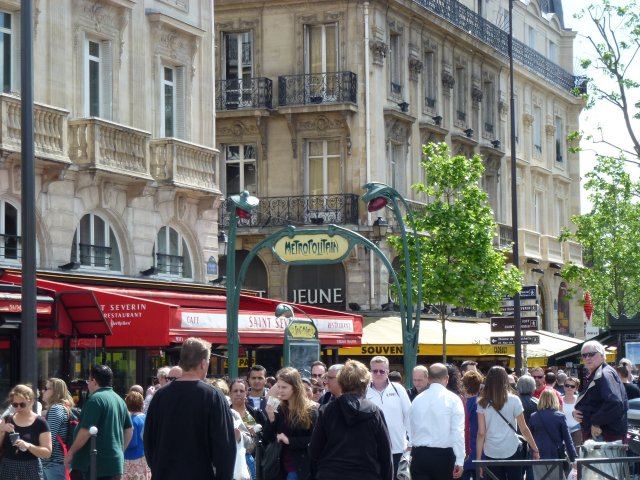 Our 6 weeks away has seen us explore cultures and food from many different countries, seen sights that simply do not exist in suburban Brisbane, met people from many walks of life, gained a little more international perspective and I think that merely makes us want to do it again.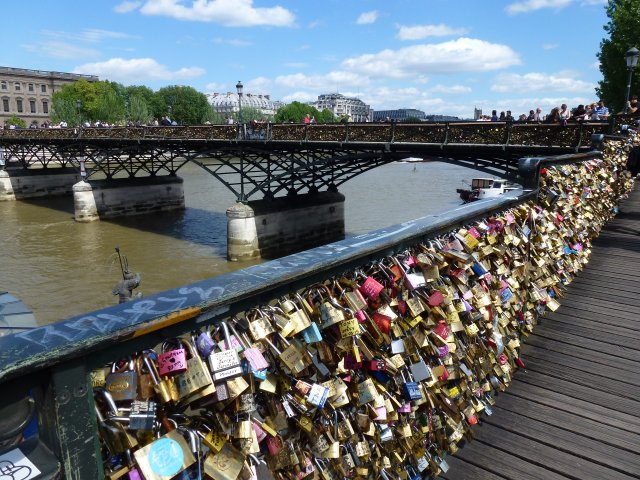 As we plan to leave Paris, not sure if we will return (because there are so many other interesting places to visit), reflecting on the holiday that was means focussing on the notables, and there have been many, most mentioned in other blog posts – this post will focus on some memorable moments for us in Paris.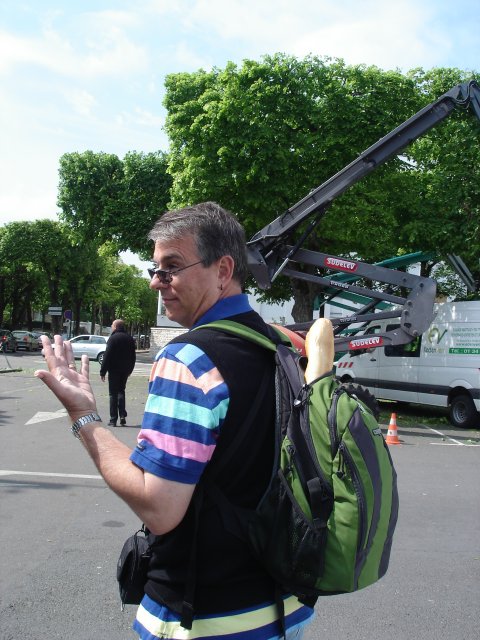 There are things that help us feel French, if indeed that is possible for someone who is not, but strolling along boulevards (Paris is famous for them, remodelled after a dictator thought the town was disorganised and dirty) is one of them. There is a distinctive "Paris look" – buildings 3 or so stories high built around a central courtyard, rounded or slated roofline, entry foyer and spiral stairs leading up that is so familiar, so sensible. Plain doors with treasure behind, utility green or dark, unassuming but secure.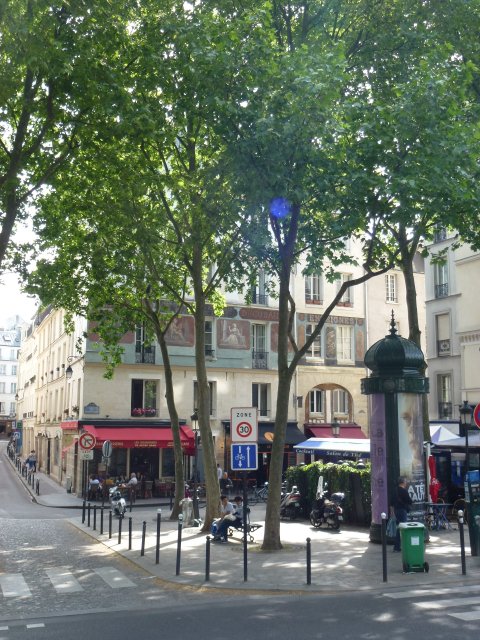 A morning walk to a Boulangerie, in search of crisp buttery still-warm croissant, baguette or other delight, a lovely gentle way to start the day, being greeted with a hearty "Bonjour!" From the shop keeper, so nice. I know many people think the French rude, we have not found this. We found they appreciate us trying to use their language (although I suspect we brutalise it – they can tell straight away we are not French), were warm and accommodating for the most part and often went out of their way to help, particularly when we were lost.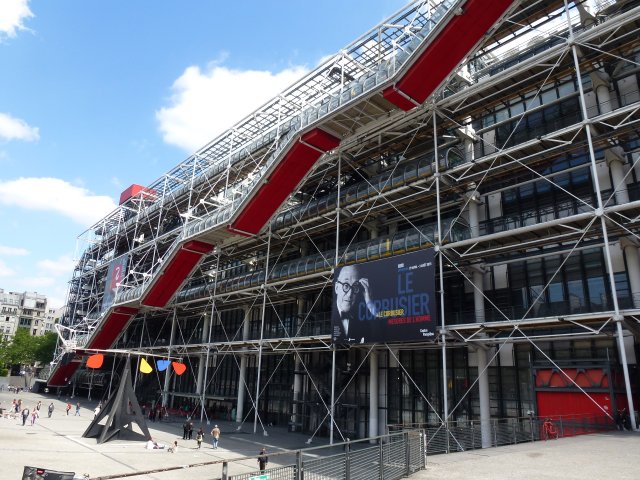 Last visit to Paris we walked around the Centre Pompidou but not inside. That was a mistake but you cannot do everything. This visit we were determined to go inside and explore. Such a cool building – services, pipes and other stuff on the outside make it appear to be built inside out. We started at the top, via odd steamy escalator tubes and wandered around a retrospective exhibition of Le Corbusier, a seemingly much loved French architect/designer.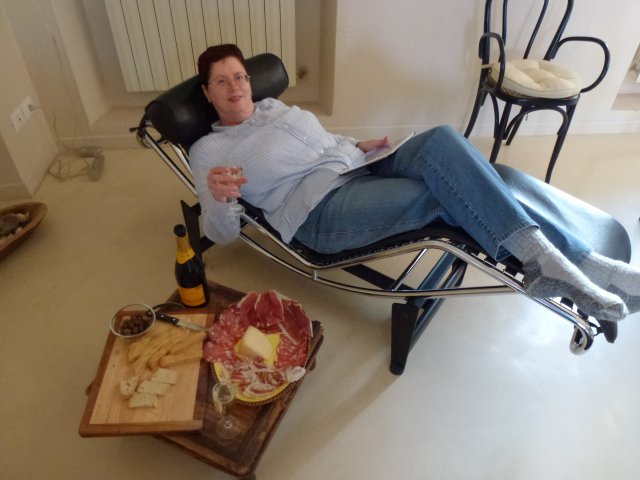 Much of the display was in French only, and seemed very confusing/too arty for our brains but re recognised something – a chair, the most comfortable thing we sat in in our flat in Lucca – it was a Le Corbusier chair (retailing for 4500E) – I decided I still want one, one day.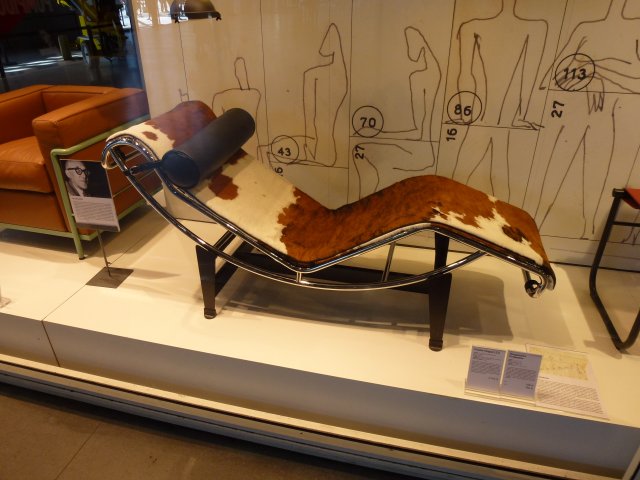 The lower levels had modern art, I was particularly taken with a section that contained works by Jean-Paul Goude – his style is unmistakable and contained much to do with Grace Jones, another favourite of mine. There was sound art, participatory art and stuff I had no idea what it was, but the gallery spaces are fascinating and well worth the trip.
Jo knew how much I loved St. Chapel (as a glass artist, it is a bit of a holy grail), and discovered there was a concert series playing when we were in town. We secured pretty good seats to a string ensemble (3 violins, viola, cello, bass and harpsichord) and had the vaguest of ideas what they would play before hand but reasoned that it was in St. Chapel, how could it not be amazing?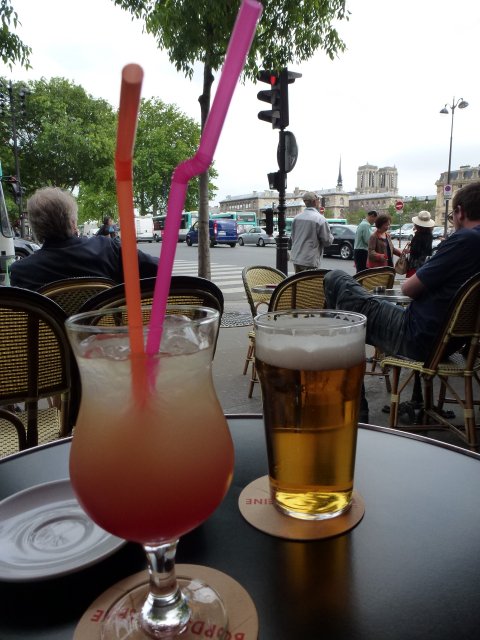 We arrived early, as is our habit (Jo has transport paranoia so we usually arrive early, as opposed the the dreaded late) so spent some time doing something very Parisian apparently – we sat in a cafe, with a drink and people watched. The more you do this, the more you realise there is no such thing as normal, fascinating none the less. When it was time we joined the entry queue.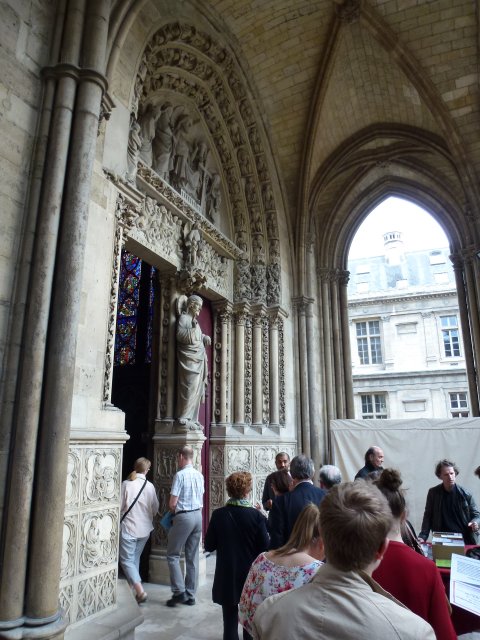 Once seated (bag X-ray, frisk and a couple of queues later) the time for the concert start came and went, then, in embarrassed French the first violin came out and explained that the cellist was late but they would play something while he arrived. To my great delight they started with unplanned but clearly rehearsed "Air of a G string" by J.S. Bach. I still get goosebumps thinking about how deliciously the venue acoustics made the sound of the ensemble rich and lovely. Imagine intricate well played music in an impossibly lovely building – every surface of which was either stained glass, gilded carving or rich painted decoration – there is nowhere in the world like St. Chapel.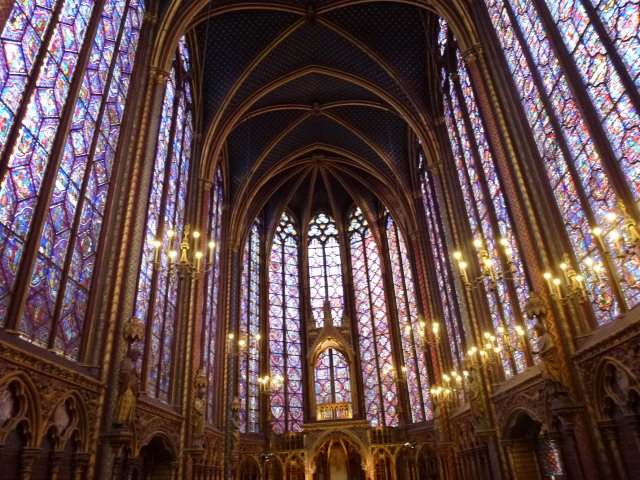 They then began an exempt from "Four Seasons" by Vivaldi, with the viola sort of filling in some of the cello parts and it was nice but noticeably lacking a bass section. Then the cellist rushed in, lovely bald head glistening with sweat a the poor possum had been running with his cello in a backpack. After getting settled, the viola player mopped his friends head and they started a stunning rendition of Pachelbel's "Canon" – a glorious looped piece with each instrument weaving in and out of a not so simple melody.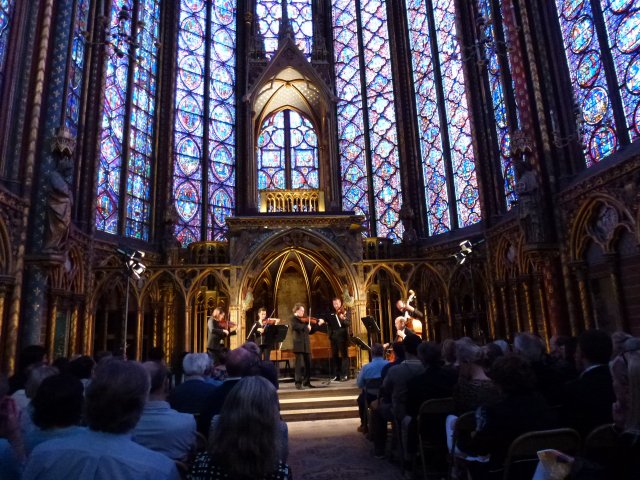 After rapturous applause, they set about rendering Four Seasons in its entirety – 12 or so movements, stirring and complicated. It was clear why they waited for the cellist as so much of the piece was violin 1 musically arguing with the cello. Boy could the first violin play, such a treat. After an encore piece it was time to leave and find the restaurant we were now late for dinner in. All round a stunning and memorable day.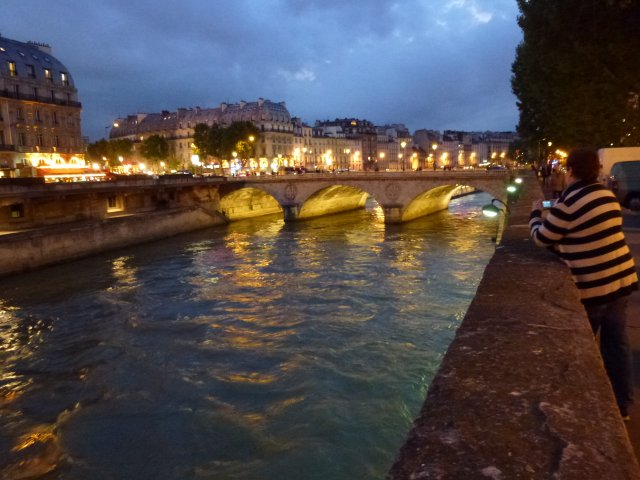 Last visit we failed to see the lights of Paris – this blasted twilight means there is light until late in the evening. This visit we were determined to see what we could see when the lights went out so after a late dinner we began walking the streets – Notre Dame, Louvre, finishing up at the Eiffel Tower.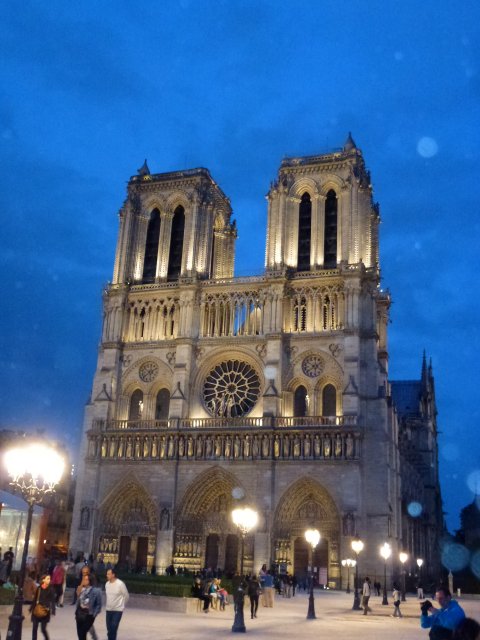 We were tired, it began to rain (well inconvenient squalls between drizzle really) but at 11pm the twinkling lights went on and the assembled dampened but none the less enthused crowd cheered, rightly so.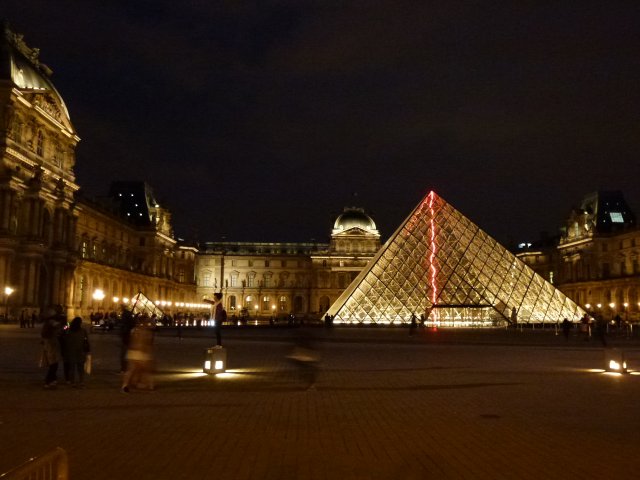 Wet (the first time we ventured out without rain gear and needed it – grrr) but elated we negotiated the metro back home exhausted but satisfied we had seen the city glow.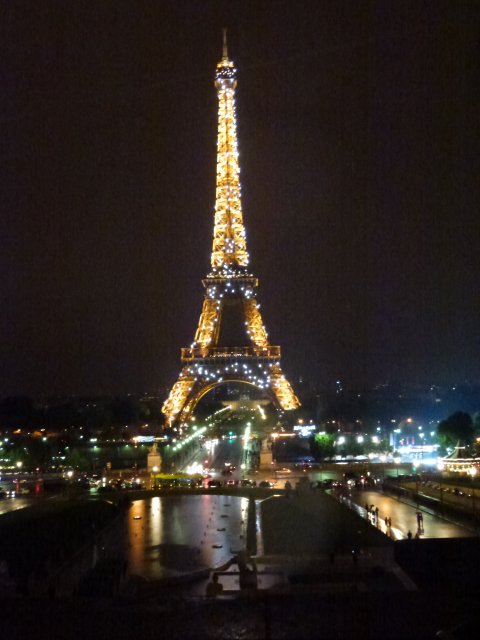 We spent a morning wandering with intent through markets. The Bastille markets were well and truly full of stall holders and customers by the time we arrived (which was fairly early in the morning).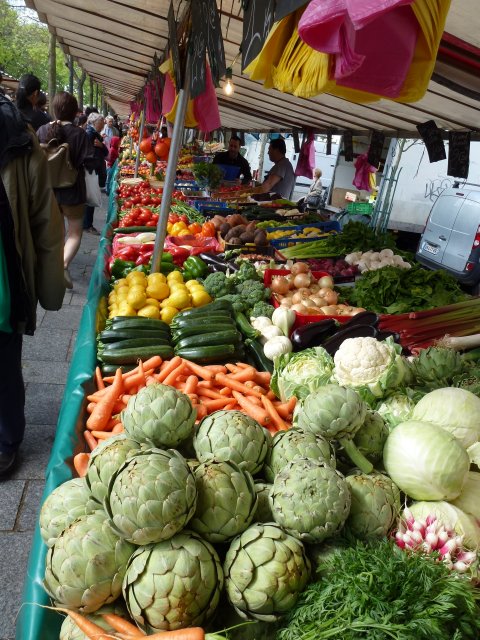 Jostling, fevered spruiking of wares, a vast array of fresh fruits, cheeses (I am still amazed at the variety, and the apparent fluency most French have with the names, characters and pairings), meats (freshly slaughtered, preserved, cooked steaming and available in pate, terrines, sausage and bungled mystery meat), breads, olives, the works.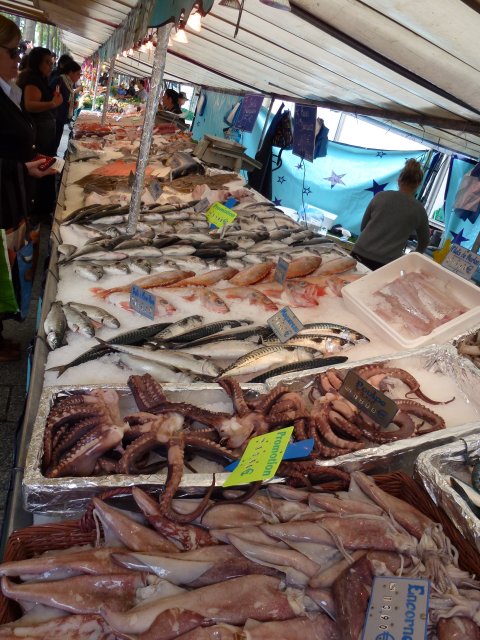 We used the market to pick store cupboard ingredients for our home cooked meals but talk about spoilt for choice.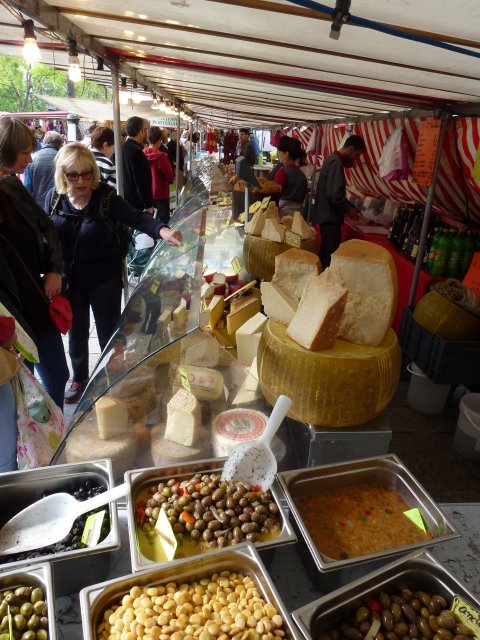 During a meandering exploration of Montmartre, we wended our way down the hill to a cheese restaurant (yes, there is such a thing) and had an amazing lunch – we could choose 5 or 10 cheeses with wine – we each went for 5 cheeses, our cheese preferences (or rather Jo's no blue) was noted and soon a slate with a clockwise selection of cheese wedges arrived, along with bread, salad and wine.
The cheeses, some soft, some hard, some strong flavoured, some veined and furry, were to be eaten from mild to strong – we each got a different selection and began trading. It was fascinating, surprisingly delicious as an occasional lunch idea but we both found the afternoon walking a little tiring, and probably would have benefited from a nap to get over the cheese comas.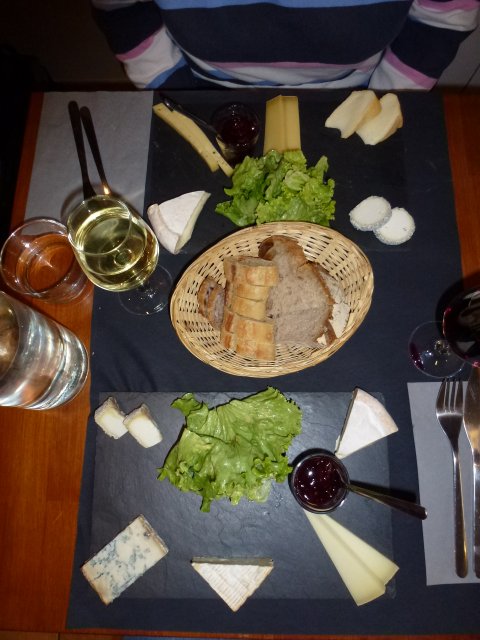 We had decided to try and French-up our new kitchen, so we're on the prowl for artwork and …things to help us, strolling along the Seine one afternoon we just walked and walked and walked – just one more bridge. Along the walkway artists, book sellers and scam merchants set up stalls, you can get nearly everything. We saw a series of water colour images that we sort of liked that were Paris scenes, originals (according to the stall holder), then we saw the same set, different size, different stall, then a series of oil paintings, then the same images again in water colour, then as prints, then on postcards, then on shirts, trays and coasters and realised that "first buy" instincts are not always right.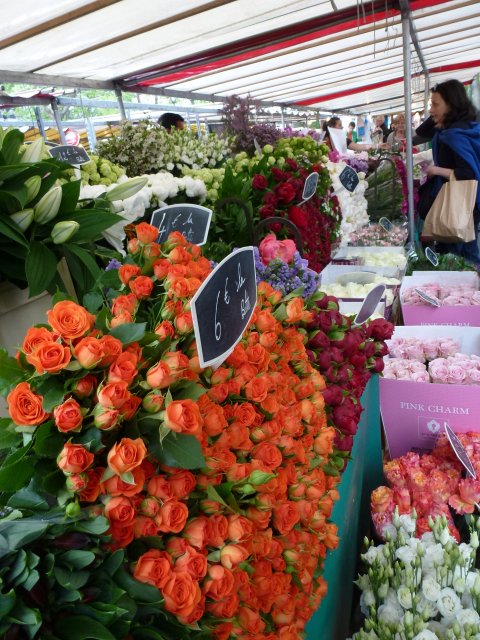 Near the end, more confused about what we wanted than ever, we came upon a water colour artist, unassuming stall, small paintings of local buildings we recognised, lovely architectural detail (pen and ink then water colour wash), saw one he was finishing and decided to invest. We bought 4 all up, lovely things (one wide and three tall) that will look splendid on the walls, all evoking powerful memories of street scenes. It was so lucky we waited as we think we have something that there are not copies of (couldn't bear the thought of hanging something that was a dime a dozen).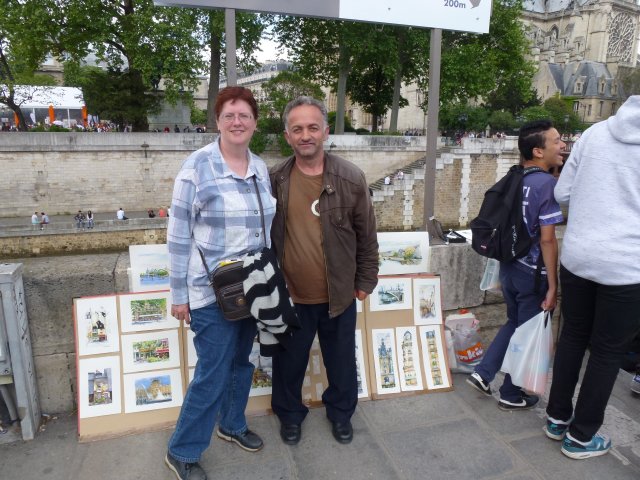 We are still looking for bits and bobs, but have started a collection of things we will remember buying, from places we loved (and we think Vernon the rooster will approve). Our biggest problem is that we do not really know what we want, but know that when we see something we love then it is easy.
Holiday over, easy to wax lyrical but it has been fun, we travel well together (isn't that right Jo?) and neither of us are looking forward to the long haul back to the far side of the planet. It helps you realise how far Australia is from so much of the world when you travel to Europe. You also realise how close so much of Europe is to each other, no wonder locals travel so freely.
We arrive late Saturday, having lost time via timey-whimey-wibbly-wobbly and will sleep as much as we can – neither of us sleep easily on planes but at least with Singapore airlines, we get a little more legroom in cattle class.
Returning to work will be …. interesting.