We spent most of Saturday in transit of one form or another. After getting up early, finishing packing and just making the Waterbus to the airport, we then searched for the Air Lingus checkin and boarding gate. On being bussed to the plane we were told we would be waiting on the ground until fog cleared from Dublin airport. Some half hour later we took off for the relatively short flight from Venice to Dublin.
On arrival, we noted the temperature drop, but found our luggage had joined us, lugged it down to the hire car place and safely ensconced it in the boot of a lovely red Mazda 3 sedan. Being really new, and 6 speed manual (well, 8 if you include neutral and reverse), there was lots of bling to master. We had to ask how we start it (lol).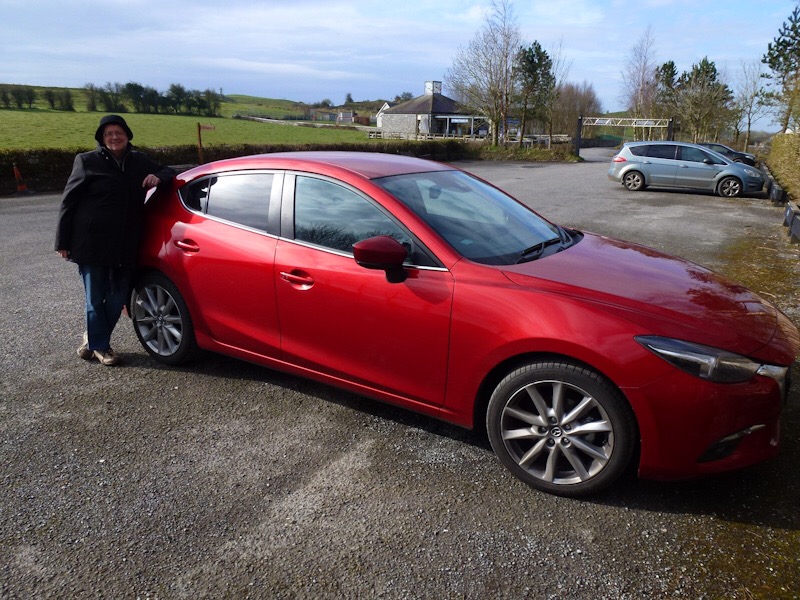 With gears and other bling mastered, we motored fro the airport to a nearby Premier Inn for an evening stop before going further afield. We then went walking to purchase a SIM card for my phone, the designated satanic for this trip. We bought a 3Mobile all you can eat data plan which did not end up costing too much, then returned to the hotel for dinner and sleep as we were both tired.
Premier Inns motto is "A Great Nights Rest", oddly they failed their brief as at 2 am the fire alarm went off. We blearily went down to reception along with most of the rest of the residents only to be told it was a false alarm. It went off again before someone worked out how to turn it off. Back to bed for a truly terrible rest of night sleep.
Packed and breakfasted, we motored West, leaving the built up parts of the city onto the motorways for a fairly zippy trip (gotta love 120km/hr limits) to Clonmacnoise – the centre of Celtic Christianity and resting place of Saint Ciaran.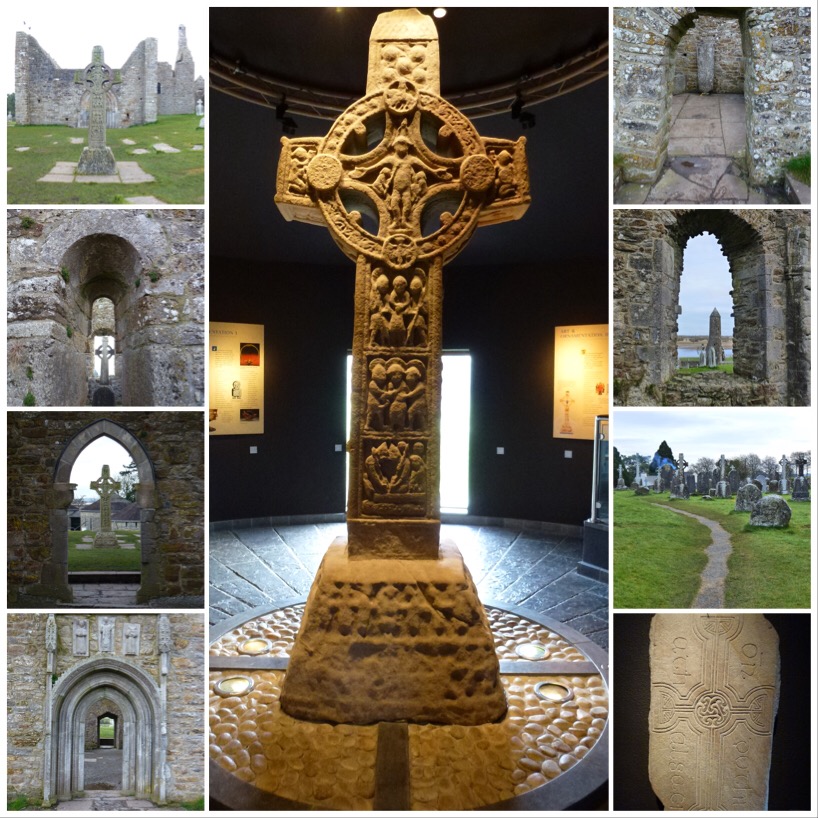 We wandered around some really well preserved ruins of chapels, Celtic crosses and towers, watched a film on the area and generally wondered at how people must have lived through tough times. This was the site featured in "Vikings" when they raided the monastery – fab stuff.
From Clonmacnoise, we continued West towards Ballyvaughn (still to learn what the "Bally" bit means, many towns begin with it) for lunch at The Larder Deli – soup and a sandwich (apparently quite the thing) – a delicious sweet potato, capsicum and chilli soup served with soda bread (a sort of damper) and a grilled Moroccan vegie toasting – yum.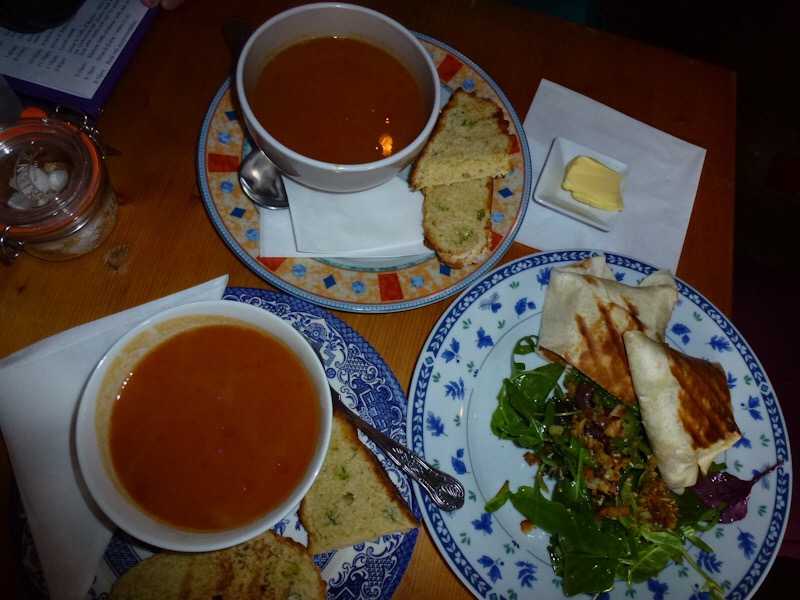 We then continued through The Burren – a desolate area of rock and snowline where nothing grows – very odd landscape. We walked on an odd stony causeway that was part of the  Burren walkway, leading to the waters edge. An odd weathered plate of fractured rock.
Then on via "Corkscrew Hill", which apparently is tricky driving. Anyone who has driven the Palmwood Ranges in the Sunshine Coast hinterland has had a tougher time however -locals need to travel more widely to realise their windy roads are actually fairly straight.
We drove via a goat track of a road up behind the remains of Doonavore Castle to photograph the coastline with the castle in the foreground before heading to the Cliffs of Moher.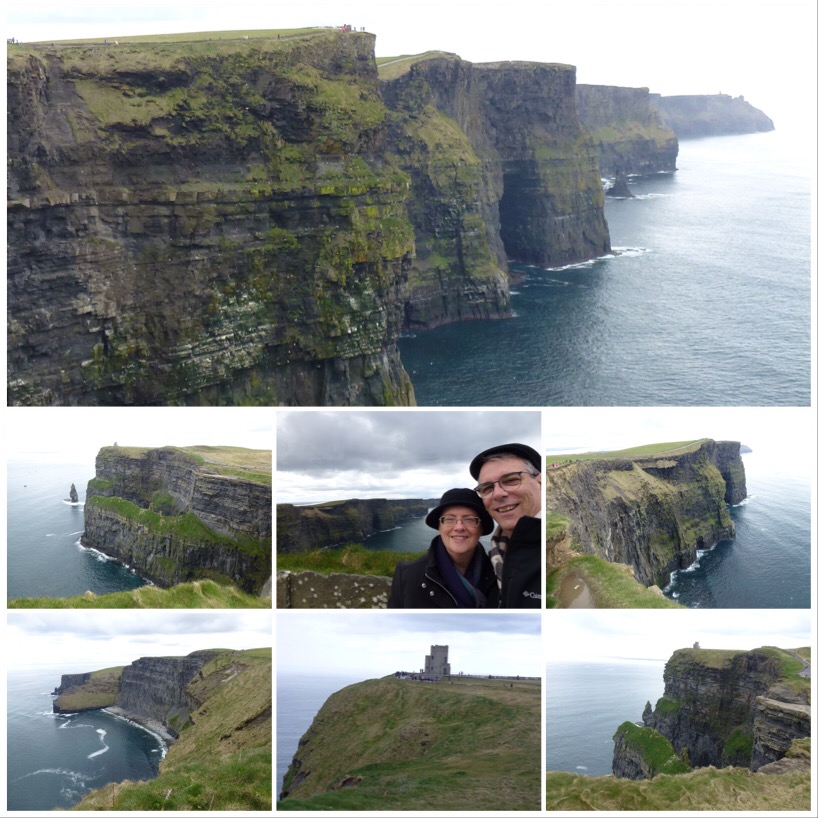 It is difficult to convey the scale and majesty of these cliffs. Sheer, dark stratified rock, plunging to the sea, covered in nesting seabirds – just amazing. A series of cliff walks take you forwards and back along the edges, each step revealing another dizzying vista. There were sections of the walk that had no barriers – and stories aplenty of people getting too close to the edge and falling. There would be nothing left of you if you did.
After walking hither and thither along the cliff line, we visited the underground visitors centre, then back in the car to warm up, followed by a rather nice rural drive to our evening digs in Old Ground Hotel -a grand old building in Ennis, County Clare. After a hearty dinner, Guinness  and bon homie we turned in, exhausted from a long day of motoring, having crossed Ireland East to West – a grand day out.