Our drive back to Dublin, our last destination in Ireland, took us through the Wicklow Mountains. A clear, crisp day opened with blue sky – our first since arriving in Ireland and it is interesting what a psychological difference seeing sunlight can make.
After packing up, getting the car out of parking and heading off, we spent a short time on the motorway before heading off-main motorway and back into the quaint country lanes that I actually enjoy driving through. Twists and turns as we went ever upward, the green fields giving way to low browned off heather and gorse, bleak and windy. By this time the sun had begun to hide and the grey skies making it even colder. On the way up we spied patches of white, thinking it not cold enough to still contain snow we reasoned it must have been white rock outcrops.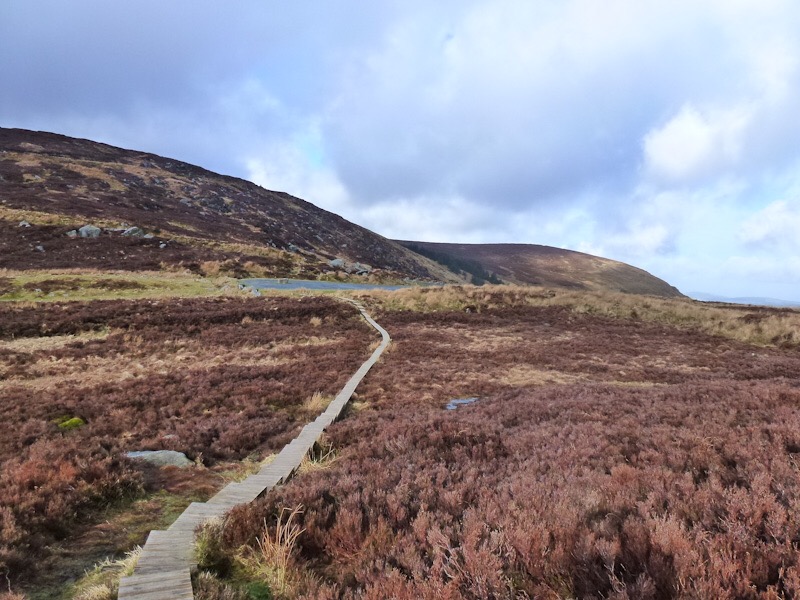 We ended up at Glendalough, and decided to do a pair of circuit walks up through the forest, around black lakes and freezing streams. The countryside was lovely, trees tall, mixture of birch and spruce, old trees covered in moss, just magical. Amazingly, without too much puff we reached tthe top of the circuit, near headwaters of a babbling brook, then wended our way back down beside a black lake.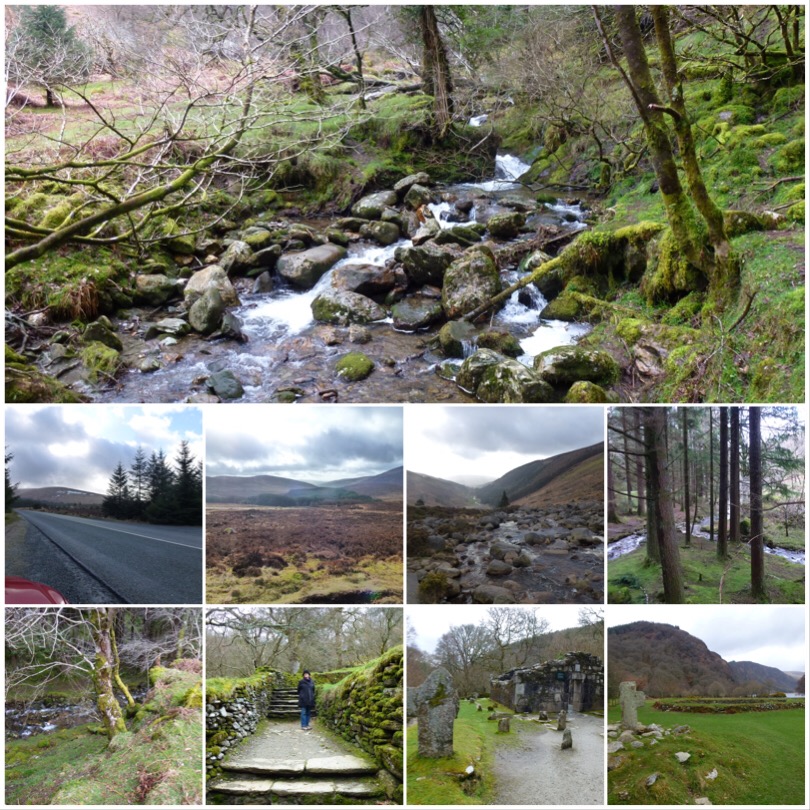 The water here seems tea-stained, presumably by vegetation, the streams like a weak cup o tea, the lakes proper brown. There were abandoned stone dwellings along the way and a rather charming chapel ruin set into the bank with stone-lined paths and retaining walls.
On returning to the carpark, we reasoned we had earned tea, so headed a little down the road to a hotel, had a splendid cup of tea and huge scone each (well earned). Walking distance from the hotel (and probably why the hotel is there) was a monastic ruin. Clearly visible was a round tower, adjacent a graveyard and a number of chapels in various states of tumble down condition.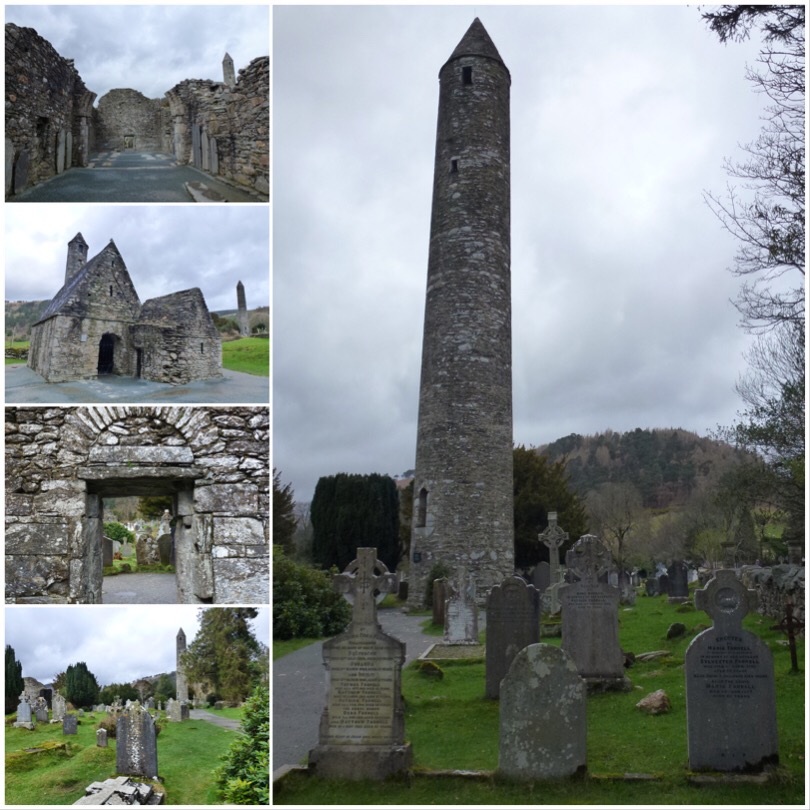 After a good walk around we returned to the car and continued on our way down the mountain. As we turned a corner a large white ice drift was accessible via a pull-over. One of many issues with scenic goat tracks is there is nearly nowhere you can safely stop to get out and take photos without falling over the ledge or being squished by oncoming traffic. This ice drift however was accessible and it was clearly once deep snow, thawed, refrozen and now melting. Proof enough to us as to why the heather and tuft grass was all brown on the tops of the mountains – snow had been here, recently.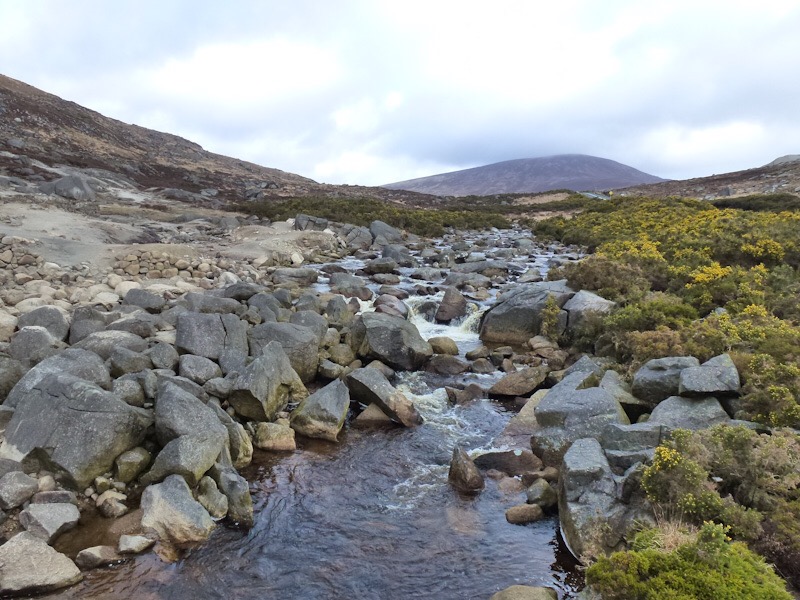 In retrospect we should have built a snowman- something we decided we would do at the next icedrift because…there would be one. Sadly we did not pass any more,  by the time we gave up on that quest we were down the other side motoring towards Powerscourt Gardens in Enniskerry.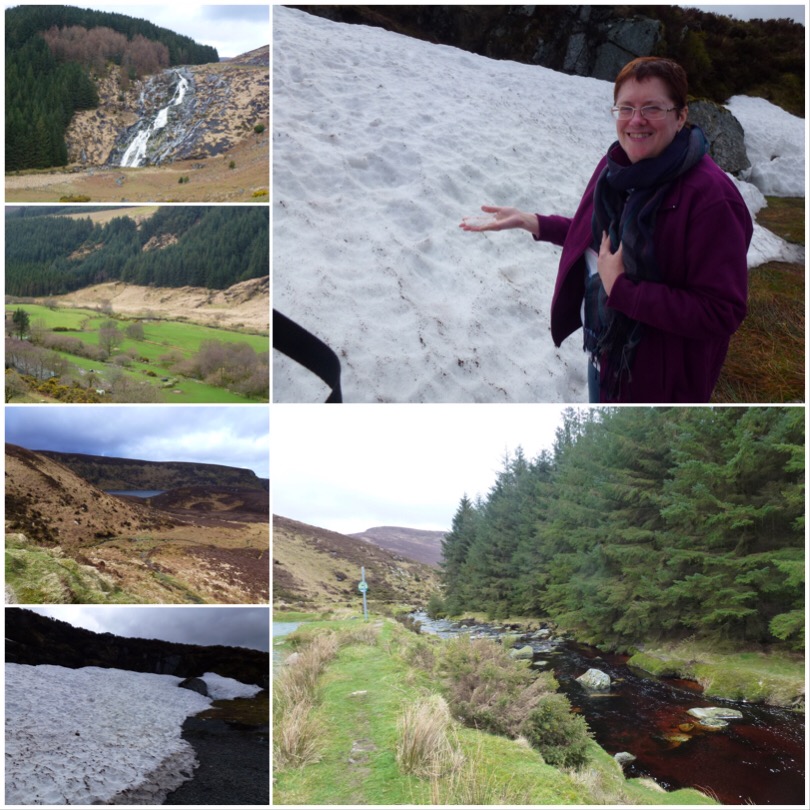 Parked, tickets acquired, we entered the huge Powerscourt estate and wandered for an hour or so through every form of formal garden, munching lunch along the way. Grand Victorian formal gardens led to wooded glades, rose gardens, a Japanese style garden and even a fake ruined tower. All very lovely. It takes an army of gardeners to keep up with the estate, they als have quite a horticultural and craft business going on there.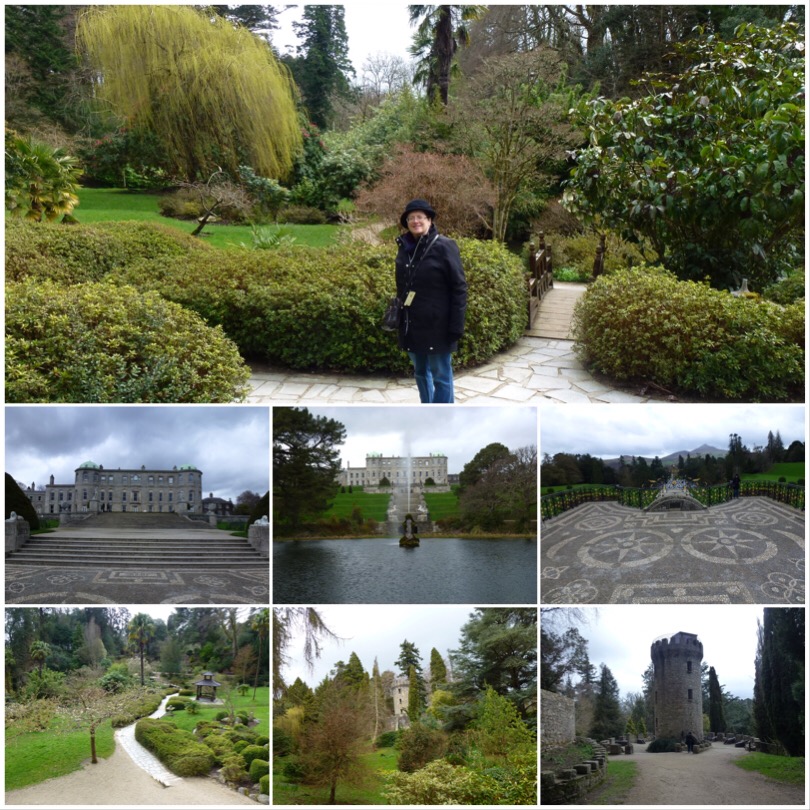 Refreshed and cold, we returned to the car and drove the remaining way back to Dublin airport to return the trusty Mazda3 to the hire car people and then bussed into Dublin to our compact apartment that will be home for the next 4 nights. After a quick provisions run, we cooked a hearty and welcome dinner before going to bed, exhausted after a long but interesting day.