Our last destination in Ireland was Dublin. We had a cosy apartment near the centre of the city, adjacent to shopping and transport hubs and from here we walked and bussed all around. Our first day in town we decided to join a walking tour and our guide set a cracking pace for what seemed like hours. So fast in fact that I paused to take a photo and completely lost the group for what seemed like an age – ugly feeling to be lost in an unfamiliar city. We were reunited after some tense moments but the guide seemed to just plough on regardless of whether her flock were with her.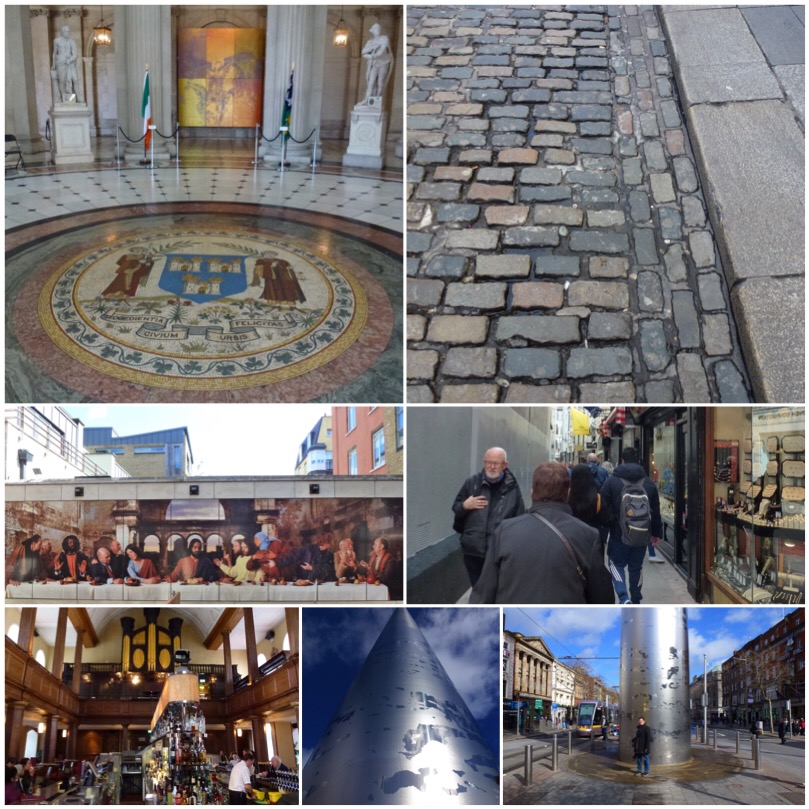 We covered a lot of ground, saw many sectors of the city and learned a lot about Irish rebellion. There are many things Irishmen seem to want to talk about, the potato famine, the rebellion, breaking free from English rule, the country divide between staunch republicans and monarchists. Seems every location had some key part to play and each person telling the story tells it with a different slant.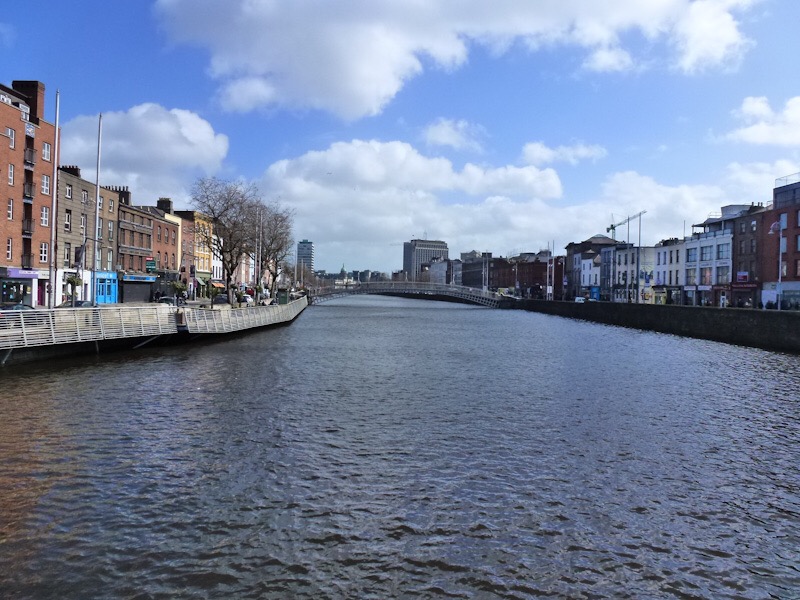 Suffice to say, with Brexit and the current EU instability, big business is flocking to Dublin (many of the biggest blue chip countries now have their head offices here) for tax reasons, England seems very much the loser in this deal, but I barely understand the politics and economics of it.
Our first day was capped off by using the hop on hop off bus service to ferry us to The Guinness Storehouse for the obligatory tour.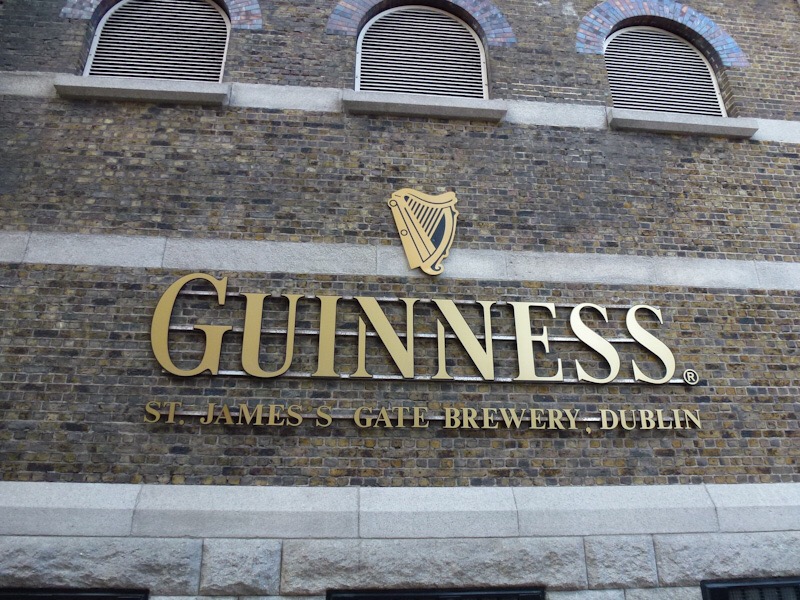 Guinness on tap in Ireland is like nothing else. The factory is so well set up as a tour they process hundreds of devotees an hour. We got to see the brewing process, understand the ingredients, taste the product and I got to pour my own pint, after receiving instruction, and certification after.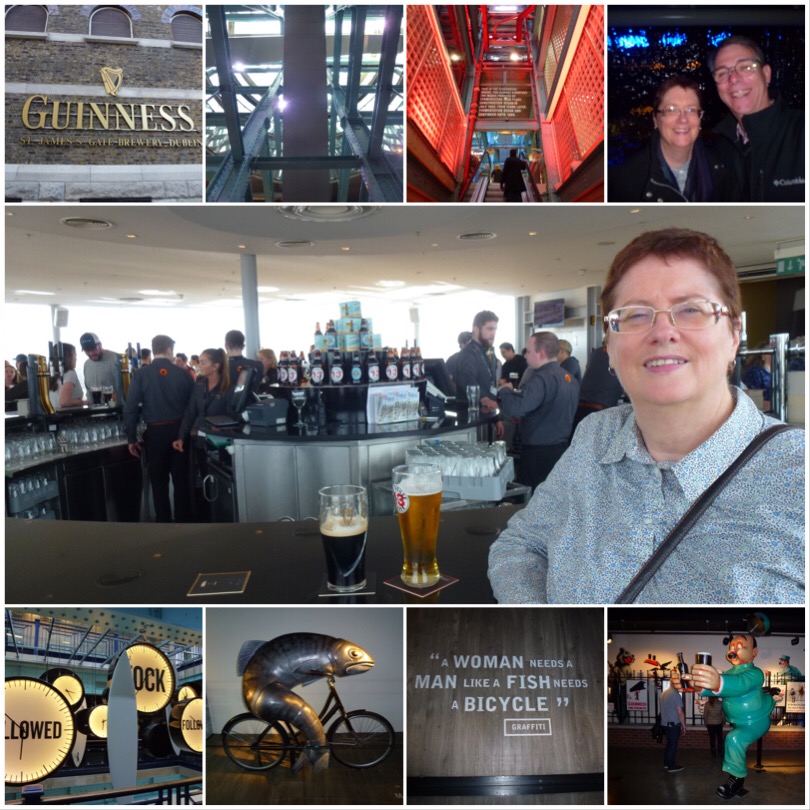 After the tour we ascended to the Gravity Bar at the top of the Guinness factory for well earned drinks and amazing 360 degree views of the city. We sort of decided we needed no merch but later reasoned my homebrew might taste even nicer from a Guinness pint glass.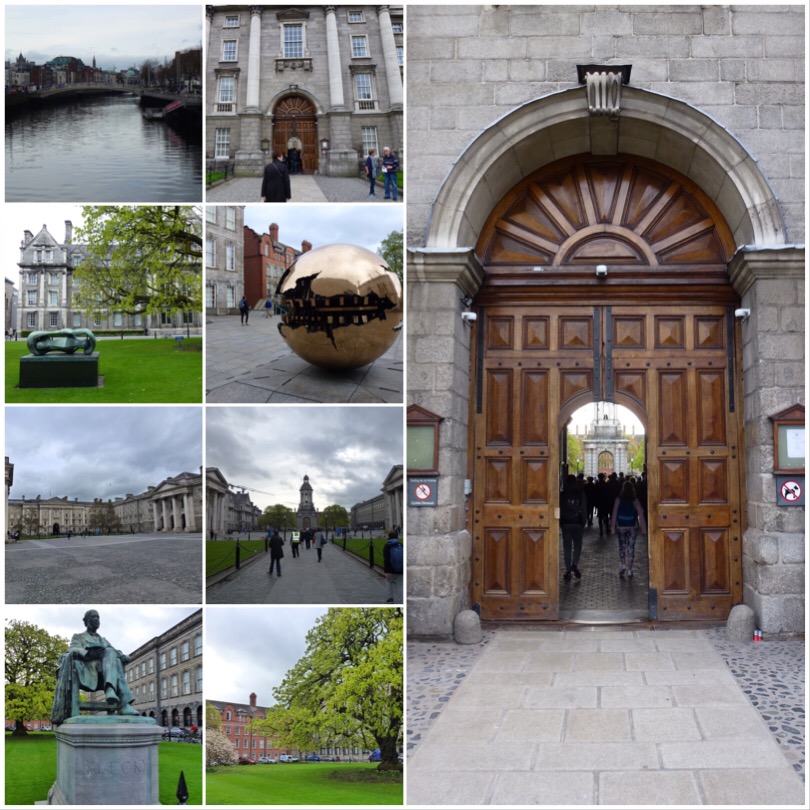 Our next day was another walk-fest (we will have walked 500miles before even getting to Scotland) that started by a walk to Trimity College -a huge university famous for literary greats. We wanted to see Ireland's most significant cultural relic, and ancient manuscript housed in the library building – The Book Of Kells. Written and illustrated about 800ad (yep, that old) it is nothin short of astonishing. Pages of vellum(thin calf leather) are inscribed with ancient versions of the 4 gospels, then illustrated with the most astonishing illuminations, glyphs, sketches and Celtic symbology. No photos allowed inside but wow, just wow. We even got to see the book open, on our visit we saw the page that layer out the genealogy of Jesus, fantastical work indeed.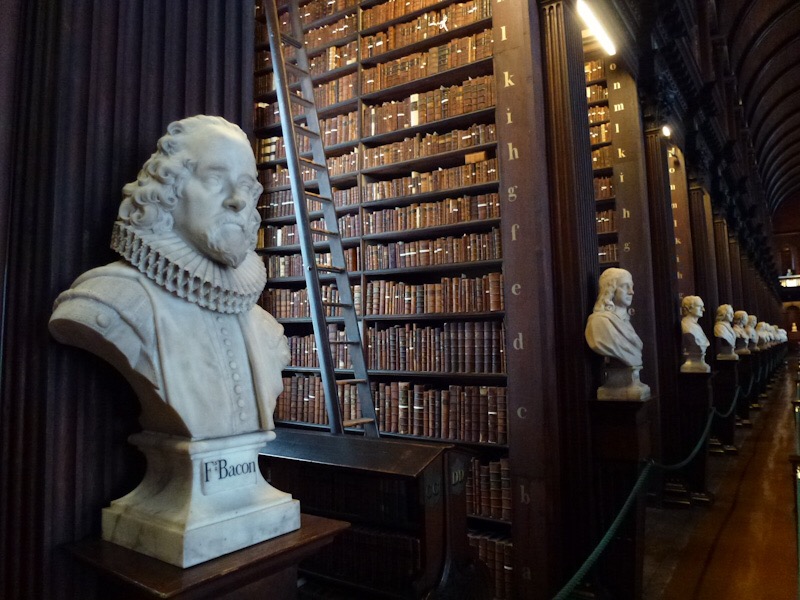 After being blown away by the information surrounding the Book Of Kells, We then walked in to the Long Room Library.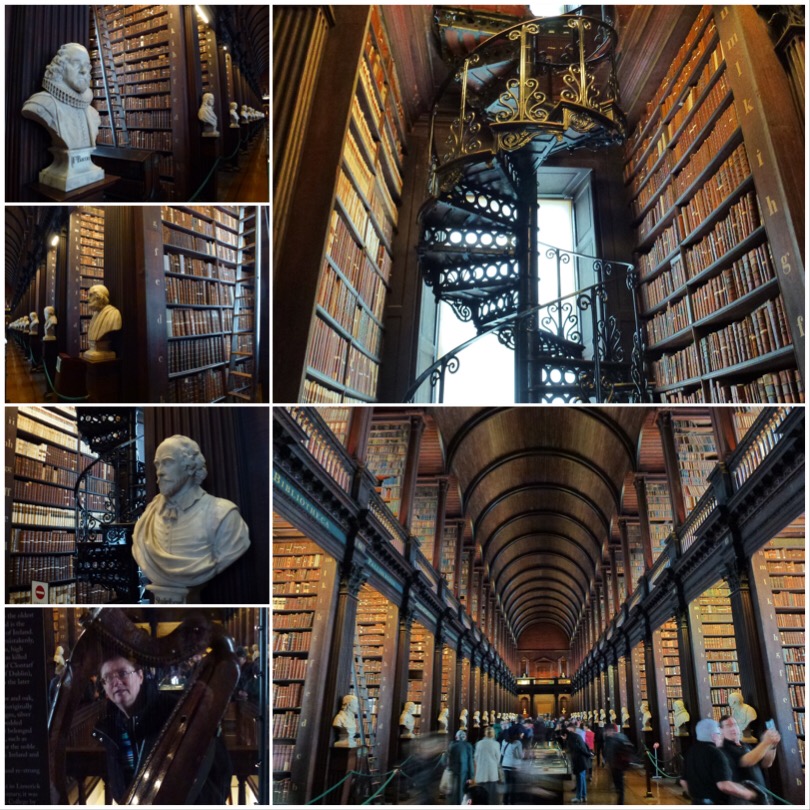 Reminiscent of a lavish set from one of the Harry Potter novels, this breathtaking library is a cathedral made of books. Shelves floor to ceiling, busts of literary greats supervising the hoards of visitors (you could imagine them shushing and scolding Americans that were too noisy) – just awesome. Filtered natural light made the book covered alcoves glow, just magical. Lurking in the dim light was Ireland's oldest harp, the one that was used as the symbol of Ireland and interestingly adopted as a logo for Guinness as well. Just amazing, I was expecting an owl to deliver letters inside.
After visiting Trinity, we headed off to the archaeology museum to visit the Viking hordes and catch a glimpse of things preserved in the peat bogs. Seems they had 4 bog bodies on display as well, amazing states of preservation for prehistoric people, eerie to be in their presence.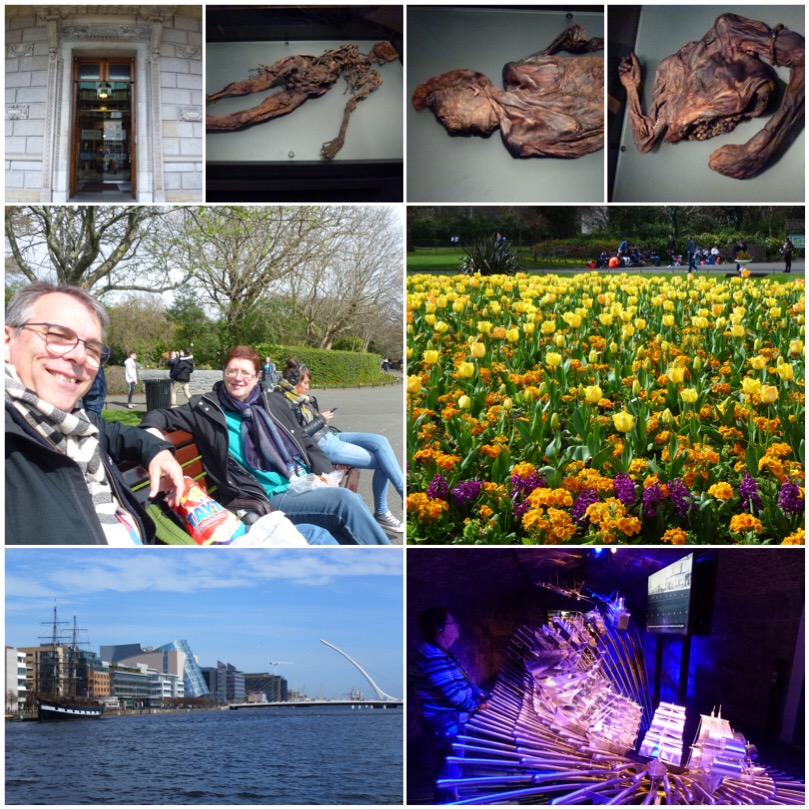 We lunched in the sun, surrounded by spring blooms, kids playing and Dubliners flummoxed by the bright sunshine and delicious warmth. We had booked to tour "The Little Museum" but I had misplaced my camera. After frantic retracing of steps, we found it, thankfully. The little museum is an eclectic collection,of items submitted by Dubliners to,explain their city and their past. It is fairly hands on and only accessible via tour guide. We had an animated explanation of more of Ireland's past, focussing on the people and particularly the women.
We ended the day at the Epic Museum, focussing on Irish Emigration. A brilliant series of subterranean vaults takes you on an emotional person-driven exploration of all facets of Irish life. Clever mixes of still images, interactive displays and movies lead you on a journey from olde Ireland to modern, through the eyes of people and their stories. You could spend a whole day there and not see everything but it is a terrific representation of the country.
We packed a lot of walking, eating and sightseeing into our few days in Dublin, but think we now have an appreciation for the place and it's friendly people.