Usually, one of our organisers when planning holiday is food. That is easy with places like France where the national cuisine is known to us, but we really did not have a frame of reference for Ireland beyond potatoes. Now I know that is borderline racist, but it is what it is, we had heard of Irish stew but all research suggested it was a loose casserole. Through the cooking shows I watch I had heard of champ and colcannun – both potato side dishes, but we came in knowing very little for certain.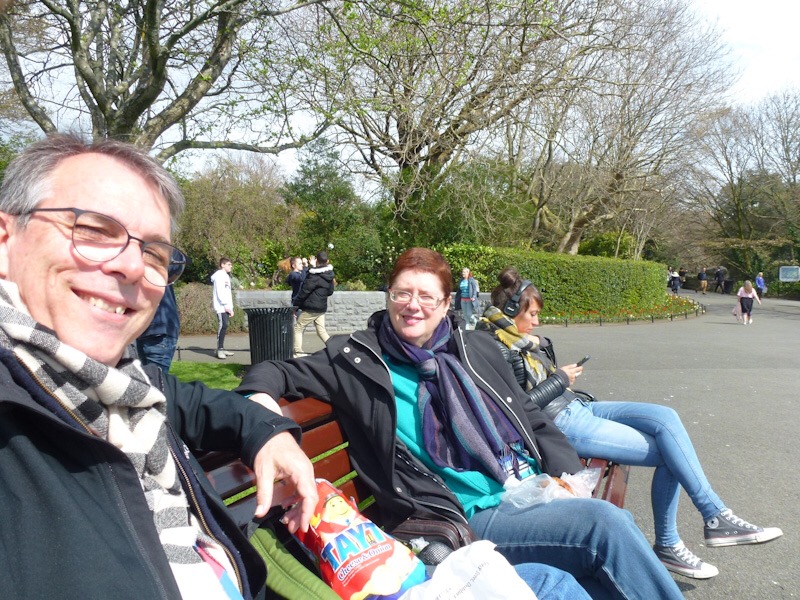 Carbs are pretty high on a traditional Irish diet. Potatoes are important and we have had them many ways. I had mash with spring onions (champ) with a rather lovely puddle of Beef with Guinness stew in a pub one evening- filling and delicious. We also had "boxty" which are potato pancakes, deliciously (and perhaps oddly) filled with curried lamb. Packs of Tayto crisps are also a national tradition. Getting plain salted crisps is impossible, standard taytos are cheese and onion, but you can get enamel dissolving salt and vinegar, bacon and other odder flavours. Cheese and onion crisps are nice, good for a chip buttie.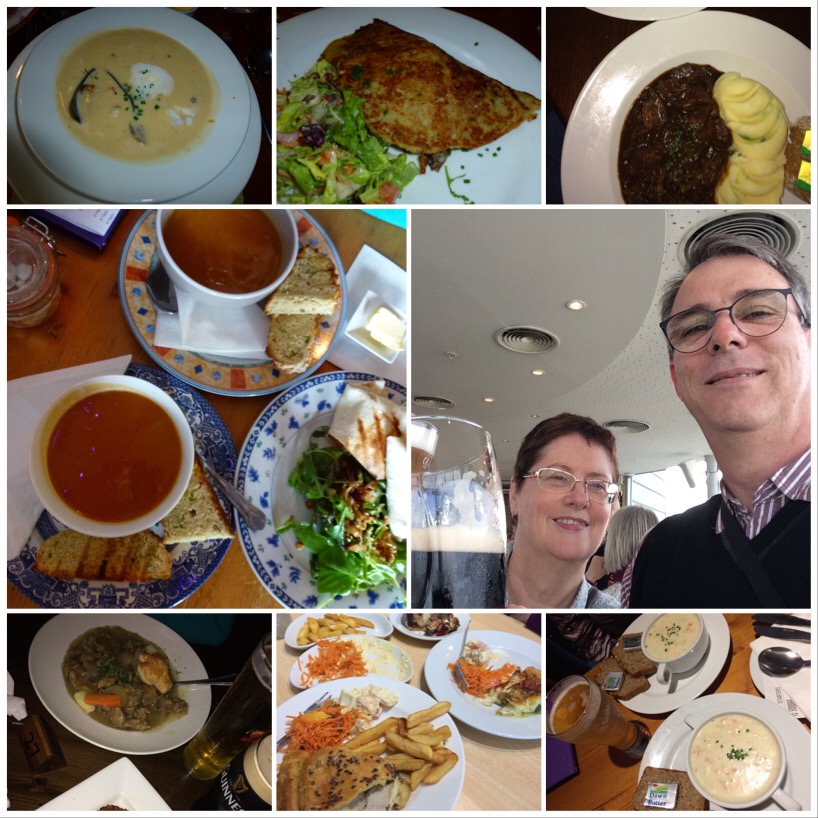 Bready carbs are also important. Soda bread is sort of like a mealy  damper, served everywhere, often buttered, sometimes toasted but filing and delicious. It was a side dish for soup, in the bread basket at high end restaurants and available as a slab of sliced in the supermarket. It differs from damper in texture and grain – most soda breads are brown, some whole grain, delicious.
I was surprised how diverse the menus were in pubs, pub grub is important here, and the pub culture in Ireland (and the UK) is so profoundly different to Australian pub culture. Here, families come to the bars, eat meals and sing along together, that is rather wonderful. My experience of Australian pubs is based on country ones where it used to be rare to see women in the main bar (thankfully that has changed) and people go there to drink and get drunk. While I am sure there is an element of that in any country, the "going down the pub for a few pints of Guinness" is seen as very normal and not at all boozy, talking blarney and singing songs is also the norm. People are really friendly and the pub vibe is welcoming, warm and wonderful.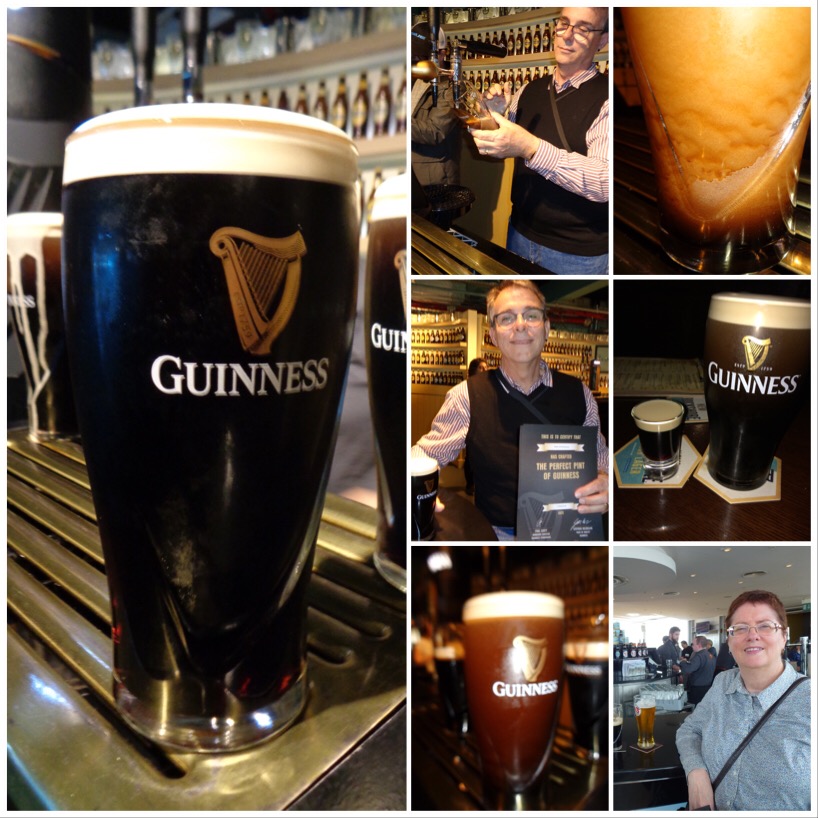 That said, the liquor laws here must be really bendy as there are bars open all the time. Many a time we have been kept awake by crowds at bars in the wee hours, at "dockers bars" you can get your pint of Guinness at 7am, a party does not really get started much before 12 midnight, singing and music making well beyond 2am. There is a huge range of beers on offer, and Irish whiskey (which we did not try, not really being whiskey people, we decided to wait to Scotland, much to a local's dismay when we said we had not had any Irish whiskey). Jo was put on to a "baby Guinness" which merely looks like that black stuff (yes, I know, guinness is dark red, but it is often referred to as this) – a shot of tia Maria topped with baileys. She was more than happy with that, although sipping rather than slamming it down was her preferred delivery method.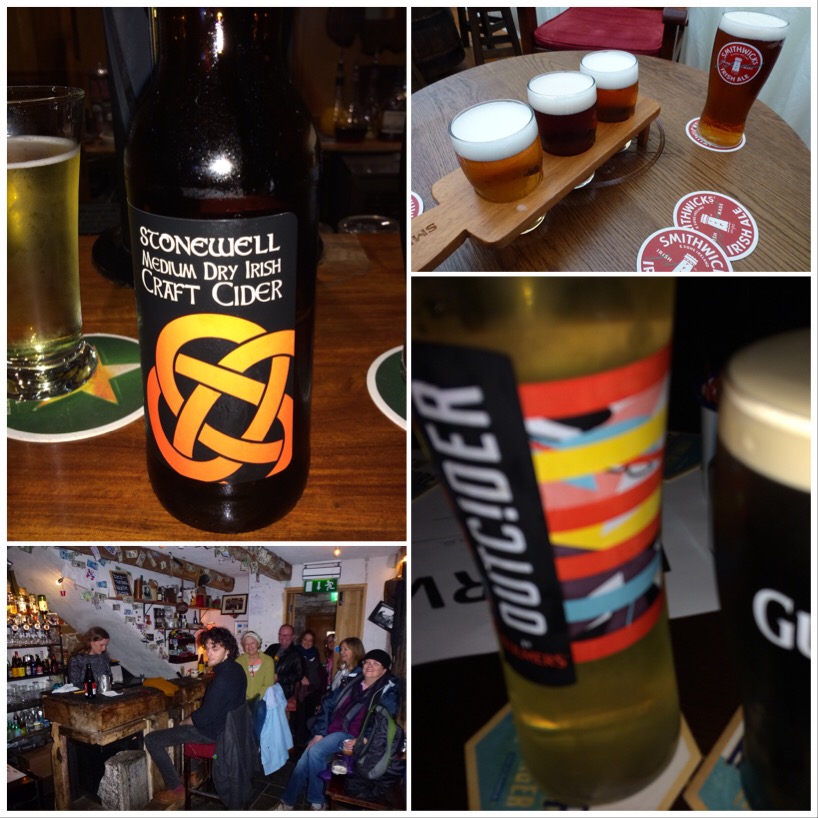 We have tried some lovely ciders while in Ireland also, some pretending to be local (like Orchard Thieves, made by Heineken and available in Oz) but some true Irish craft. We were taken with Stonewell craft cider and Outcider, a Bulmers sweet apple, both delicious. Cider on tap is amazing, a pint is plenty and I think fairly light alcohol-wise. You can sit on a pint for a while, enjoy the ambiance, plan, talk or sing along (depending on how many you have had).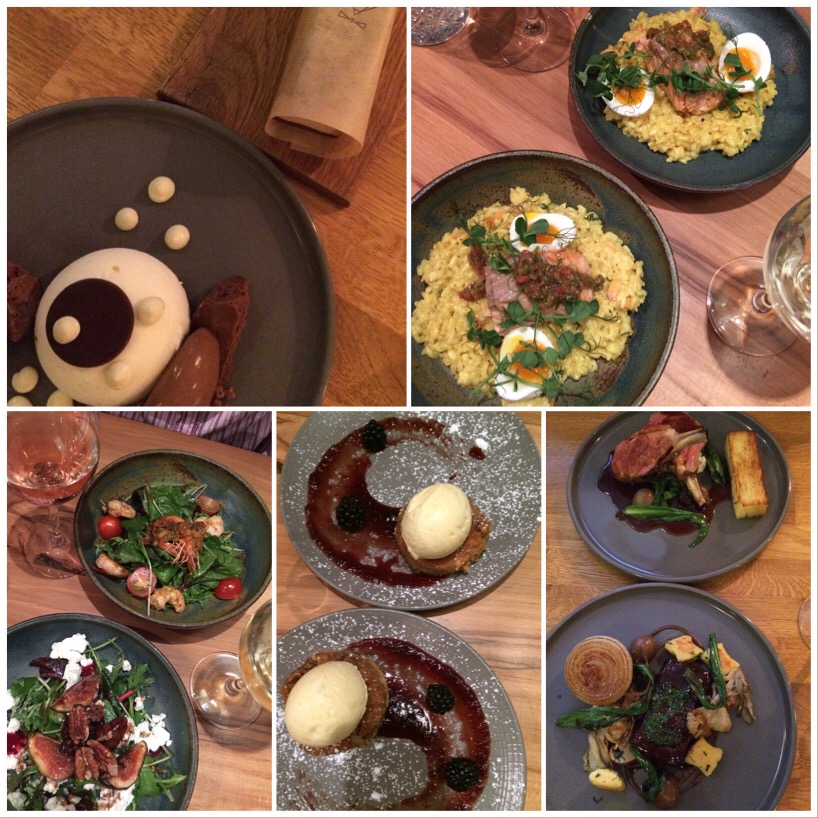 Usually we plan for some home catering (go to the markets, see what is in season and cook that,depending on how well the kitchens in our self-catering digs are -this has been HUGELY variable in Ireland but it is amazing what you can do if you think laterally), some "cheap and cheerful" and some up-market restaurant meals. The high end restaurant meals we have had in Ireland were right up there with the best we have had anywhere. Such craft of taste and texture, using traditional ingredients in out there ways and culturally appropriating tastes and trends from the world's kitchens. We have noticed, generally, portion sizes of meals are plentiful, tastes fresh and the selections of wines truly international. Not sure if it is the poor performance of the Aussie dollar but prices are a little higher than we expected (not outrageously so) but if you shop around there are terrific food experiences available for most budgets, lots of dietary advice (like identification of allergens) and many vege options.