After a welcome sleep, my morning walk to the boulangerie yielded a pair of escargot and a lovely sugar crusted brioche and a baguette. After a brief but yummy breakfast, we packed a chunk of Brie, some fruit and bread then set off to navigate the Metro and change services to get us to Versailles. The signs were confusing, we were not sure we had caught the right train but the stations started to match our map notes so eventually we relaxed.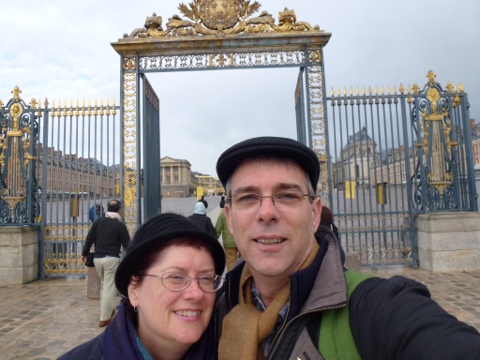 Arriving at the city of Versailles, we walked up to the chateau, only on approach do you get any sense of how huge it is, gold and metal fillagree, cobbles and balconies, no wonder the king and queen so loved it. Apparently the palace we now call the Louvre was not grand enough so this palace, bigger and shinier, was constructed as a residence and seat of government and the Louvre was demoted to an art collection store room. We checked the backpack at cloak, then walked the apartments, each room more extravagant than the next.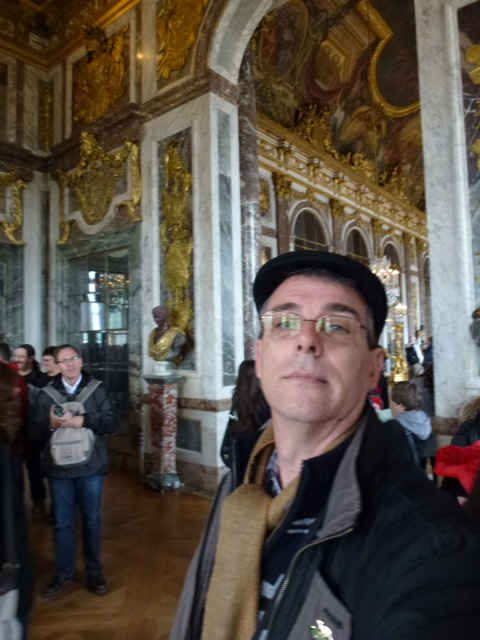 Gold, marble, crystal, astonishing artworks on every surface, so decadent on a scale I found a little obscene.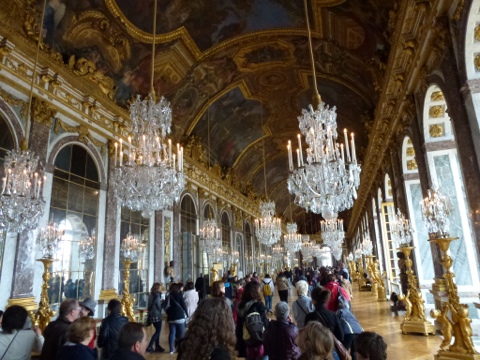 We wandered bedrooms, antechambers and ballrooms but were interested I where the real living took place – kitchens, and workspaces which we saw no trace. I know we saw all that was on show but that represented a tiny fraction of the chateau.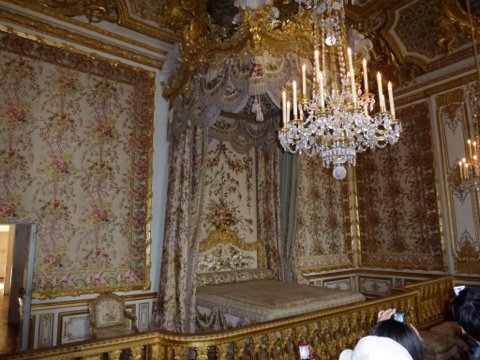 When we had finished inside, we went onto the palazzo, Jo waited while I went to retrieve the backpack – a huge and potentially catastrophic mistake as this officious, helpful French lady bustled me out to the baggage claim and abandoned me OUTSIDE the chateau. It was very difficult to argue as she was accompanied with a guy in army fatigues and a rifle. Jo was on the inside and had the tickets. A frantic encircling of the chateau helped me realize I couldn't get to where Jo was, and had no means of contacting her, so went and argued in my best French – must have been ok, they let me through, although I think it was out of pity or revulsion of how badly I was mangling their language to make myself understood.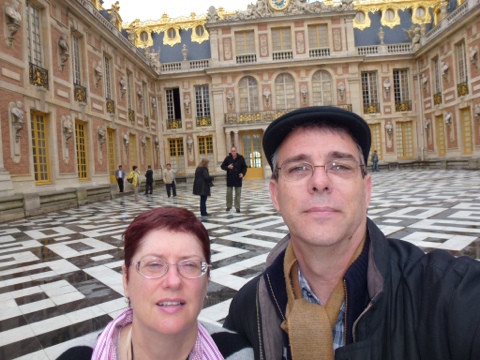 We wandered the formal garden beds, neat little partairs with tulip and spring annuals bursting with incredible colour. Walked in one direction to a balcony to see formal lawns and hedges stretching for kilometers. We stopped at a scenic juncture and had our bread and Brie, fruit and Madeleine's – a little early as lunch goes but it worked well with other food plans later in the day.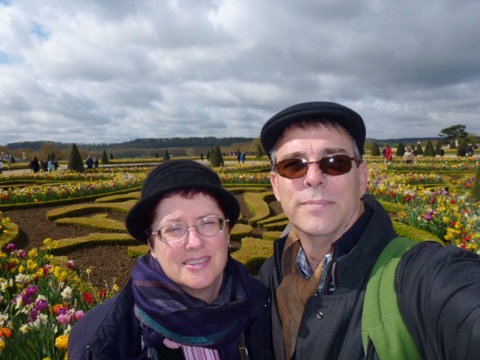 Rejuvinated, we headed down into the lower gardens and strolled down to the grand canal, through a number of astonishing garden rooms and amongst beautifully tended gardens and hedges. The gardens went on kilometers, actually, and we stopped at the half kilometer down hill and realized we needed to also return so did, in stages. Then it was back to the train for a partial return to the stop near the Eiffel Tower, so we could wend through the market streets nearby.
We had our first hot chocolate – a delicious, creamy, chocolatey mess in a cup that kept solidifying in the cold. We picked up fresh raspberries, pastries (a mega-florentine for Jo and a slab of Lintzer torte for me) for later and some small quiches (a leek and a Lorraine) for a picnic early dinner. We walked the length of the green leading to the Eiffel tower. It was sunny, couples were sprawled leisurely on the lawns, quite lovely and very romantic.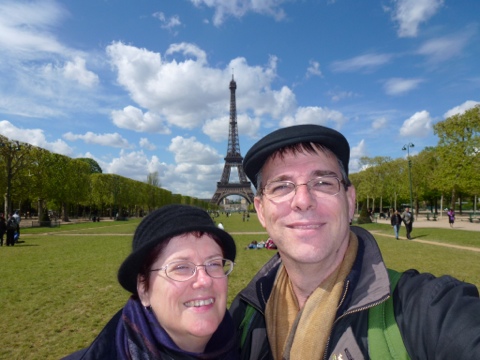 As we approached the tower it became bleedingly obvious how big it was. We encamped beside one of the legs and had a rest, read, iPad'd and then leisurely ate an early dinner prior to going to the marshaling area to meet up with our tour guide.
Clouds darkened, it thundered, it blustered turning people's umbrellas inside out and then it poured. We kitted up, prepared to endure the deluge and survive to say we made it but lots (hundreds) of people just up and left. As our tour guide arrived, the clouds parted, the wind dropped and we had the most wonderful afternoon/evening sunset whilst atop the tower.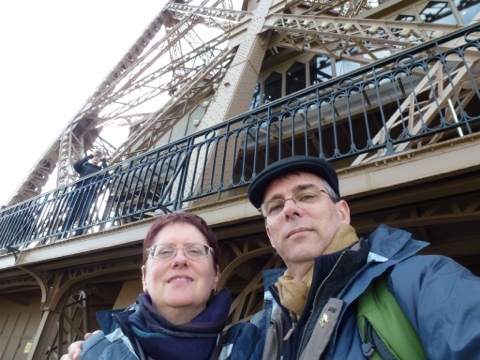 Le Tour Eiffel is amazing, on an engineering front alone it is awesome but as an iconic must-do it is up there with the best. Our passes meant we bypassed the 3 hour long queue and hopped on an elevator almost straight away up to the second level. Our guide was Canadian and knew her stuff and was full of useful information and insights. She helped us spot things on the Paris skyline we had been to – Sacre Coeur, the Louvre, she also pointed out some "must-dos" for our next trip to Paris. It was a magical night but not dark enough for them to turn on the twinkling lights. By the time we came down it was after 8:30pm, after a huge day and quite frankly we were buggered.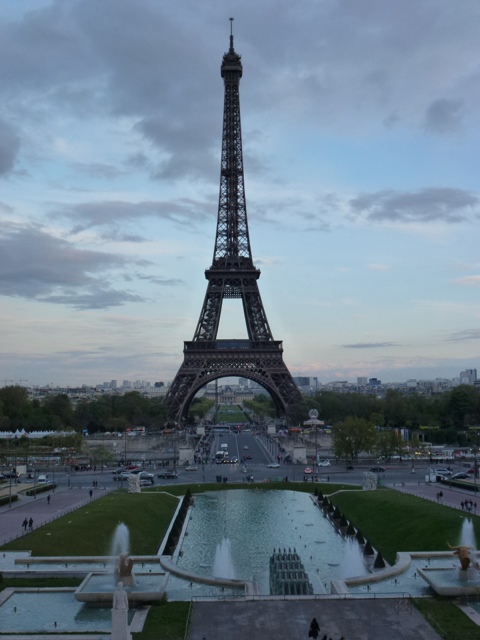 We decided to walk to the other side of the Seine, through some markets that just seemed to have appeared, then up for a grand view of the tower in the other direction. We waited as long as we could endure the whistling cold breeze and the hustling of night venders intent on selling us tourist shite, then decided time to go home and get warm. After 2 or 3 line changes on the Metro (we are quite expert at navigating it now) we were home. Both of us had every intention of getting stuff done but only managed to unpack as we were so tired we were asleep before we hit the pillow.