After ignoring the alarm, we awoke, showered and dressed and headed down to a local cafe, Chez Prune, for coffee au lait/tea and a croissant while the Saturday morning world went by. We relaxed, read, iPadd'd and generally felt Parisienne as we navigated clumsily the menu and the bill, much to the amusement of the locals.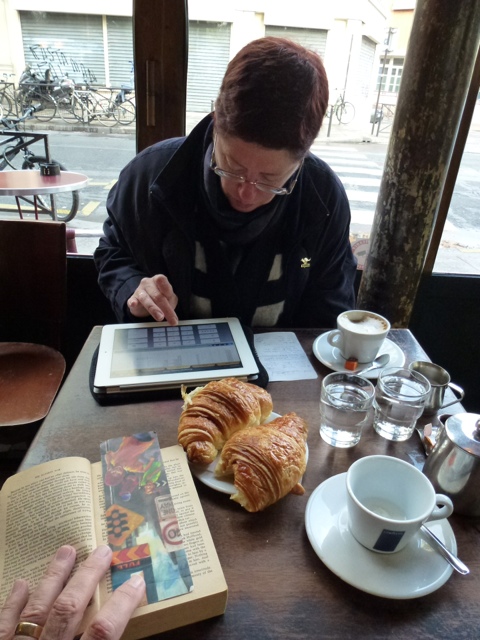 Back to our apartment, we packed some cheese, a freshly purchased baguette, apples in our backpack and headed off to the metro.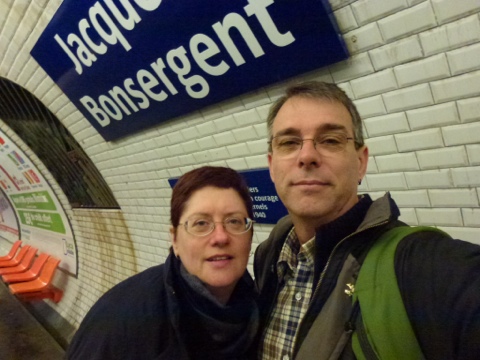 A line change brought us out on the south bank of the seine and we headed to a renowned patisserie – La Patisserie des Reves – that looked more like an art gallery. Honestly, the pastries were all in named glass display cases and you wandered around with a catalogue admiring the glaze on this, the praline on that … Wow. We bought a Paris Brest and a St. Honore, packaged so beautifully for later.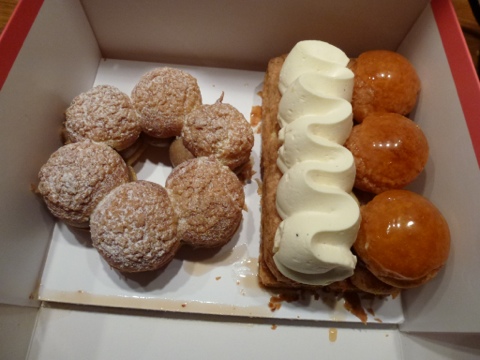 We walked, via a curio shop towards Le Bon Marche. Browsing in huge department stores is bewildering, finding departments within it more so, discovering they have almost but not entirely something we did not want is frustrating. Exiting one building of Le Bon, we found Etam, a frilly undies store (for Jo, settle!) we then went into Bon Marche Grand Epicurie, a gastronomic delight with foods of every type imaginable (and a bunch of things we did not even recognize as food).
We bought some duck confit (which I will crisp up then finish in the oven, then serve with a berry fruit sauce I am inventing), vegetables (spinach to wilt with butter and garlic, chat potatoes to crush) for a home made dinner later tonight. We have wine, more dessert than will fit in the fridge and the strong resolution to do it justice.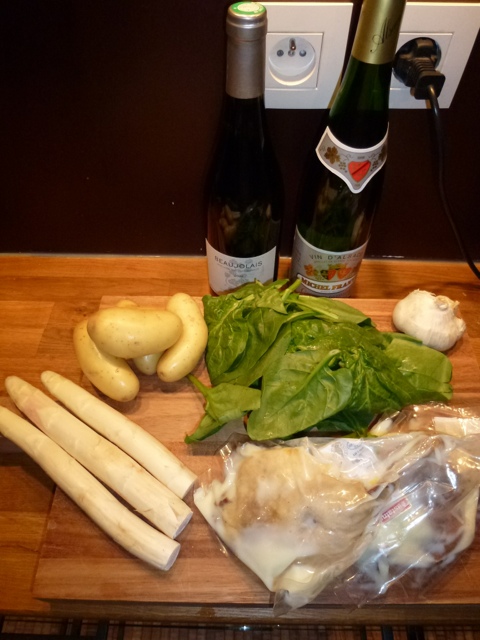 After grocery shopping we headed to another patisserie – Jaques Genim – and was seated for a hot chocolate (china pots full of the most glorious gooey rich bitter hot chocolate that was easier to eat with a spoon than to drink) and I had a famous rum baba (the patissier is such a control freak that he insists customers sit to enjoy this treat as he does not let this one go as a takeaway). OMG. I have never tasted anything like it, so yummy.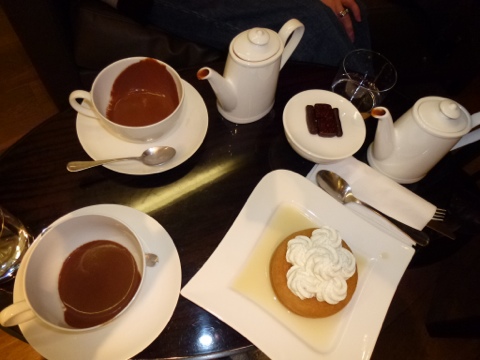 We also purchased a raspberry tart, a citron tart, a caramel eclair and a chocolate eclair for later. Laden down with purchased treasures, and having a credit set to melt, we headed home for a rest before cooking dinner at the end of another brilliant day.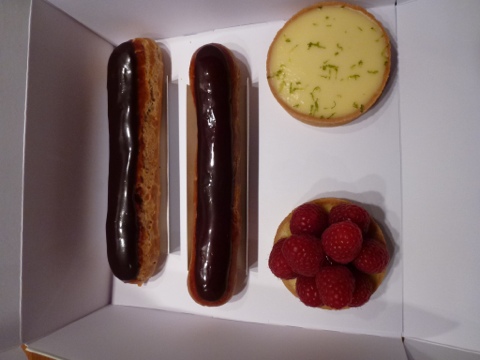 Pulling together the evening meal was an interesting challenge, given the size and equipment in out kitchenette but if I have to say so myself, it turned out pretty darned good. Buttered potato crush, white asparagus (not sure I would go to the expense of cooking it again, the green has bags more flavour) wilted garlicky spinach was the perfect bed for a crisp skinned duck leg and I used some Beaujolais, raspberries, stock and a little berry preserve for a piquant fruity sauce for the duck.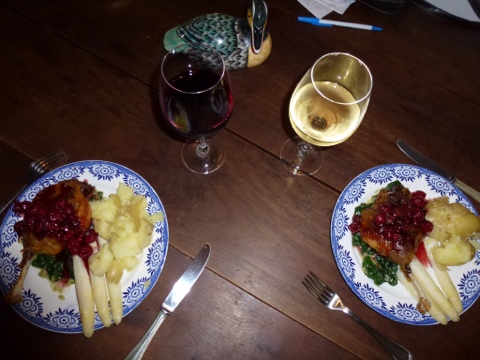 After dinner, we braced for eclairs and then dove right in. Jaques Genim makes them very well we both concluded. We have some pastries for tomorrow but retire well fed, happy tummies, very tired tourists.