I have had sheets of Elephant Hide for ages, and read that it was really good for geometric folding (corrugations and tessellations), so set out to find something I could do as fold therapy: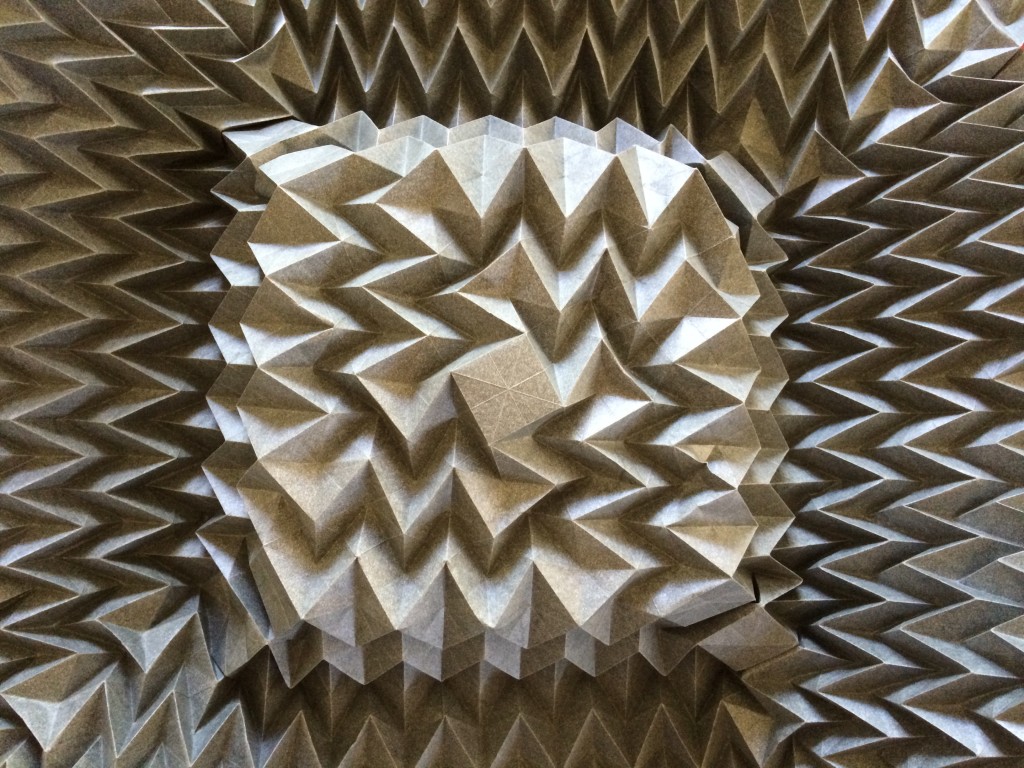 Jeremy Shafer is a genius designer of origami action models and I had seen his series of collapsing "flashers" so thought I would give them a go. they are termed "flasher" because they are tiny when resting, but expand out in an explosion of pleats when you stretch them.
This is the "Flasher Hat" – perfect for the silly season where wearing paper hats seems mandatory. It combines the classic features of a flat flasher with special corrugations and crimps that raise a crown.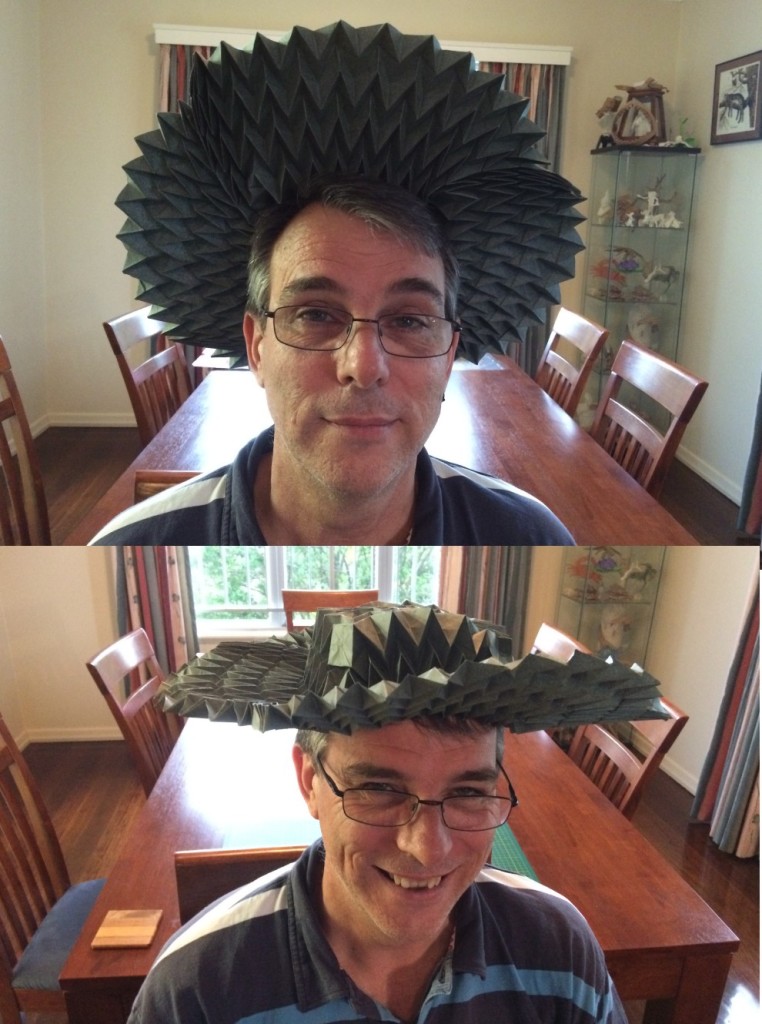 Amazingly, after you wet and dry it, it wants to stay tiny, you have to fight to stretch it, and it grips your head when you insert it in the appropriate place – quite a clever design. The Elephant Hide paper is tough to fold – it has a grain so folding nearly with the grain is relatively easy but across the grain is finger-bruising. I found I needed to use a bone folder to crease accurately, reversing each horizontal/vertical crease to make it genderless. The diagonal creases were layed in and none of them needed reversing, so gendered creases were fine for them, once I worked out what was going where.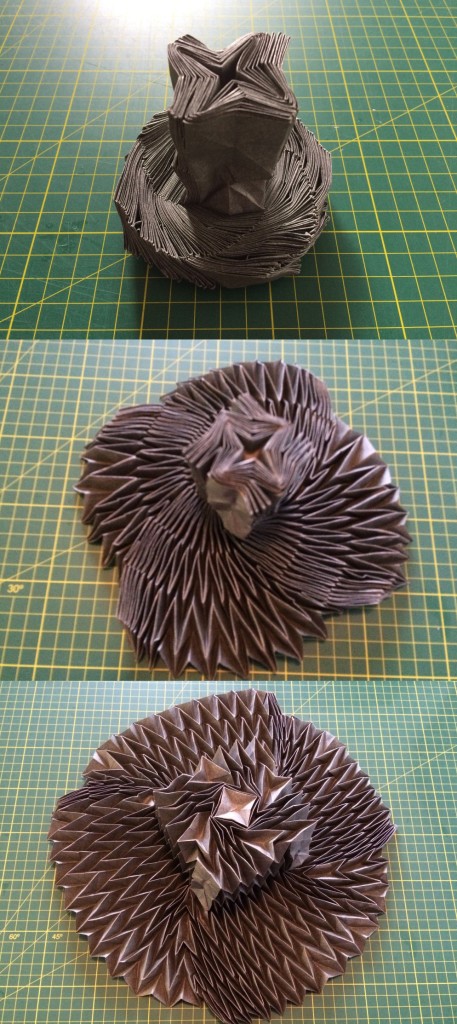 This fold exists only as a crease pattern – an infuriatingly small picture containing dashed and dot-dashed lines to indicate where mountain and valley folds lay. Fortunatley there is radial symmetry of sorts, so when you work out one tangle, there will be 3 others that are solved identically.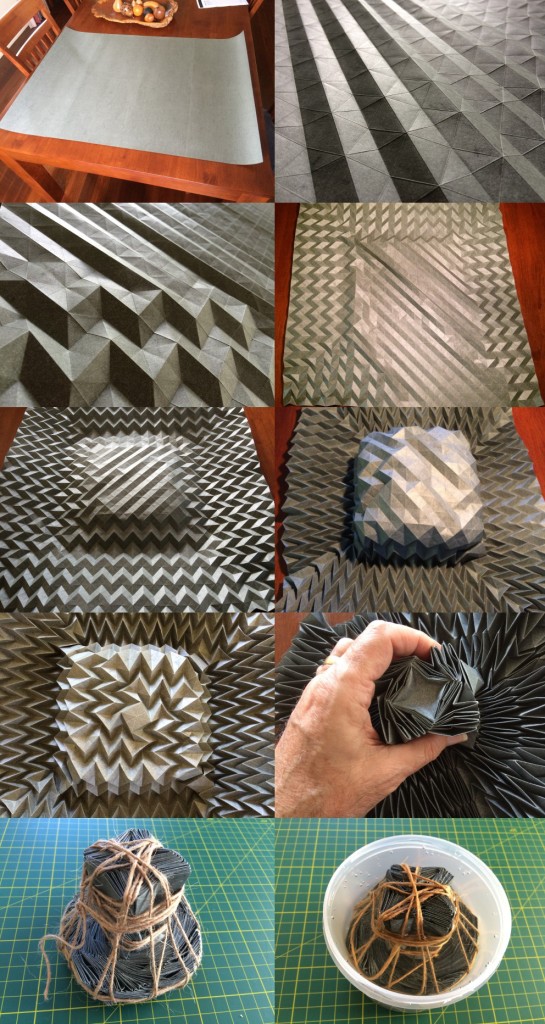 We wet the fold, once collapsed, to "re-program" the paper to a new folded normal – meaning it has memory and returns to the tiny form really easily. I bound it up with string and dunked it in a plastic container full of water, leaving it for a few days to fully dry out before releasing it from its bonds.
It was fun to fold, no idea what I will do with it but it taught me a bit about patience and lunacy – both good lessons at this time of year.