We have travelled to Sydney a few times, and love the city and harbour but neither of us can remember visiting Melbourne. Our parents say we visited as kids but neither of us have any useful memories of that visit, and something tells me it _may_ have changed a little since then.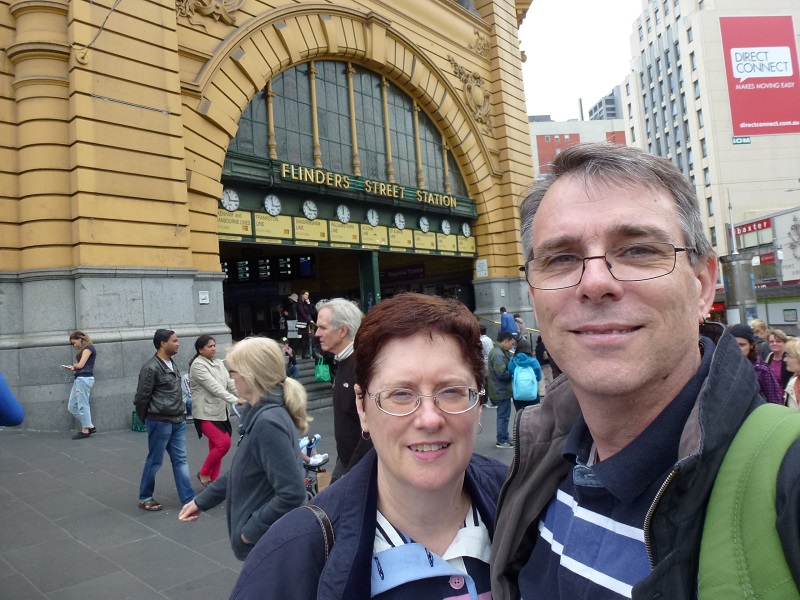 We decided on an Easter-ish visit, outside of school holidays (mainly because we did not want to share our holidays with hoards of holidaying kids as well – selfish/practical?).
I have a lot of Long Service Leave accrued and we have vowed not to waste it on anything but getaways, so we planned last year (2013) to do Melbourne in the autumn of 2014. We picked this time of year because it is not right in the middle of the Siberian cold that Melbourne is famous for, nor too close to the furnace summer it is also famous for. Apparently there are about 7 perfect days in Melbourne, weather-wise, and we may have sprung the jackpot on this trip.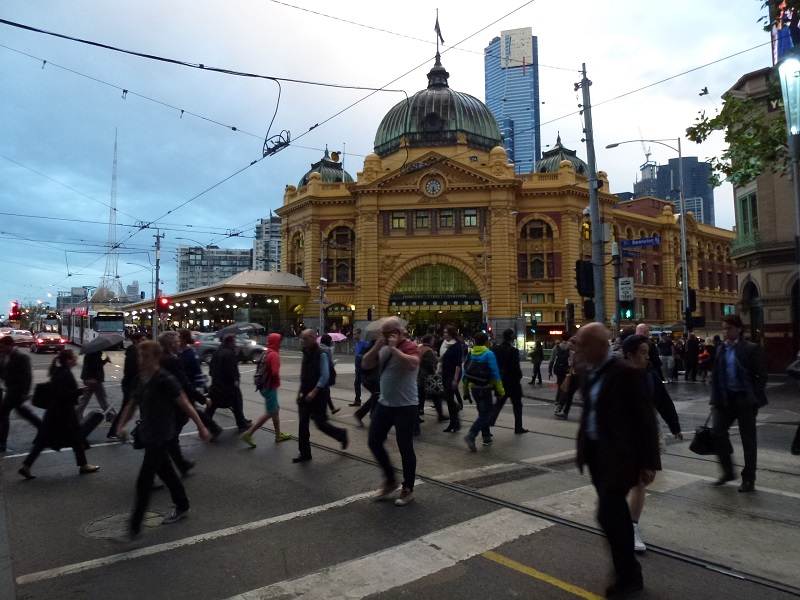 What can we say about what we have learned about Melbourne so far? Quite a bit really: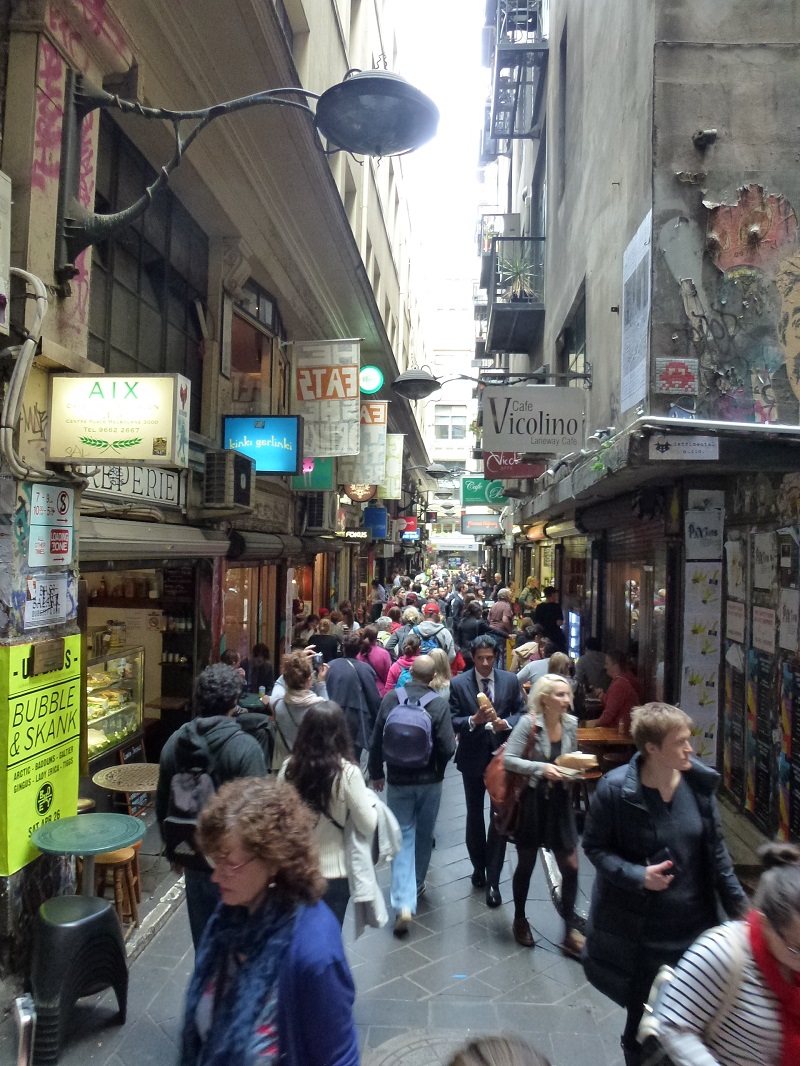 Weather:
They say Melbourne can be 4 seasons on one day and I think that is fairly accurate, particularly at this time of year. We have woken up to bleary skies, been rained on whilst getting to a tramstop, umbrellas blown asunder as we dash to a department store from the destination tramstop, shop and emerge to a fine, sunny and hot day. One day we had every type of weather (except for snow) while on a bus trip exploring the wine districts of the Yarra Valley. The way to manage Melbourne, at least in Autumn, is to plan layers – the cold can be profound so have warm things that you can peel when it is too hot – feet and shoulders first, the rest next – common sense prevails. Nothing more miserable than being miles from your digs and cold/wet so plan. 'Nuff said. It is said there is no such thing as poor weather, just inappropriate clothes – true that.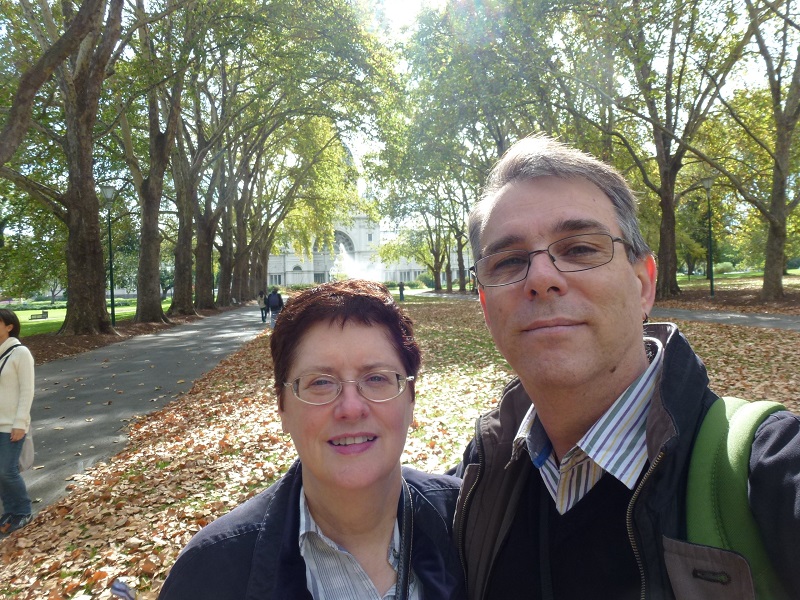 Trams:
Simple to use, slow, can be crowded and clunky but they get you where you need to go in the CBD – they have a poorly working smart-card thing (a little like a gocard) but the readers are not very powerful and you end up smooshing the card on the reader for ages until it registers you are there. The "MiKey" card offers weekly deals (we got a weekly) but you have to pay for the card also, and that is not refundable. You take your life into your hands weaving traffic to get to a tramstop sometimes, or from one the to footpath, but that is part of the fun. Avoid the free city circle tram – unless you like playing sardines with hundreds of freeloaders. Interestingly, others have disagreed and admittedly we base these comments on journeys on a Saturday arvo – it was really busy but the city circle route does take in many interesting places in the CBD and we ended up mirroring it using our MiKey – the free option might be just as good.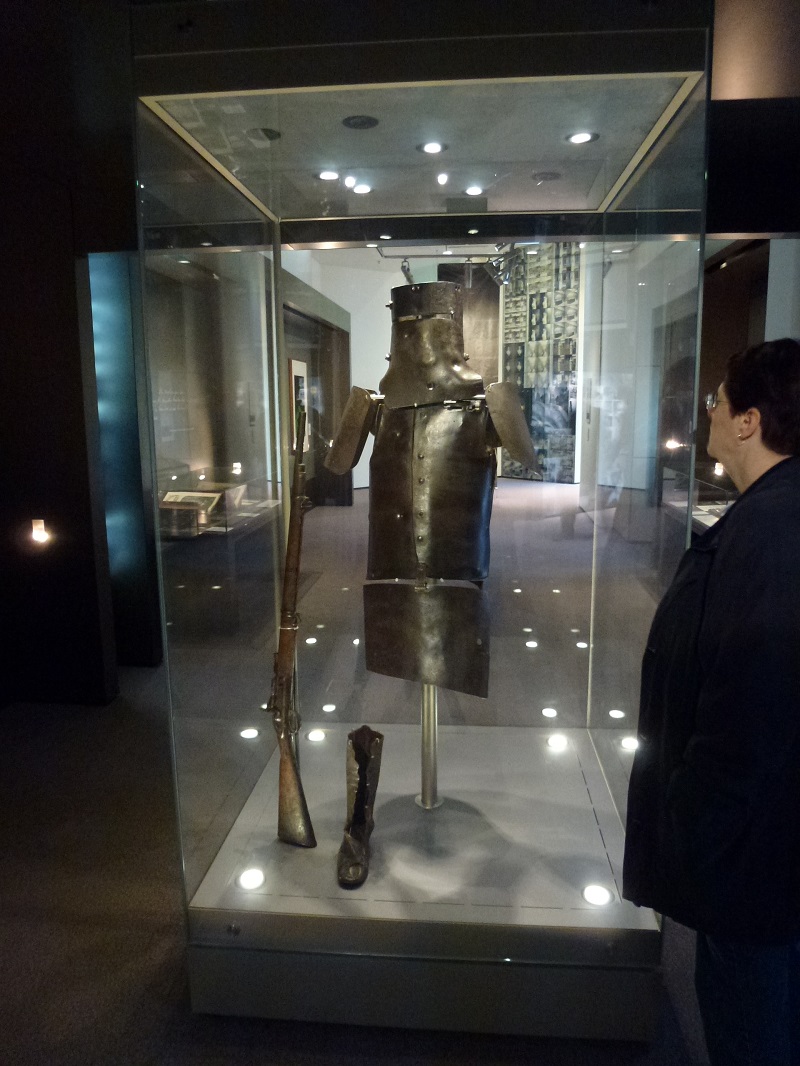 Shopping:
Huge department stores, amazing food courts, food halls and markets. For fresh produce you would be hard pressed to beat the Queen Victoria Markets – we spent a morning in the food section provisioning for our week, and bought pastas, meats, dips, sweeties, veg – amazingly fresh and we think good value. We did not spend time in the other sheds of the markets – they go for a few city blocks – a 2do for next time.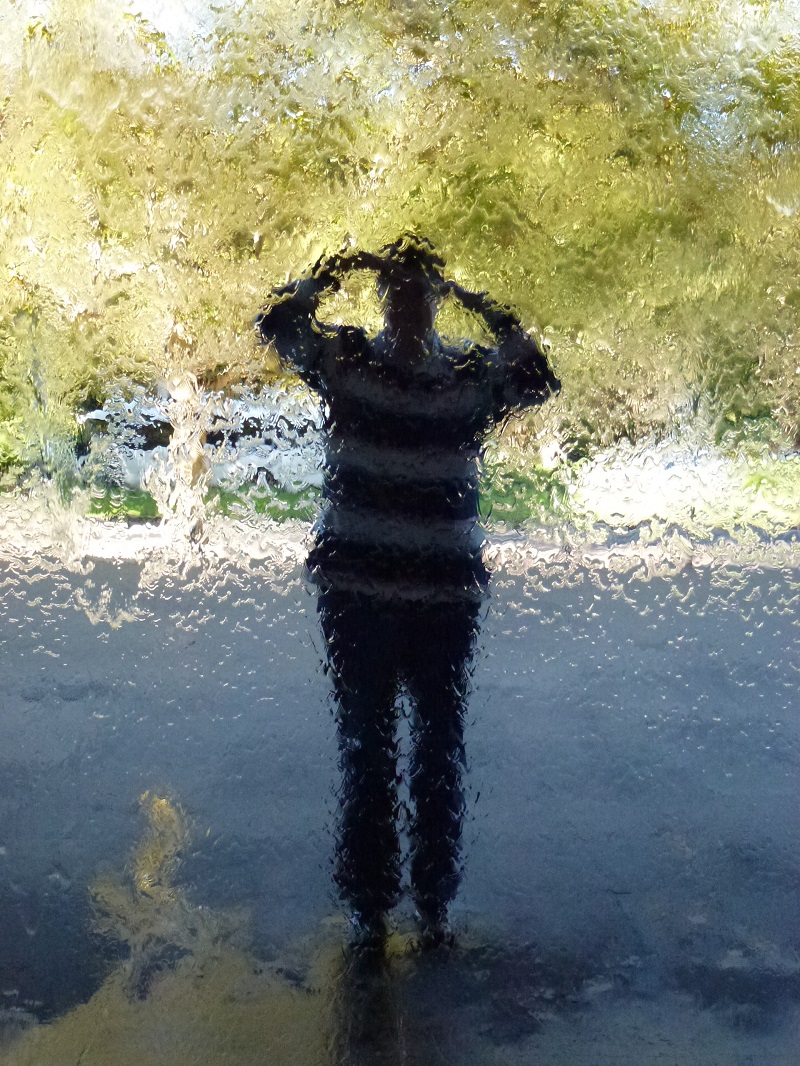 Food and Wine:
We toured the Yarra Valley on a food and wine tour – a great (but boozy) day where we discovered some lovely Pino Noir and Chardonnay varietals (the area is particularly known for these) – we bought nearly a dozen and had them shipped home, leaving us a couple of "working bottles" for the week here as well. There is a LOT of really good wine to be had here – in the restaurants we frequented they had a good range "by the glass" and there is lots to taste. The food culture here seems really important – so many really good eateries – some showy, some in really out of the way places (a bagelry that we would have missed if we did not know where to look, down an unmarked alley). We have had some standout meals, the Hellenic Republic Greek feast still shines for us as abundant and delicious from start to finish. The cafes and smaller places are worth seeking out – amazing food (we have not had a dud meal) reasonably priced for what you get. We also found plenty of places for tea/coffee and cake/sweet treats (more later).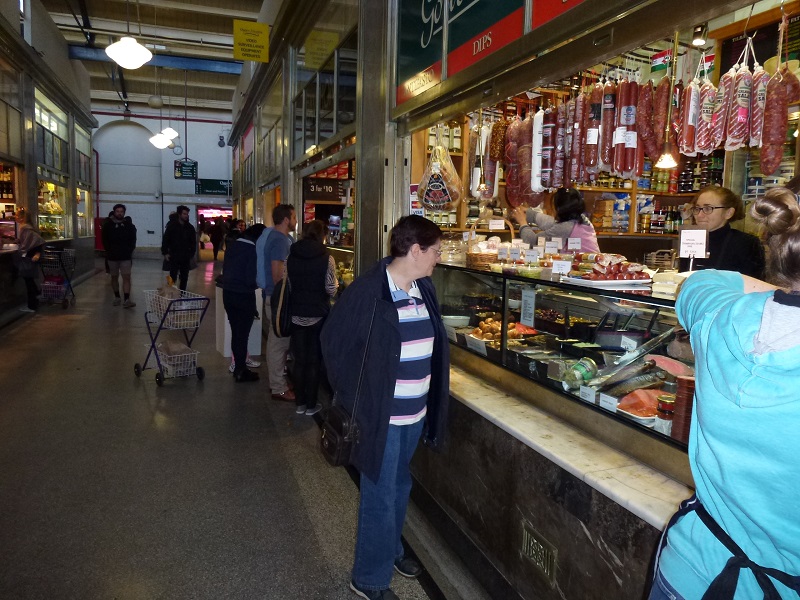 Art and Kulture:
We went to the National Gallery of Victoria (International) – a wonderful building full of some amazing stuff both in permanent collection and we found the temp exhibits interesting also. We avoided the NGV (Australia) – nothing there seemed very interesting to us. We visited the ACCA (Aust Centre for Contemporary Art) – an out of the way rusty twisted building and found the Next14 exhibition really interesting, but it is a bit of a hike to get there. We also went to the Australian Centre for Moving Image (ACMI) on Federation Square to see a Dreamworks exhibition and that was really neat – their "small screens" permanent exhibit is also a time sink, full of stuff to see and interact with.
Sweet Treats:
We admit to being a bit spoilt by the patisseries of Paris, but have found much to covet in terms of sweet treats, pastries, exotic cakes, pies, chocolates and macaron. A MUST visit is La Belle Miette – a maconry in Hardware Lane – yum! Sweet tooths should also visit the David Jones foodhall or the many chocolate specialists around the CBD – you will pay for the quality but wow, just wow.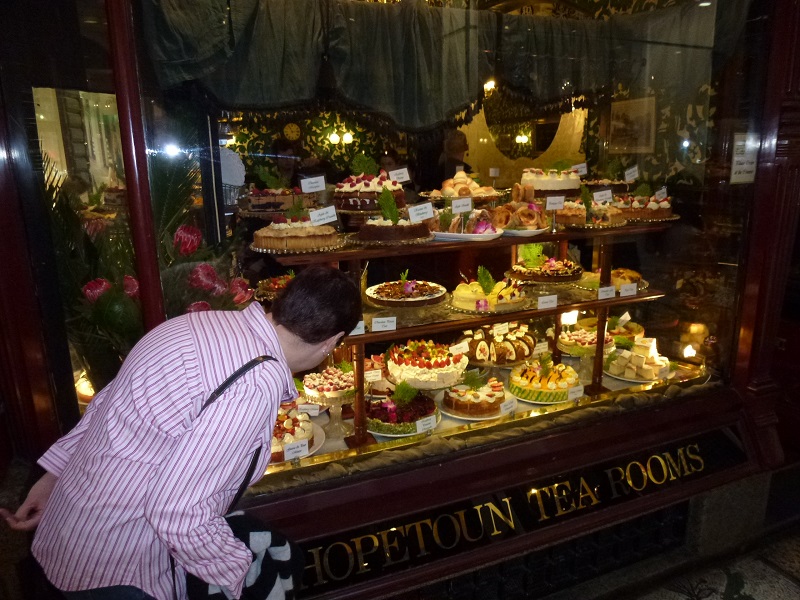 Anti-Tea:
(see previous post) Melbourne's anti-tea field is weak – with a little care a perfectly reasonable cup of tea can be made with tap water which was a nice surprise – we both need tea and it is good when it tastes like it should.