It is a little known fact that people will believe just about anything. Tell them that a furry, egg laying, duck-billed, webbed footed, egg laying, pouch carrying mammal that lives in burrows underwater and protects itself with poisonous spines … and they believe it: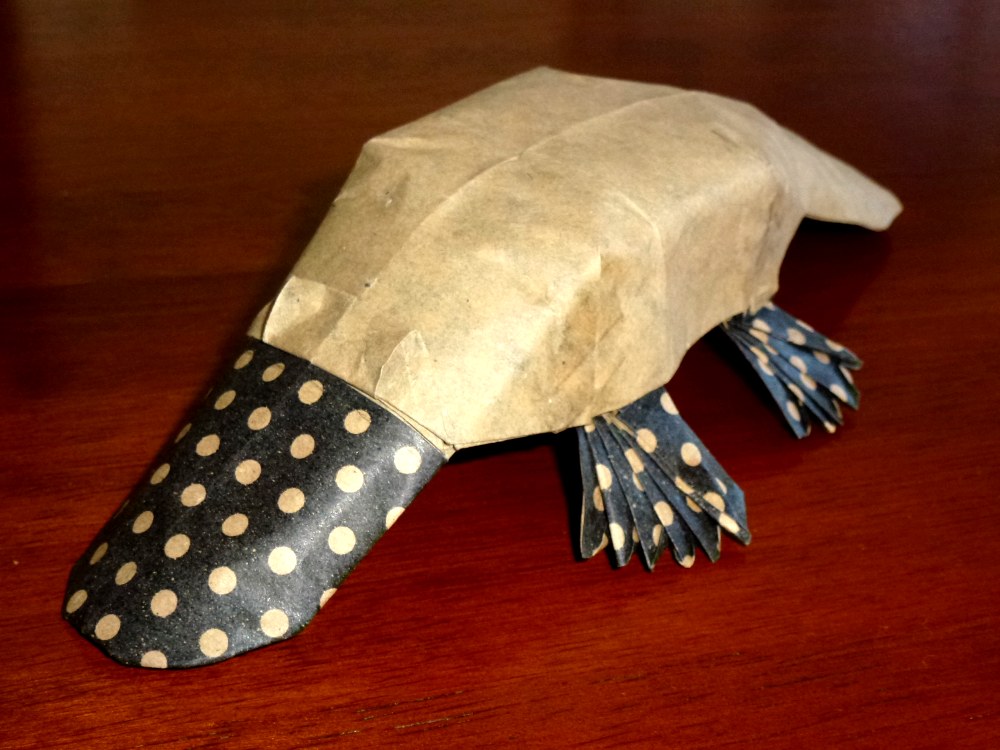 There are few things more distinctly Australian then the Ornithorhynchus (colloquially called a "Platypus") and it seems in the origami world there are nearly none of them.
Stupid me, I did a poll on Fakebook about what I should fold to commemorate (or mourn, depending on your perspective) Australia day – today's national holiday. Annoyingly the Platypus won hands down.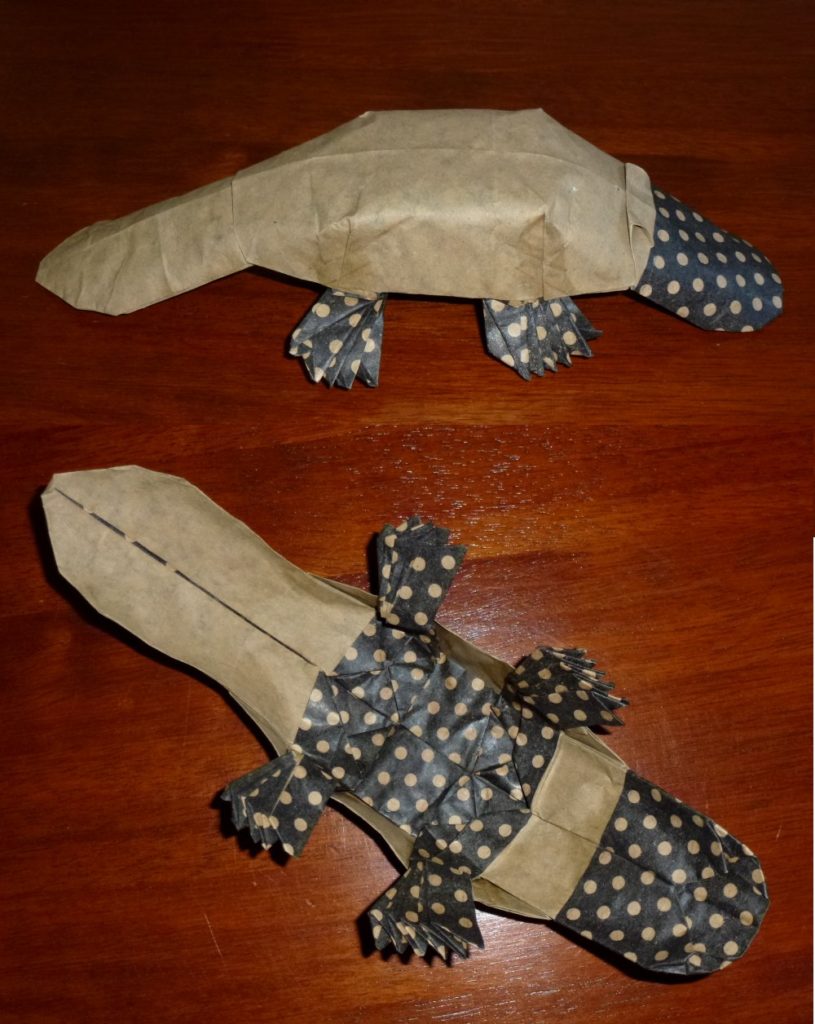 When I say the origami community has nearly no platypi, I should clarify – there are nearly no models that look even vaguely like a platypus. I found a glorious model by Nicolás Gajardo Henríquez and decided I MUST fold that – problem, there was no instructions, just a vague crease pattern.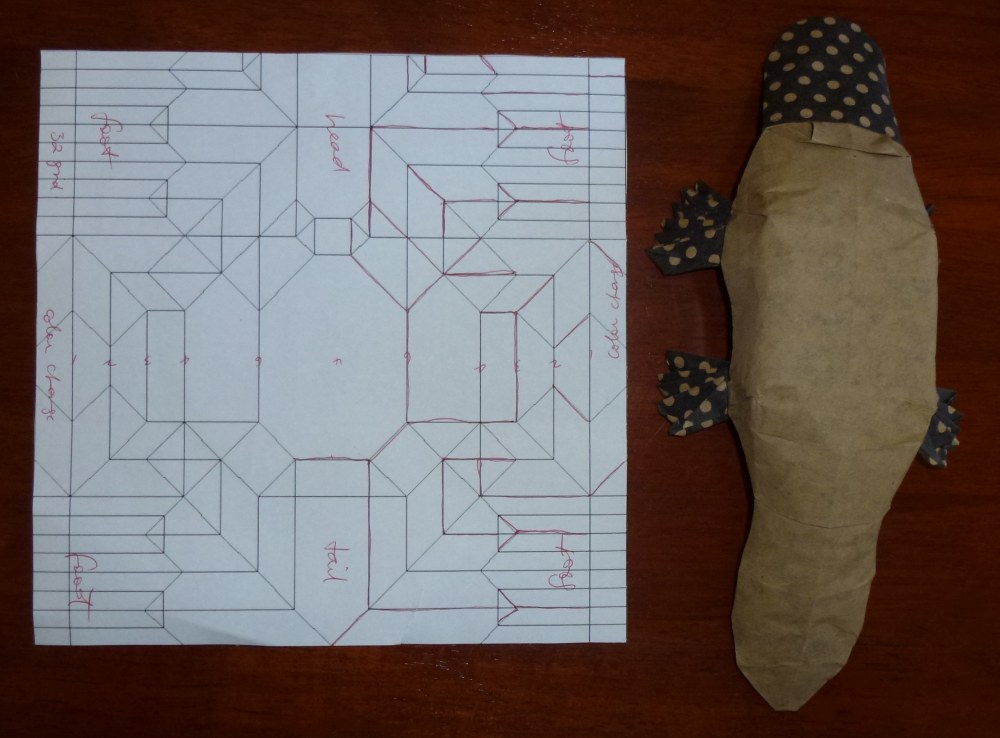 I had a mission, got paper, ruler and stylus, folded a grid, transferred key creases, tried to collapse the damn thing and failed. I re-tried, this time colour coding what I thought must be mountains and valleys – you can sort of tell, there are rules you know, and blow me down it collapsed into a base that was recognisable.

Scaling up, I had some odd bi-colour kraft paper I bought in Ikea that was black primarily with small white dots – that'll do I thought as the model has an iongenious and delightful colour change for the feet and the duck bill.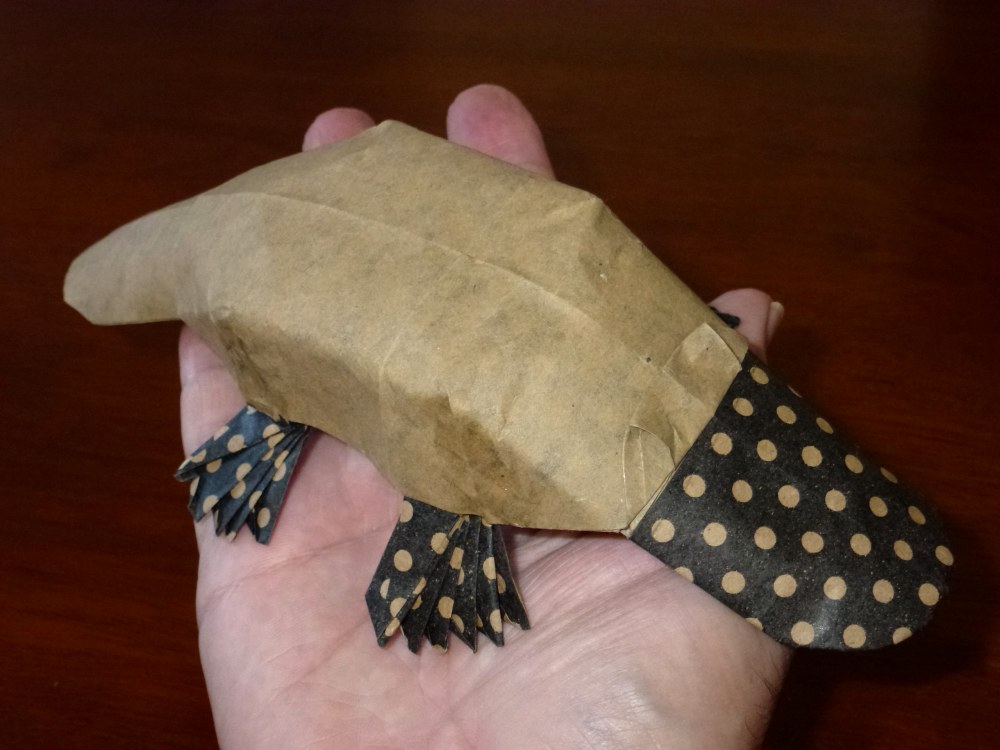 After much care (trying to only include the creases I needed – much harder than it seemed), a lot of bad words and a whole bunch of patience, it too collapsed and I was able to model and shape a lovely little critter you see in this post.
Australia day in the current age divides our nation. Our indigenous community, quite rightly, see it as an anniversary of "invasion" by colonial forces, appropriation of traditional lands and the beginning of a systematic and deliberate genocide – hard to argue as history confirms this. Reconciliation is a cultural imperative, treaty and equity must be the goal of our now "civilised" society.
On the other hand, the public holiday let me sleep in a little after an exhausting beginning of the school term.