A few months bac, in the relative calm of my summer holidays, I began to re-fold "Harlequin" designed by Eric Joisel, after failing to successfully fold it during the "Tribute of Eric Joisel" competition I was part of late last year: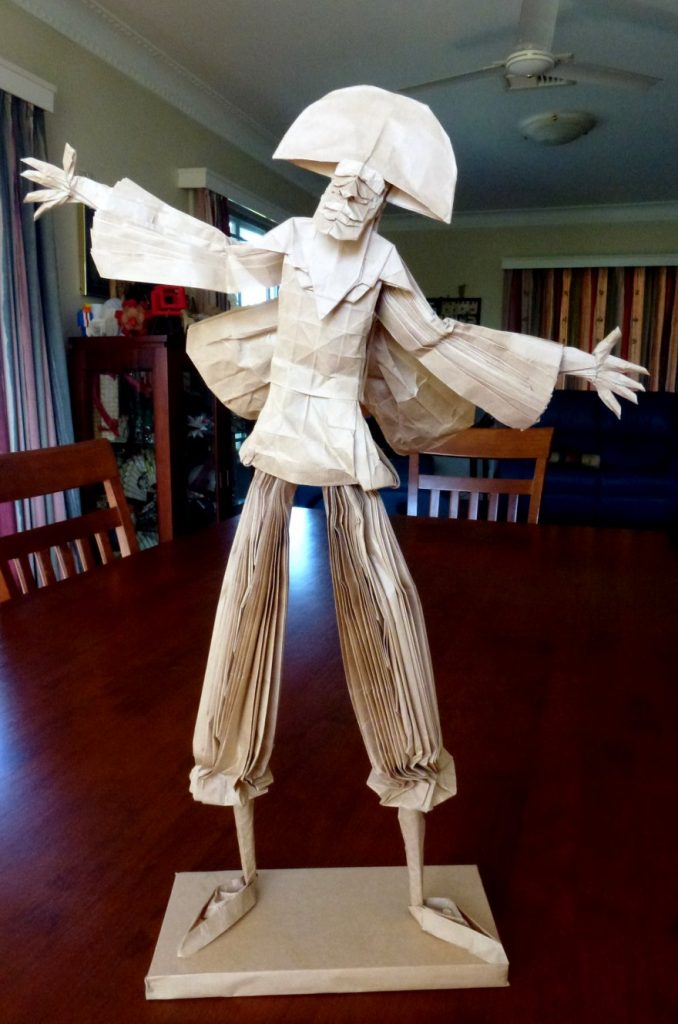 I took my time, learned lots from initially failing, made sectional maquettes to check techniques and really enjoyed the process of folding.

This model is such a synergy of techniques – I can see influences from so many of Joisel's other creations (many of which I have folded before). The initial collapse is vaguely humanoid, but the shaping is the making of model. So many details to control. The face and hat are tricksy but I an really happy with the level of detail I managed here – he has a playful but chilled character, smug smile and refined face – the mask is jauntily sitting on his nose also.
The fabric effects to the sleeved and pantaloons are a nightmare – to make them seem to "drape" is really hard I found, but eventually it came together. I pre-creased some quilted effect on the bodice and skirt which I am really happy with, and the collar took me ages to nut out. He is in full stockings (diamond pattern), has goofy shoes, a fly-away in-action wavey cape and open hands – so many bits were there waiting to be shaped. One can only marvel at the genius of the design.
Continue reading