In 1975, after finishing year 10, a friend (hey Brendan!) and I decided to cycle to the Sunshine Coast as "something to do" during the Christmas holidays. Living in Maleny, this was a journey but not really that far in retrospect, but on a bicycle in the middle of summer it was kind of madness.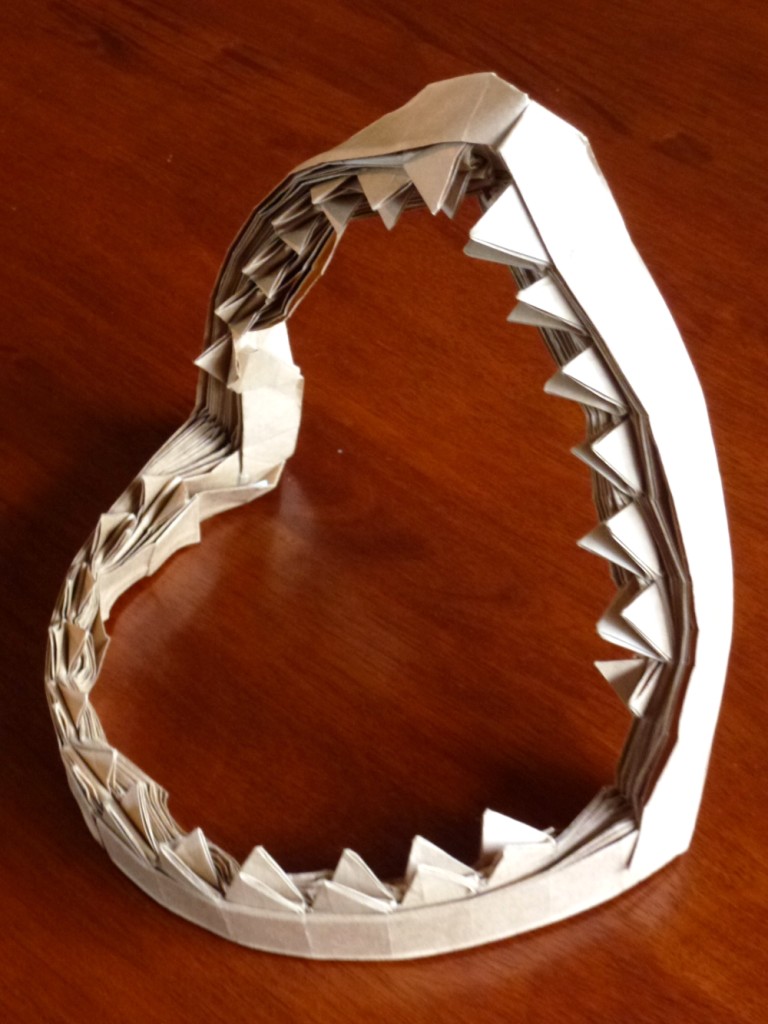 Our bikes were laden with water bottles, tent, airbeds and other camping equipment (I was a scout, and, generally, was prepared), down the range we made for our first campsite at Caloundra. In those days the caravan park/camp site backed on to the beach – cool breezes and ocean sounds – all good, right? That night, we went to the local cinema to see a new release blockbuster movie – "JAWS" directed by Stephen Spielberg. I'll be honest, this movie really gave me the willies – the now classic film had palpable suspense, shock, gore and was set at the seaside.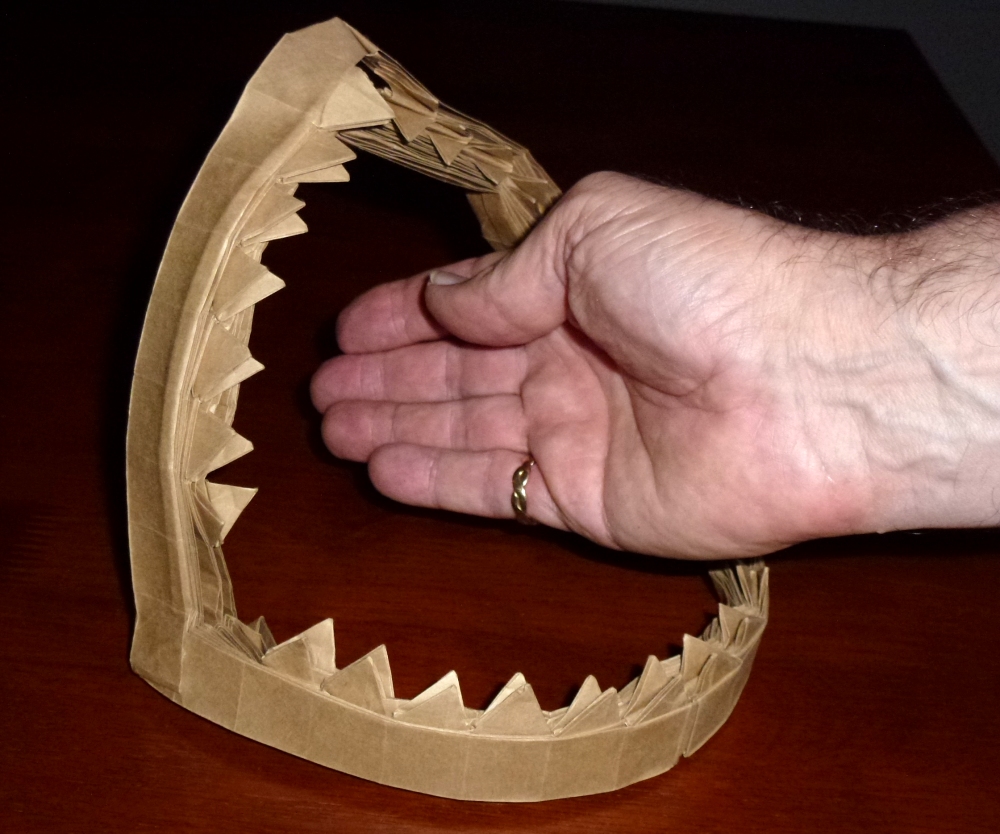 I vividly remember the terror that night, in a tent, as the tide came in and the waves lapped in the distance, hiding the man-eating monster of my dreams. The line from the movie that still sticks in my mind was Roy Scheider when he first saw the shark: "We're gonna need a bigger boat".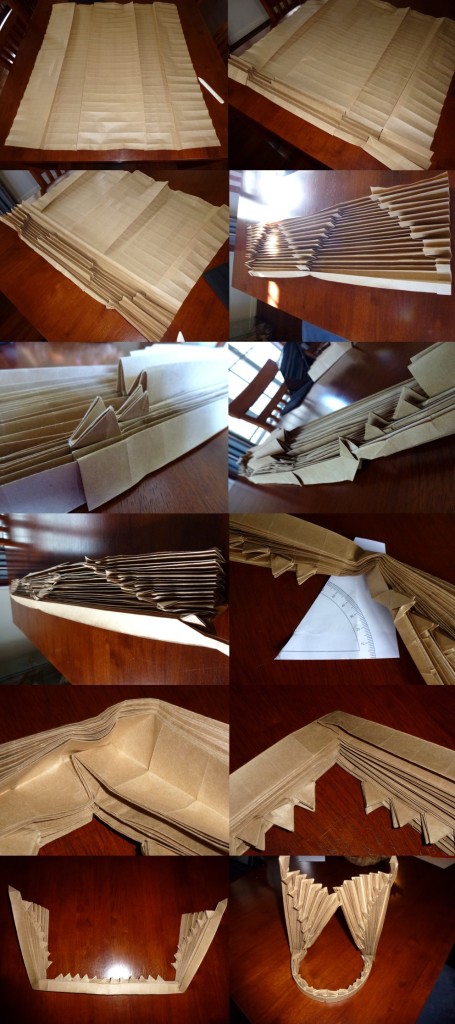 This fold, designed by Daniel Brown (the tutor for the Ryujin course I finished earlier this year) is an interesting exercise in pleat management. Dividing the page into 1/42nds is horrendous enough, then with a quartet of vertical pleats, you then collapse in a series of "M" shaped horizontal zig-zags then sink in and out sections to create ranks of proud pleats. using a nifty tuck-twist you then tease the points up hiding the remainder of the proud pleat, making rows of teeth.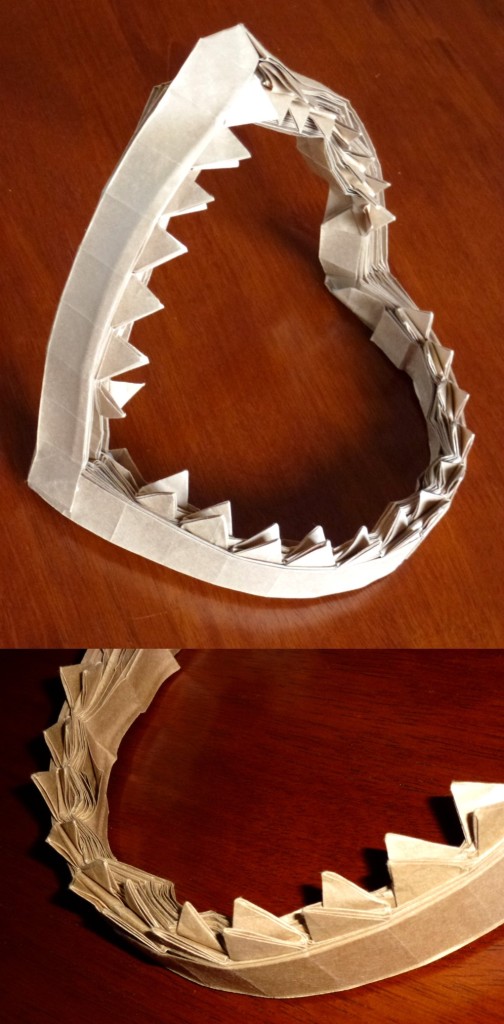 A little wire to keep the shape, interleaved crimp (proving you can fold 42 layers of paper sharply) to form corners and an ingenious lock to complete the jaw, we have a terrifying artifact that looks pretty snappy. 2 rows of teeth (real sharks have many more, when one snaps off a new one rolls out to take it's place), this model eats a LOT of paper for a relatively small model but it was interesting therapy for my first week of my Christmas holidays. An eerie echo of something that captivated my imagination 40 years ago.