As part of my JOAS membership, I get sent magazines with models to try – a really excellent collection of complex models from the worlds best designers. When I saw Satoshi Kamiya's Dragonfly, I was really scared of it.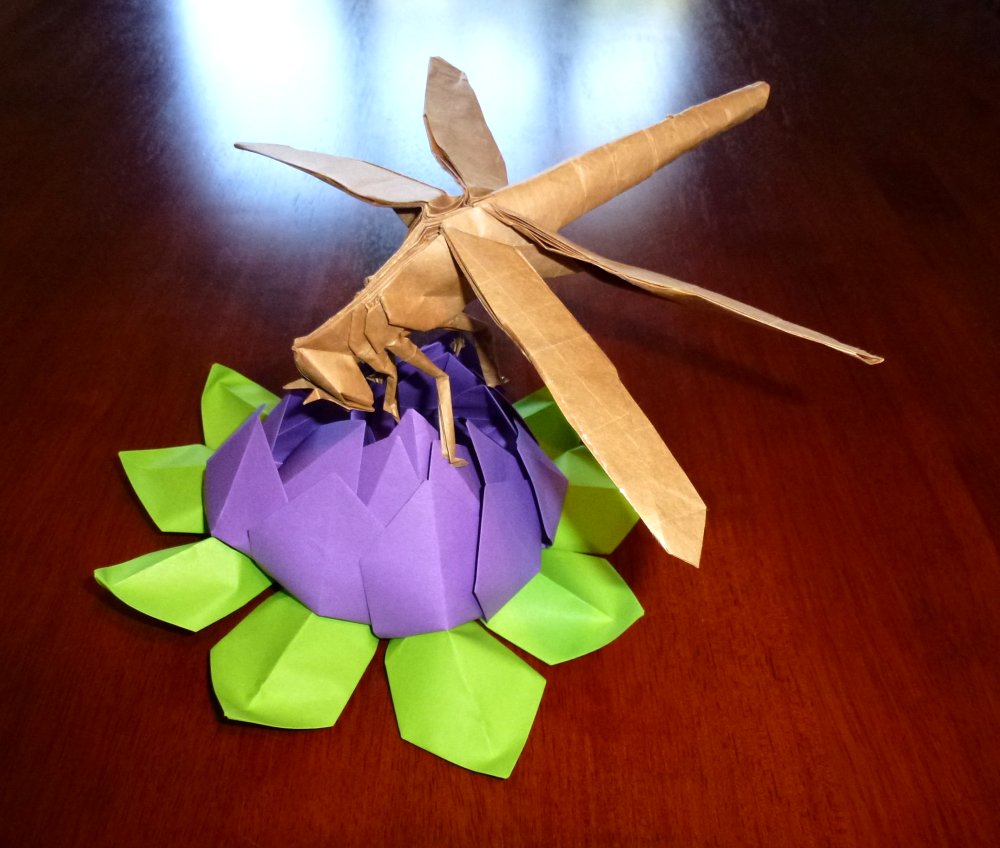 The level of pleat management and re-arrangement of flaps and layers is truly terrifying when viewed as a whole.
As a "treat", to reward my marking progress (I am a teacher, I set assessment but hate marking it) I allowed myself to complete a couple of steps each sitting. This fold has taken place over the period of 3 weeks, a little at a time. the advantage of this method is that I did not get freaked out by what was to come, just concentrating on the couple of steps I was allowed to complete.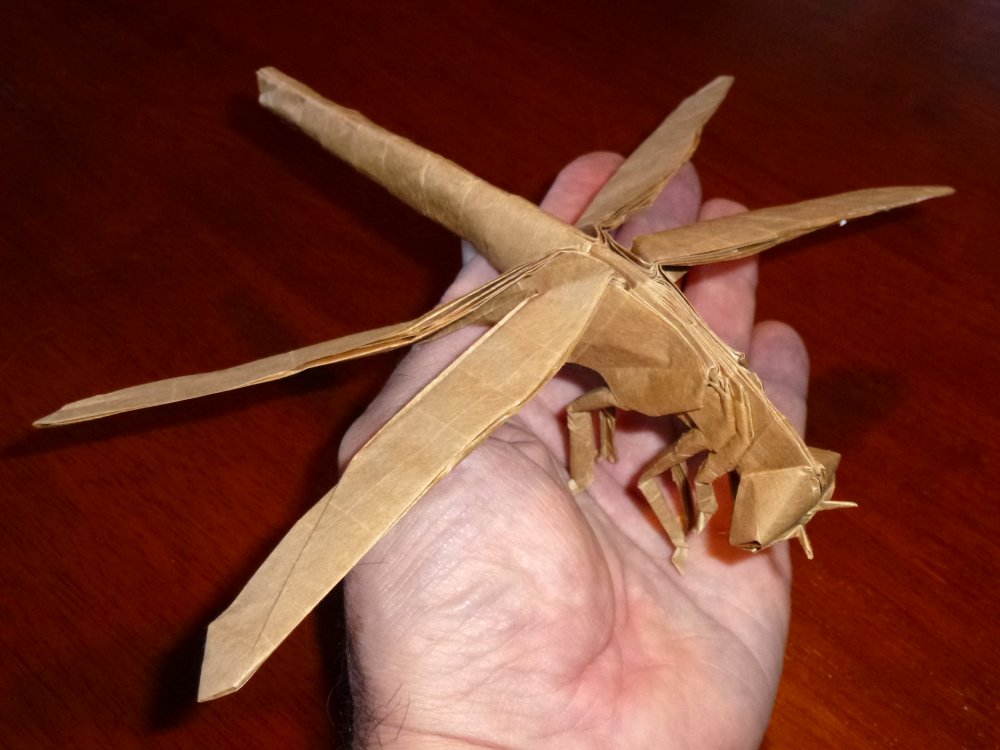 The net result is that I was more careful and accurate, the model just emerged from the paper as I gradually and relentlessly folded away all that paper that was not dragonfly revealing an astonishingly accurate model.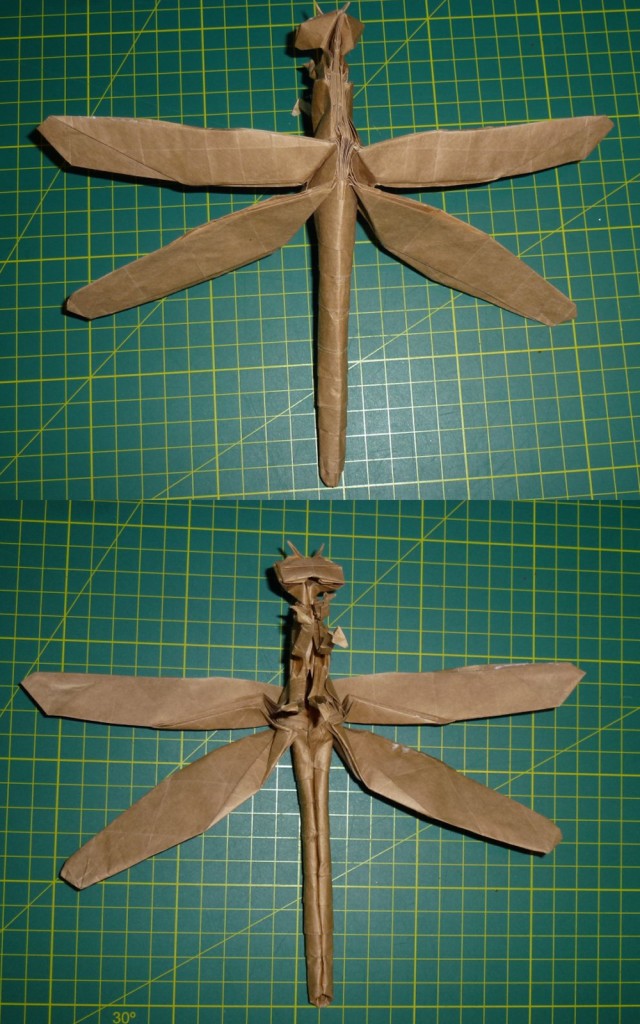 I can only marvel at the design genius required to massage all that thickness away from the legs, making them finely jointed and perfectly proportioned, a detailed 3d head with compound eyes and antennae, an appropriately proportioned and organised thorax, 2 lovely sets of wings and a fat segmented abdomen – wow, just wow.

This has been a lot of fun to fold, a real problem solving exercise to find the folds that were required next – fold it up, unfold it and fold it another way – such complexity and the underlying mathematics dances in magical ways.
I struggled with how best to display it, then remembered our fairly recent visit to Monet's Garden in Giverny, France and how on the waterlily pond we saw numerous dragon flies perching atop blooms – the solution was obvious.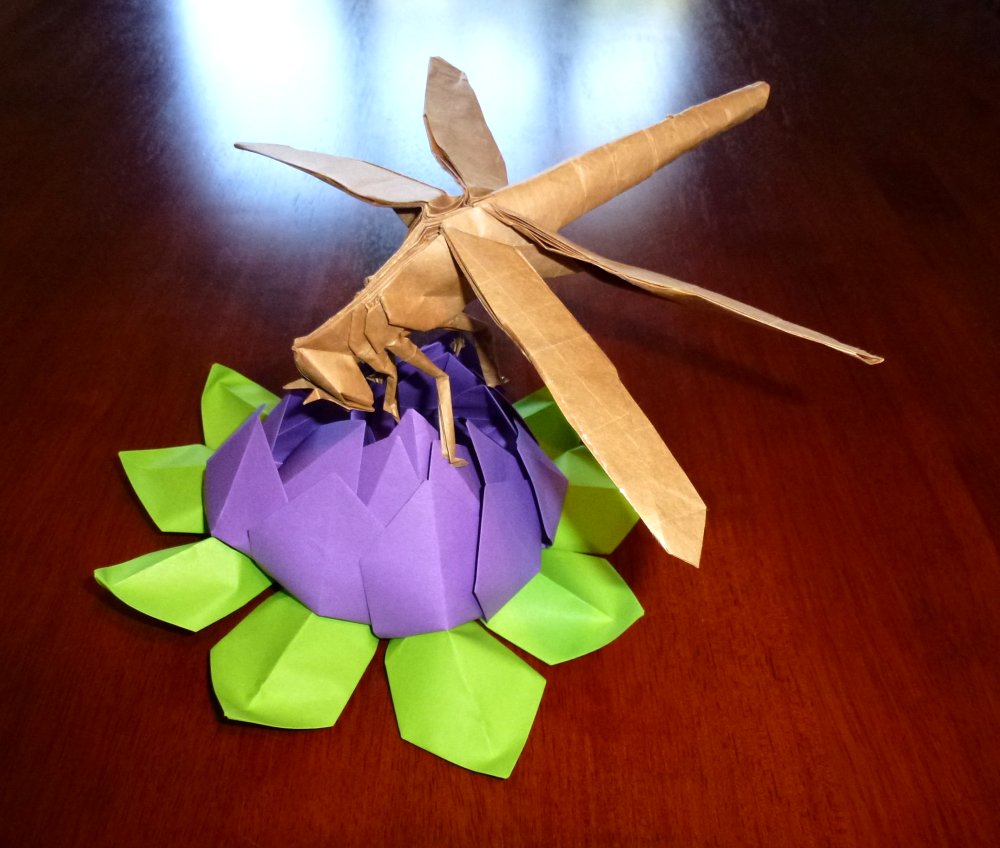 Searching for origami waterlilies I found a modular that was "sort of origami" – it requires fixing in the centre – that provided an opportunity to run some wire up through the centre and down the body of the dragonfly – synchronicity that was meant to happen.